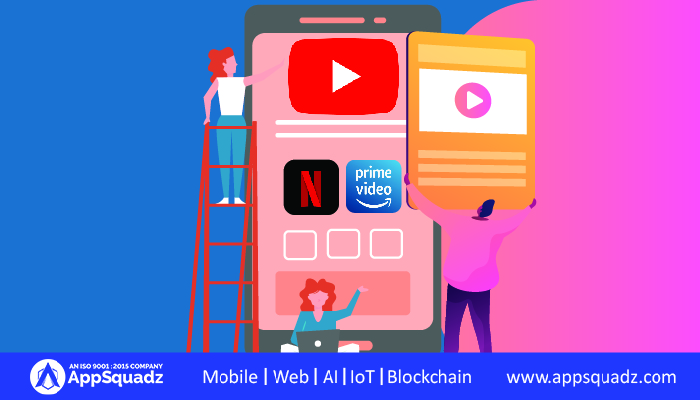 OTT Video App Development
OTT has become very popular, but still, this abbreviation is not so known. Currently, more than half of the population in the USA is active on OTT for their entertainment. It is used for at least 100 minutes every day. And this data does not end here as OTTs have great popularity in India also. OTT has kicked off the cable TV and made the video streaming first choice on position. So, there are high chances you might also be using any OTT Video Providers for video streaming.
OTT is the abbreviation used for an industrial concept over the top that facilitates a platform to stream videos through the internet straight on your devices like smartphone, tablet, laptop, smart TV, etc. All you need is a device and download OTT, and this is done. Suppose you have ever spent a few hours on Amazon Prime, Netflix, or Hulu. Then you are already engaged with OTT Video App Development and know its frequency of usage very well.
Features of OTT Video Apps
1. Multilingual content
OTTs possess a variety of languages in video content and app languages as well. This ensures wider reach to the audiences and popularity beyond geographical regions.
2. Search
A search option or the section to explore is one of the most exciting features of the app. This way, it enhances content visibility for all age groups. In addition, genre options, language-wise classification simplify entertainment.
3. User profile
This feature has no replacement or discussion. This help user customizes their side of the application and serves a personalized user experience. They are recommended to show and enhance their experience based on their viewing history. Preferred payment options and remembering their genres are small features that keep them active on the platform. 
4. Watchlist
The next must-have feature of the OTT Platform Development is a watchlist for sure. This functionality lets the user save its favorite shows to watch later or create a favorite list to play on an occasion. The notification mechanism working over the watch series is the best part.
5. Social features
Shareability and social presence are like a trigger in the popularity of the OTT platform. These make the daily targets achievable and act as a decisive part of the whole OTT experience. 
6. Screen mirroring
According to a very reputed OTT Platform Development Company, engagement count can be reached up to a hike if the users can access app screen on devices like Smart TV or Desktop other than mobile phones.
7. In-app purchases
The final feature is in-app purchases. It is like the finalizing part of the OTT that ensures the ROI. When you invest such an amount in app development, then requires a good response and revenue. You can achieve this with the help of the payment mode on the application for the subscription model. As you have invested a lot in the application, it can ask for some amount to let users access the new shows.
OTT Monetization Strategy
Three primary Video OTT Platforms monetization models that are followed by the top-listed video content providers and famous around the globe:
SVOD
Subscription Video on Demand: Under this model, a user can access entire video content uploaded on the app for a limited period they have paid for. This includes the monthly, yearly, subscription models.
TVOD
Transactional Video on Demand: This is the method where users are asked to pay per view. Here is it the viewer pays for every show or movie they are willing to watch. Every video content has its price. Its prominent example is YouTube.
AVOID
Ad-Supported Video on Demand: This is the most popular ad-centric model. Here the Best OTT Video Platform Providers provide completely free-of-cost video content services just in return. They show some ads in between and over the content and application interface as well.
How To Create an OTT App?
Video streaming application or the OTT video app development requires selection of correct technology stack, right server, security frameworks, and streaming protocol. OTT is technically delivering multimedia through the internet, where the content is reaching customers directly. This framework allows you to control what is distributed to customers across the web.
Let's discuss the steps that developers should follow up for the successful creation of OTT apps:
Select a niche
OTT Video Streaming Application Development is a general idea but deciding the type of service you will provide which sector of the entertainment industry you are ready to handle is the basis of choosing a niche, so think twice and go to a specific key.
Develop content inventory
Content is the primary basis of the OTT platform, and you cannot look over the industry without having the bulk of the content. So, this is the first brock of the business model where you must have data to represent as content on your OTT platform.
Choose your business model.
A business model comes from the three main points discussed above:
Subscription-based video on demand.
Transaction-based video on demand.
The ad-based video on demand.
In all three models, you will be earning money with your benefits and disadvantages.
Create your website
You might know this clearly, but you cannot directly achieve the OTT platform business model with the application. It would help if you got a web app developed first because the audience can access a website through any device. Whether small or large, you need to be visible in front of the audience only after that. You will get users in bulk on your application.
Choose the tech-stack
There are various OTT Video Service Providers, and all have their way of working over the project. If you want to get the app designed your way, research and decide developers will use the tech stack in your OTT platform.
The final step to execute your planning to get your application requires you to contact a group of highly energetic OTT video app developers and push ahead a mission to a successful business.
Conclusion
If someone is new to this OTT Video Streaming Services industry, they must contact a reputed, experienced, and accomplished entertainment software development company. Hiring a dedicated team can cost higher so contacting a company will be beneficial and cost-effective as well. They have the section with relevant expertise, and the OTT Video App Development Company gets the same or better work done at less cost and time.