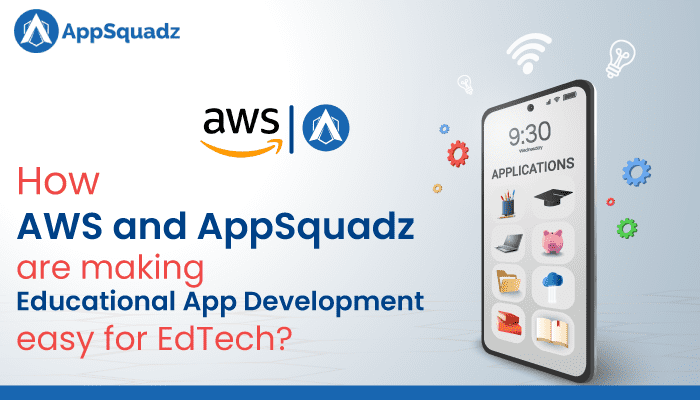 EdTech emerged as a new way of learning in 2022. We all are witness to the impact of COVID-19 on our education system. It is correctly said that necessity is the mother of invention. At that time, the whole education system shifted online. To go online, educational institutes choose live class software. This software helps them develop, manage, and schedule online classes easily.
However, the COVID-19 pandemic is far from over. Sighting this, educational institutes opt for staying online. This provides various benefits, including less cost and expansion of their education. Among all, AppSquadz stands as a pillar in facilitating educational app development in India.
Using the exemplary services of AWS, AppSquadz can develop an exceptional education app. Along with AWS, AppSquadz software is eligible to make an education application that runs on Android and iOS devices. With the AWS services such as AWS CloudFront and Elemental Media, AppSquadz can build a properly functioning education app.
As an advanced AWS consulting partner in India, AppSquadz used all its services to build a perfect education app. From AWS CloudFront to Amazon Media Live, all AWS services are used to develop an excellent education app.
If you are reading this, you might want to know more about it. You can quickly know this from the following points:
Reshaping remote classroom experience
Using AI and ML to enhance online learning
Optimization of the AWS operation cost
Build database and analytics setup on AWS
Remoulding Remote Classroom Experience
AppSquadz Software and the AWS services can create perfect live-class software. It will help that education app to stay ready and modernize with advanced AWS features. By taking remote classrooms online, end-users can use this platform to take education anywhere and anytime.
Meeting virtually is one of the best features of educational app development. Not only this, speaking to the mentor and asking doubts is also simple with this platform. Although social distancing is a must during CORONA, the education app ensures it by providing ab ability to place voice/ video calls.
AppSquadz makes it possible with the AWS services while developing an education app. End-users can use the live streaming solution offered by AppSquadz in the educational application. Moreover, all live/ online classes are available using AWS CloudFront. This decreases the latency time and boosts the transfer speed.
Using AI and ML to Enhance Online Learning
In 2022, AWS is famous for providing many services having AI and ML features. AWS Lex is one of the essential services for adding conversational AI chatbots in the education app. This is important for educational app development with AI and ML services. They augment eLearning using the online learning method.
In addition, some AWS services use machine learning (ML) to boost the performance of your education app. Do you know that this ML technology makes many AWS apps innovative and feature-rich? These intelligent apps are capable of making a state-of-the-art educational app.
These features help you a lot in educational app development. You can make accurate predictions, get deep insights from your data, and decrease the overhead cost with ML. AWS Sagemaker is one of the best tools to build real-world apps, including personalization and voice-based assistance.
Optimize the Operation Cost of AWS Services
Today, all education institutes want to optimize the cost of operations. For this, they are using the AWS services for building effective Education apps. In addition, AWS live class can provide an unmatchable experience to the end-users. Therefore, embracing cloud technology is the best way to optimize the cost of operations of online education.
This optimization of cost helped these companies a lot in focusing more on app development. AWS has a well-structured architecture for educational app development at a competitive price. Some tools are available in the market at a low cost, but these are ineffective.
Thus, AWS services are used by individual educators to get more features and high quality. Learn to take control and optimize the cost of EdTech operations using the best-in-class services of Amazon Web Services (AWS).
Develop Database and Analytics Tool at AWS
Developing a database is helpful for the live class software. This database provides essential information regarding the official records of the end-users. Building a database is easy with some AWS services, including AWS Athena, AWS Data Lake Storage, AWS Lake Formation, etc. However, the most important one which AppSquadz has often used is the Amazon S3 bucket.
In addition, the analytics tool also plays a crucial role in developing a great educational app. Amazon QuickSight is one of the best tools for monitoring and analytics. Anyone can use this tool to assess the behavior of the end-users. It develops a perfect live-class software that can quickly evaluate the performance.
With AWS, AppSquadz allows you to store your database in the cloud. This is essential because it enables you to extract it from anywhere. Apart from this, data remains completely safe and readily available.
Conclusion
You can understand the importance of AppSquadz and AWS for educational app development from the crucial points available here. Educational apps contribute remarkably to the EdTech sector of this digital era. The EdTech sector is booming in India, and many businesses are interested in it. This is significantly increasing in India in the vernacular education system.
Using AWS live class is one of the milestones to boost your educational app. It is helpful to take your education services online and transform them. Here, the best feature is the expansion of the area of education. The use of AWS cloud computing is helpful in developing the education app in 2022.