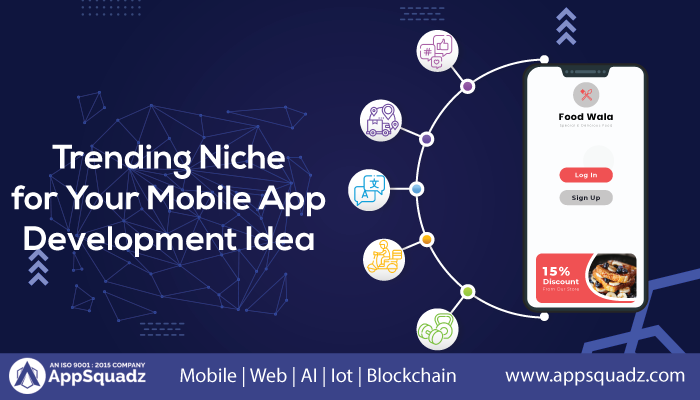 Mobile App Development Idea
Introducing a fantastic app idea is the best thing you can do, but this is not easy. The world is entering a high-tech digital era, and people are excited to opt for new services online. The digital world is trending on top due to comfort and ease of access to consumers' experiences. Online means of serving a product or utilities are proven comparatively better options.
Another critical factor over these typically interesting points is people spent years of working in the same environment. Then they give rise to Mobile App Design that can work well in competition with other startups and well-established businesses. So, based on the conventional practices involving traditional ideas and pulling up the modern approach is the best way to develop something that works out.
Consumers feel overwhelmed while experiencing this kind of user interface where they see a blend of traditional and modern approaches. This vintage-like idea is working well in modern startups. Technicalities involved in building the mobile application require pictures as well as the trend going on.
Such entrepreneurs with big ideas can entrench the mobile app development company practices inspiring the new startups. One who knows the thing about extraordinary mobile app-based ideas can experience better ideologies. Here we will be discussing the top mobile app development ideas that are inspired by different industries. We can incubate a layout to ensure high revenue, business growth, and sustainability in various niches.
Whether you are going to Mobile Application Development for an iPhone app, android app, or windows software, you can take ideas simply from this blog post; we will discuss the top ideas and possibilities that can get you higher success from the app development deployment and marketing. The creation of a robust application requires a platform. So then, let's begin finding the platform where investment is worth's it.
1. Fitness App Idea
The global fitness app market size is expected to reach $3.9 billion in 2021. This represents the trend and encouragement in people in the course of health care and fitness. Also, fitness is inspiring the natural means of healthcare. Since the fitness applications represent an excellent bridge between the health and modern lifestyle. 68.7 million users in the USA alone use at least one fitness application.
Just think about that if your application will have an attractive user interface, then how you can grab the millions of users in a take. You can check out the case studies mentioned about the Mobile App Design and development and success of fitness applications on internet platforms like the app store and play store. Applications inspire people to look after their health and help them to come out of the problems like depression and addiction.
2. Language Learning App Idea
Numerous research studies have shown that 70% of people, especially the young generation, are always interested in learning a new language. Therefore, a digital language learning market is growing and expected to grow up to $10.5 billion by 2025. Moreover, language learning applications are something that is trending globally without limiting to the geographical regions. Therefore, by building an app, you can attract several users across the world.
There is high demand in the market for such kind of application. So, if you will opt for such an idea in hiring a mobile app development company, then it is the best thing you will do. This niche is super viable and gets you a high ROI. Success and growth are the top compelling topic in this case.
3. Logistics App Idea
Tracking a package was never easier. People started developing a way to track the box was just the updates given by offices on the web page. But this way of updates is not so satisfactory. So, the application manages and facilitates the logistic business. Above all things, tracking is effortless with the help of GPS tracking with access is the best thing that logistic app development has introduced. The top trending niche includes logistic app development that will be worth it for sure.
So, how can you put this newly read idea into action?
Several times, you do shopping from Amazon, Flipkart, eBay, AliExpress, and many other platforms. You have an option there to check the status of your order. Now the advanced AI influenced feature integration to enhance the user experience. You can create a portion where you can allow users to see their orders in one place and check when it will reach as people have very hectic schedules, especially in metropolitan cities where online shopping is on high trend in Mobile Develop. So, you can help them to get an idea and schedule the time of order receiving very quickly.
4. Cooking App Idea
Consider the cooking habits of the people who are fond or responsible for cooking are fed up with cooking something again and again. Due to a lack of knowledge and fear of trying something new, you will see that they are repetitive in their food habits. It becomes boring someday and unhappy, of course. So, people need a resource that can explain well and make recipes look easy to cook and try new recipes every day.
There are countless applications on the play store about cooking and recipes, but still, there is less competition in the cooking app development because people are still not getting the type of app UI they want. So, you can go for better Mobile Application Development with the fantastic user interface.
Conclusion
Coming up with a fantastic app idea is not everyone's cup of tea. But it can be after doing some research. Developing an application that performs well in the market needs effort. There are moments when it feels like the idea you are thinking about already exists in the market. Maybe you are guessing that's a prevalent point. You will be getting success when you start working as a confident entrepreneur. Read more to know amazing app design and development ideas.