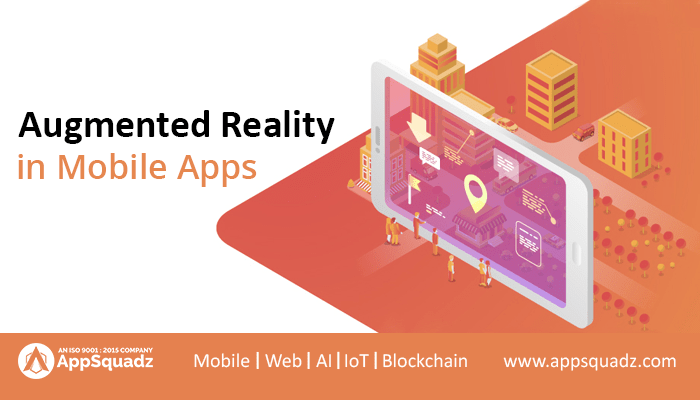 How Augmented Reality Assists your Mobile App
Today Augmented Reality (AR) has become increasingly commonplace as more companies are leveraging this technology. Augmented Reality and Virtual Reality are cousins, where AR combines digital factors with real-life and VR build an entirely digital world. The market has beheld a growth in the application of AR for mobile apps ever since the use of Augmented Reality on Pokémon Go and Snapchat app pushed AR into the public's notice. AR succeeded to grow as the mainstream illustrating a powerful potential to benefit various industries verticals, while other influential technologies were hogging the limelight. As per the recent reports from Statista, the global A.R. market is supposed to grow from $3.5 billion in 2017 to $198+ billion U.S. dollars in 2025. Although AR is yet in the development stage, quick adoption and implementation of it can help your mobile application to stand ahead of the curve.
What is Augmented Reality?
It is the technology that extends the person's perception of the real world by computer-generated perceptual information. This technology allows a view of the real environment with superimposed computer-generated audio, visuals, text or videos altering the perception of Reality.
Advantages of Augmented Reality
Augmented Reality is a unique and remarkable technology that in turn, comes with an array of advantages which can change mobile marketing in a big way. Augmented Reality comes with various benefits for different industries as it has an opportunity for personalization.
Apps that employ Augmented Reality can generate twice the engagement from the users.
It boosts engagement as well as interactions, and also it offers a rich user experience.
Augmented Reality can help you in increasing the value of products along with the brands.
Around 50% of users stated they are more willing to buy from a brand that employs AR or AI.
AR manifests products in a personalized form.
From trying clothes or ordering furniture, it supports in visualizing the product in the real environment.
Stay ahead of the competition.
Being a brand, you can obtain detailed and accurate analytics that would enable you to know more about the audience interest area and action.
Fundamental measures to be considered for every AR application project:
Know your audience
The first thing you have to do is to consider the industry along with the audiences. While knowing your audience, you must know some of the crucial factors and have a check on the taste and preference of your audience with the change in location and age group or profession. For example, if in case your target audience is young users, then you need to concentrate more on visuals and content briefing and interactively present them.
What is your purpose?
You have to figure out the intentions of yours behind Augmented Reality app development or integrating the same into your mobile application development. For the better trail, you can let your target audience to experience your products or services across the virtual platform. Defining your purpose behind AR app development plays a vital role. You need to be very clear regarding your requirement for integrating before-mentioned technology at the summit of your list before application development.
Get perfect UI/UX
Communicate with the mobile app development company and discuss your intention and your research on the target audiences. A flawless discussion can help the mobile app developers to develop a perfect UI/UX model. Determine the suitable procedures and actions that a user will be focused to perform to use the mobile app. Building an MVP (Model View Controller) may aid in better app development.
Be awesome with ideas
Both AR and VR are relatively new technologies to integrate on mobile apps and have an extensive array of events to experiment. With this in mind, you can be more inventive and innovative to submerge more audiences. By engaging more and more audiences, you will increase the popularity of your Augmented Reality app slowly.
Go for real-time testing
Once you are done with application development and planning for launching your AR mobile application development, make testing your priority. You need to check the application from the perspective of the users. Even from navigation to simple interpretation of contents, request the team to review it thoroughly. Moreover, constant testing of the application will aid you in identifying the errors/bugs and fix the bugs all by making it more user-friendly.
Points to recall for sustainable growth with an Augmented Reality application:
Distinguish more beneficial ways
Monitor the problem zones and observe how you can make customer's experiences more comfortable with your AR applications.
Keep it simple
Recreate actions and behaviors that users are routine to make your app appear intuitive.
Retarget users
Don't lose users, instead of that attract them with notifications to come back.
Work on actions
Consider the benefit of in-app messages to inform users to do particular things while running Augmented Reality functions.
Update your app
Analyze data and view which features & functionalities are liked by the users and which they don't, in order to improve your app.
Final Touch
Over the coming years, a fantastic array of devices will be out in the market. Augmented Reality is accelerating at a considerable speed and is one of the most promising technologies. If you are convinced with the potential of this unique technology and willing to begin using augmented reality technology for your business, contact an AR/VR application development company. Get in touch now to discuss your app development project and avail the most affordable and improved services.