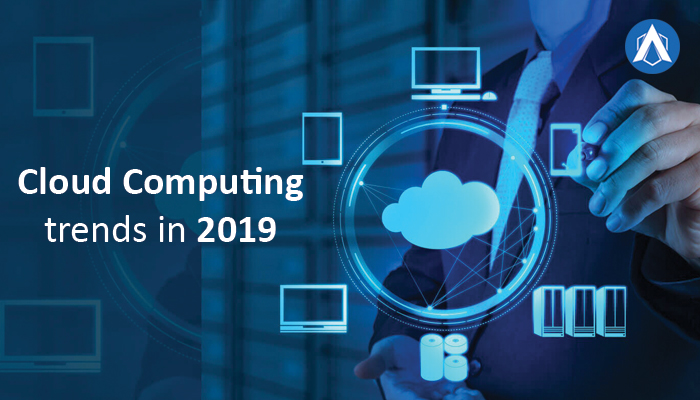 cloud computing trends 2019
Business and IT executives are no longer looking at Cloud solely as a tool; it is a method of delivering Software as a service (SAAS) for delivering/enabling scalable, expandable and almost perfectly elastic software services using internet technologies. The advent of the Cloud computing has created significant changes to the organizations in the past years with a way to store and retrieve an immense amount of information. The adoption of Cloud services continues to rise due to the improved usage of cloud-based services and digital transformation.
Here are some of the predictions highlighted that where the cloud is heading in 2019 in connection with technology as well as big vendors:
Hybrid-cloud and multi-cloud adoption to accelerate: Multi-cloud and hybrid-cloud are going to become a norm in 2019. Hybrid cloud will become the dominant business model in the future. Multi-cloud solutions will continue to accelerate because companies have a choice of services. It helps growing companies to utilize public and private clouds as they operate, and increase the efficiency and effectiveness in delivering their services. Moreover, it also allows their systems to the cloud in any pace with high flexibility.
Quantum computing: quantum computing is gaining more popularity and will continue to do so in 2019. All the major giants like Google, Microsoft, Intel, and IBM made an effort to pave the way for quantum supremacy implementation will turn out to be a game-changing trend this year. Quantum computing gained its popularity when 5 quantum bit was invented. With the help of this technology, supercomputers complete various tasks at higher accuracy and fast speed.
Shortage of cloud computing skills to continue: Ironically, as the demand increases there is a shortage of supply. Staffing shortages are faced in IT can be exacerbated further by moving towards cloud computing, as it requires specialized skills that are high in demand and short supply. We expect this trend to continue because individuals with these skills are not only hard to find, but also in demand and thus they are very expensive.
Artificial intelligence (AI) and Automation in the cloud: IT executives will accelerate their automation efforts, including the adoption of AI to simplify their increasingly complex and hybrid cloud environments to reduce costs in a variety of ways. AI platform supports a faster, more effective and efficient approach to work together with data scientists and other team members.
Backup and disaster recovery: Cloud disaster recovery (cloud DR) is a backup and restore strategy that involves storing and maintaining copies of electronic records in a Cloud computing environment as a security measure. Cloud computing delivers faster recovery times and multi-site availability at a fraction of the cost of conventional disaster recovery.
Security concern: As we rise with the technology, security would obviously become a matter of concern. As we are introduced with the General Data Protection Regulation (GDPR), security concerns have risen much higher and are the most essential thing to look for. Many business organizations are shifting to cloud computing without any serious considerations to its security compliance protocols. It could be very difficult for small businesses to ensure their data is highly protected and is intended for specific uses in compliance with GDPR.
Conclusion: Cloud computing gained immense popularity in the past years. We already discussed the predictions of the trends of Cloud computing in 2019 above. Business houses are adopting cloud computing because it stores and retrieves the data and related files in an efficient manner.
For more queries, you may contact us or drop a mail at [email protected]