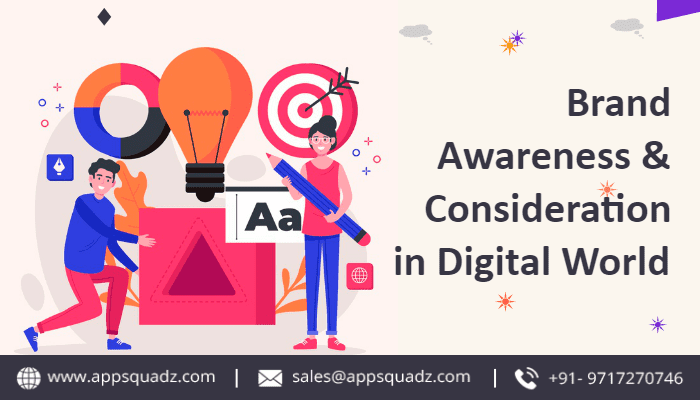 Brand Awareness and Consideration
One of the most implicit and extensive achievements of marketers is when their brand is chosen over hundreds of others. This is one of the catchy packagings or can say an attractive promo which might give your competitors tough competition. This is a kind of transformation where economic replicates of marketing and making things obsolete withstand traditional marketing and functional strategies and structures.
In today's digital world, the intent is suspended at a fast pace which helps consumers to interact with the brands in a modern way. For marketers, still, the traditional or the old way of promoting their business is unsustainable. Before we dive much into how marketers are taking their business to the next level, let us first understand the need for brand reputation management for awareness and consideration in this digital world.
Importance of Brand Awareness in the digital world
Brand Awareness, as its name implies in a much better way i.e. creating an awareness of your business or your brand among consumers globally. It is making the customers get aware of your marketing and your products & services all over the globe. This will not only help you to make new customers but also help you to increase your sales.
From the strategy of developing to advertising management, it is crucial to make customers aware of the business that you are into in today's digital world. We know that there are thousands of businesses in the market of which people might not be aware. Some of those businesses are your competitors which might not allow your business to be considered at any place in this digital era.
Therefore, brand awareness will help the users as well as the businesses like mobile app Development companies to understand what your organization is all about and what you offer to your users. From brand awareness to the purchase of your product, the entire segment consists of six stages where each stage has its meaning. Through awareness, a customer will get to know about your product or brand which is the initial stage.
In the second stage, users come to learn about the specification like color, size, price, etc. about your brand. Then, liking or disliking your brand comes within the third stage. In the fourth stage users generally compare their brand with others and find out the best among others. In the fifth stage, users usually plan to acquire your products or services and at the final stage, lastly, they buy your product or services.
How Brand Consideration is useful in the digital world?
Brand consideration is another metric that has its own rule of the segment in your business and is very important. This evolves with the customer's relationship with your brand and your market dynamic that will help them to decide whether to go or not to go with your brand for which you can do social media marketing of your brand. We all know that there are various brands standing out in the market and consideration is important for the users.
It is because if the user does not consider your brand among the list of many then there is no need for your business to withstand among the list. It is also rumored that building brand awareness will help the brands to grow and consideration will move spontaneously between businesses by creating a huge awareness. Let us have a look at some of the major factors that will help you to improve the brand considerations for your business as below;
Brand positioning
Your brand positioning has a meaningful and important role for your customers. It is because consumers usually look for the brands that are at the first rather than looking at the below. Therefore, try to position out your brand to increase productivity through social media marketing.
Communication
Communication is one of the important and best means of brand consideration which not only will increase your relationship with customers but also your sales. It will create an experience that how your brand and customers are communicating for the growth of a business.
Consistency
This never promises the things that you cannot provide to your customers and try to be modest in that case. It is because promising and not offering the appropriate services and solutions to the customers will lead to a bad impact on your business.
Steps to Increase Brand Awareness
Increasing the brand awareness for your mobile app development company is very important that will make your business streamline at the top priority. Let us learn some of the major steps to increase the brand awareness of your business among people as below:
Use branded packaging
Have you ever received your order in a branded package? Branded packages come like a gift for you as they have a special packaging pattern which makes your order more interesting. Many companies design custom packaging by using their logo and branding, by this way they can enhance the customer experience seamlessly.
Impressive guest content
This is another way to enhance your brand awareness to a greater extent and hence can deliver valuable and informative content to share on the blogs. In this case, guest blogging is one of the most powerful and helpful ways to get your brand presence on the top.
Social focus
As we all have an increase in the number of social networks and we are trying to be more and more active on social marketing. In this way, we can make our brand awareness and presence both for the users and businesses.
Conclusion
In today's digital world, brand awareness and consideration are very important to make people firstly aware of your business what sort of organization is yours and what kind of services you are dealing with it. Therefore try to make your brand reputation management in the best possible way so that the audience can reach your business early and easily.