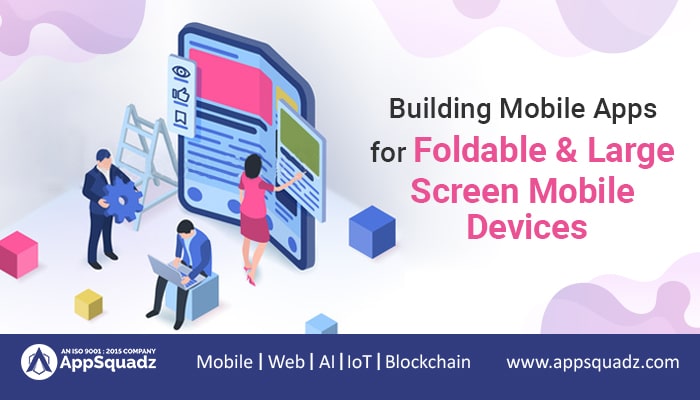 foldable & large screen mobile devices
As we all know that the increase in demand for mobile phones has drastically changed over the past few years. Right from the flip mobile phones to keypad phones to QWERTY phones to touch screens now, everything has completely changed in different ways. For about the past 2 years, the entire business has been revolving around foldable mobile phones and this will continue to create a remarkable history in the coming years.
Today, foldable mobile phones are been apart from other types of mobile phones that have grabbed the attention of users in less amount of time and have completely blended the devices that result in the excitement of users. When these mobile phones are not in use, they can be folded into small pocket sizes and can be opened with a larger screen when using.
As per the report from Global device forecast, by the year 2023, foldable mobile phones will present 5% of high-end smartphones in the market which led to the growth of businesses. Primarily because of the high costs involved, the world tech is dived when it comes to the success of foldable mobile phones in the coming near future.
Impact of foldable mobile phones on the development process
The increase in the number of mobile phones (foldable phones) has impacted directly the process of development in today's competitive scenario. It is a fact that how a mobile app is developed for a single screen is absolutely different from how a mobile app is developed for both small and large screens. The developers will certainly have to focus on several factors like the configuration, size, and more while developing mobile apps for two different screens.
The entire process gets altered when it comes to designing parts of the screens. Sometimes, people generally seem that it is easy and flexible to solve the problems with UI/UX designs and for larger screens, it might be complicated at some point in time. To begin with, the developers will provide the best and more immersive experience for the users because they have a multi-window with foldable mobile phones.
As the best mobile UI/UX development company, it is important to understand the needs of the users and work accordingly on the mobile application development process. Not only the video streaming apps but also the live content and major streaming services are offered by foldable mobile phones in a larger format for the user's convexity.
Major features to build mobile apps for foldable and larger screen devices
As we know that foldable mobile phones offer an immersive user experience and therefore, mobile app development becomes more innumerable for the users. Let us have a look at some of the major steps that one should keep in mind while building mobile apps for foldable and larger screen mobile devices:
App Continuity
It is important for foldable mobile phones to give the transition from one screen to another that will satisfy the users with greater experience and will result in better outcomes.
Resizable
One of the crucial factors that foldable mobile phone has is resizable which makes these mobile phones easy to use and handy to carry. This will help you to ensure the maximum compatibility factor no matter what the environmental functionality is.
Screen Ratio
To ensure compatibility with the number of devices, the mobile apps must be tested on as many screens as possible and in different screen ratios which makes the content or videos or any other stuff valuable and convenient for the users.
Multi-Window
Multi-window is another best feature that foldable mobile phones have and is advised to have the multiple applications that are running side by side when the phone is expanded to its larger size and is running at the same time.
Multi-Resume
This is one of the major points that developers should focus upon while working on foldable mobile phones that the multi-resume feature is important either way. This is done especially to help the apps which run the content or would either get paused whenever a mobile app is not focusing.
Multi-Display
The future might seem to be that the foldable mobile phones have more features more than one screen at one time and this configuration might alter or can be safely handled in the same way like the developer works on projected screens for Chrome OS.
Multi-Display Support
The surface of android app development is independently drawn away which is one of the most important factors one (developer) must cover and understand. Hence, the multi-display support will allow users for a better user experience.
Foldable Testing
Are you sure that your mobile phone (foldable phone) is ready to be released or not? Then, perform the testing option in it before you release them. Therefore, as a mobile app developer you must cross-check configuration changes, multi-window, and multi-resume, resizing, and screen ratios in a better way.
Conclusion
When it comes to mobile application development either for the android app development or iOS app development platform, there are several challenges and multiple factors to consider at the time of the development process. Hence, it completely depends upon the users' requirements what they or their business is looking for in what sort of budget.