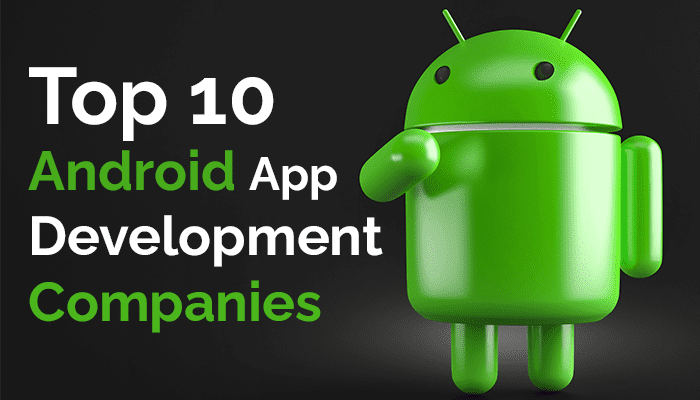 It is hard for businesses, particularly startups, to sustain and flourish in the competitive world. It is challenging to maintain steady growth and even boost it to the next level. As an enterprise, you should make the best use of technology, particularly mobile technology, to get ahead of completion. Yes, with Smartphones being an inevitable part of our life, building a mobile application is an excellent idea for those looking to get an edge in their business. Once you are all set to go ahead with a picture in your mind, hire a renowned android app development company to help your turn your idea into a powerful tool that plays a vital role in running your business successfully and profitably.
Widely trusted list of top 10 Android Apps Development Companies in The World.
Hyperlink Infosystem
Founded in 2011, Hyperlink Infosystem is a top company that works on the web and mobile application development platforms like iOS, Android, and Windows. They are the perfect company for their idea, kind of applications, price, delivery time & client relations are excellent. Since 2011, the consistent growth of this company has been incredible. Their portfolio is also very versatile. They have worked on a vast range of mobile apps and web development.
Hyperlink Infosystem has developed more than 700 mobile applications on various platforms. For that experienced wise, they are superior—one of the best-valued companies for mobile application development.
AppSquadz Software
AppSquadz Software, one of India's top app development companies, is a lined up unit of adept mobile application developers, designers & traffickers pledged to expand the enterprises, trade, and networked investment across the globe to make an impeccable and lasting impact in applications & technological advancement. The organization is rigged with a decade's involvement in the industrial experience of mobile applications and technological progress. The company has delivered more than 850+ applications gratifying different concerns of clients, from Augmented Reality to Logistics. They have been serving global clients for over 10+ years.
IT Chimes
IT Chimes is the best software solution company with companies based in USA & India. They have been serving global clients for over eight years. They have a vast experience in mobile and web app development. They have worked with 1200+ mobile applications on every platform. Despite the high cost of developing mobile applications, they have the best quality, design, and features.
They are also expanding new limits in Mobile applications that help them make something different for their clients & industry.
QBurst
QBurst is a mobile app development company. The company has a wide-ranging knowledge of developing android applications & functional web designs. Their data & research guide them in developing applications that meet your user's requirements. They have skilled employees, including app developers, designers, testers, business investigators, and project management experts.
They have done many projects firmly to earn a reputation for comprising a cost-effective & high-quality service provider.
WillowTree, Inc.®
Since 2007, WillowTree, Inc., a team of award-winning mobile app development companies, has skilled UX/UI designers & app developers who have produced 300+ mobile app solutions for the world's leading and customer-facing companies. Their team works collectively under an equal roof. They have unique strategies for startups and have established a track record of delivering large size enterprise solutions over the globe.
WillowTree, Inc. has a vast range of experience developing winning android applications and functional web designs.
Infinum
Founded in 2005, Infinum develops and designs excellent software for mobile & the web. They know the difficulties of development inside and out. For this reason, they provide a full range of services, from design phases to app development, with the best visual experience. They have a network, and their designers & developers work worldwide. It is pretty famous for its exceptional quality in apps.
They think to provide products that are useful to the people. So they always try to make scalable designs and code that's steady, straightforward, and maintainable.
Cleveroad
Cleveroad is a skilled software development firm, allowing expert web & mobile development services. They can manage every single difficulty as a chance to do the best work. For this reason, so many clients gladly come back to them with their new ideas. They have got excellent reviews from their customers. Cleveroad gives brilliant business value to clients by a sequence of method perfection, quality frames, and delivery methodology change.
The company is engaged in delivering high-quality services to each field like profession, innovation, and practical.
TechGropse
TechGropse is developing different mobile apps; It is a leading mobile app development company with developers who have excellent skills and extensive knowledge in mobile app development.
They allow the best expertise of their skilled team with a great experience of 5+ years and a deep understanding of design, development, and deployment.
They are dedicated to protecting every information of their clients for the work.
Yalantis
Yalantis is an app development company started by its skilled team members. It is a robust mobile application development choice for those in demand of experience. They include the full range of development with their innovative products & services. They know that efficient communication is essential for the success of any project. So they build a rich customer engagement by giving all the needed resources.
They are constantly taking further steps in their business to become the top mobile app development company for their client.
Fuzz
Fuzz is a leading mobile app development company. Their team creates the best product for numerous clients & unique startups. They try to help businesses drive ever-changing technological aspects & achieve a path to progress & success. Their amazing mobile apps for iOS, Android, and Windows have encouraged users and some companies.
Fuzz's Android app developers design, develop, and test applications efficiently and use other technologies to provide the best android apps.
It can be possible that there are so many companies available that deserve to be top on the list of top 10 iPhone app development companies, so if you have worked with the same, do share with me by comment. I will do deep research on it and update my future articles.