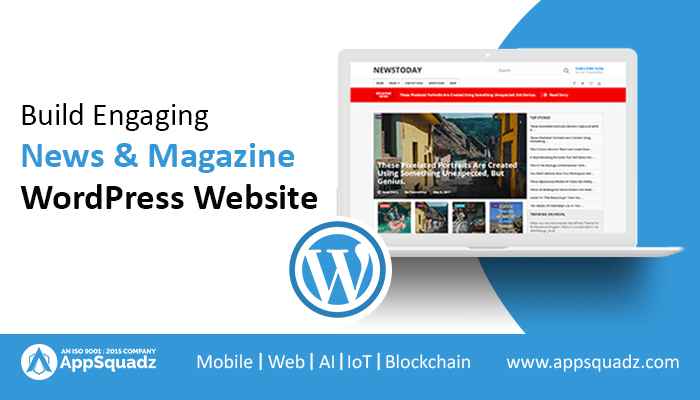 Build Engaging News & Magazine WordPress Website
Have you made up your mind to get a news and magazine website developed for your business? So you might be looking for attractive themes that can help you get the same design you always dreamt of. Developing an excellent website for your news or magazine business is essential to draw the concentration of your target audience, along with engaging existing clients as well. Today, we come across hundreds and thousands of newspaper and magazines WordPress website around.
WordPress is the most significant player in the Content Management System market. It started its journey as a blogging platform in 2003, but now, WordPress has proved itself as the most dominant web builder. Top brands all over the world rely on WordPress now for their online presence as businesses need not worry about anything with WordPress. With WordPress, you get all the convenience at the lowest cost.
Determining the right platform for website development
Developing a WordPress website is a great option and in turn, can help you in saving a lot of money and time. There are numerous website builders available on the internet, be it free or paid, but the essential part is to determine the right CMS for your website development. Either for simple news websites or interactive magazine apps, WordPress can be the right choice for your business. Since it is a self-hosted CMS platform, it assists you in getting awe-inspiring and feature-rich websites with required functionalities.
It is a highly flexible Content Management System that can be practiced by both small and large enterprises as the software is 100% free, and you need not worry about the license fees as it is free. WordPress as a dominant Content Management System today, powers 33% of online sites. It is easy to use, and this makes it a popular choice of several startups and small business enterprises. One can get a feature-rich website without digging a hole in the pocket, but the condition is that you should look for a team of experienced WordPress developer to build your website.
Select a domain name and hosting plan
After deciding you are building a WordPress website for news and magazine business, you need to select the proper domain name and hosting plan meeting your business needs and target audience. There are several options for hosting available in the market and for the domain name, you can pick a relevant domain name and purchase it from credible sources. At last, choose the most competent service provider for hosting for your website.
Choose the right theme
The significant benefit of WordPress web development is that it offers a wide range of themes which encourages you to keep a check on the features and customization options while choosing the theme. If you are looking for a news and magazine WordPress theme, you can opt for Ybrant, which is a premium WordPress theme. It has a responsive layout and lets the users customize the page the style they want. Also, Ybrant WordPress theme offers a professional look and feels to your website and includes menu support to formulate a beautiful mega menu for your website.
Attach important pages and elements
While building a news and magazine WordPress theme, ensure that the design is user-friendly and at the same time appealing also. Exhibit eye-catchy images on your website associated with news and magazine industry to attract the attention of the target audience in a sense that the web pages reflect your brand. Home pages, latest news updates, about us, testimonials, and contact us page are few of the requisite sections for your WordPress website. Must-have features of a contact form are:
Contact form
Email address
Phone number
Physical address
Hours of operation
Lead generation tools
You should apply several lead generation tools for WordPress website to grow your news and magazine business. Use of social media buttons or popups using plugins can be a good idea to improve your mailing list. Strengthen the visitors to share the pages through social media platforms/channels.
Wrap up
Are you till now wondering how to develop a News and Magazine WordPress theme for your website? Well, to solve this issue, several ready-made themes are available in the market that can be customized the way you want them. This doesn't signify that it is enough one of the most important things is to find a WordPress development company that can build the themes from scratch. Moreover, you need expert WordPress developers and programmers as well who can create the theme matching your exact requirements within the specified budget and helps you achieve your business objectives.