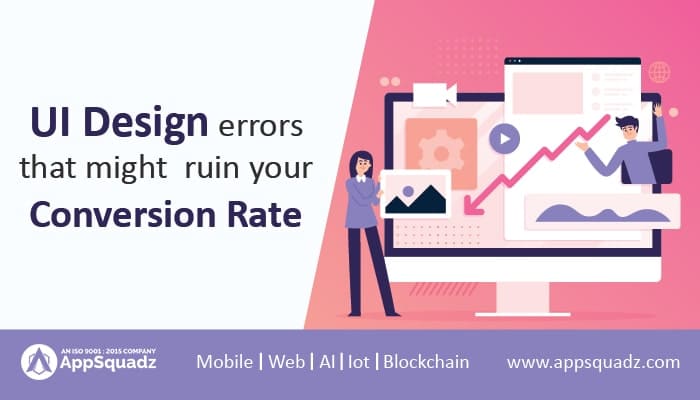 UI Design Errors Might Ruin Conversion Rate
When talking about designing your website or the mobile application, User Interface (UI) is the king. Usually, users see the UI design of any app or website first and then interact with it. In addition to it, Website visitors give great importance to the UI, and the same level goes for the apps as well. A regular user makes an impression of your site instantly. For the growth of a website, it should provide a better user experience as a site which doesn't give a better UX cannot develop much. Visitors generally leave websites or apps, if they find layout dull/ unimpressive or content useless/inappropriate.
If a site's pages loading time is more than 2 seconds, its performance suffers too. Furthermore, when a website's design is not interactive, or navigation is disordered, it profoundly affects the growth of the site. So, undoubtedly, UI is the key to the success of any website. We may encounter several UI design errors, which cause deterioration in the conversion rates of a website. Moving forward, let us come to the point and analyze what some common UI design mistakes committed by website designers, UI developers, and business owners are. So, if you have made the exact errors then take preventive actions depending on your understanding and analysis.
Messy layout
Websites with messy layout irritate the end-users and disgrace user experience. In case the design is cluttered and disorganized, it affects the site's conversion rates because clients cannot get the CTA status. The use of unnecessary content, colors, pictures, and insufficiency in focusing on creativity can cause layout cluttered, which is not right for your site.
Wrong position of CTA
A site's CTA must always follow the users' state of mind. Their opinions and purchasing attitude would become active when you choose the specified features of your CTA like color, design, size, shape, location, language, and length. So you must determine the well-defined combination of features and check your CTA several times before making it live. Also, you must accurately describe the users that it can be clicked and they must hit on it. When you see the ideal balance, you will experience loads of conversions.
Unresponsive design
This is the significant UI design flaw which most of the UI developers make which restrains a website's growth and causes failure. An unresponsive design depicts the site useless being responsive across platforms and devices as users cannot access the features using the devices of their choice. Moreover, responsiveness is liable for the ranking of the website, and sites that overlook this significant feature encounter a lot of issues. Even, an unresponsive design stops sites from giving a better UX.
Use of stock images
Stock images are undervalued as they are fake, and users immediately notice that. The visuals heavily influence website branding and marketing as it adds your site's mood and tone, which cannot be done by stock photos. Also, users look for particular products or service, and when visitors visit your site, they believe in your products or service. However, you must not use stock photos as they portray falsehood, and if they find a false image on your site, it may ruin their psychology badly. You must recognize the reality that website imageries must be such that it boosts users' confidence and engagement, which is only attainable by using authentic images.
Improper navigation
If your website's navigation is not organized correctly and inappropriate, the users leave your site earlier than predicted. A site's objective is to let users navigate efficiently from one place to another or through the website to have data easily. If there are accurate visual signs and images for everybody to move from one place to another, the navigation is spontaneous. If in case, the navigation is unclear and menus are not appropriately placed, it may irritate users and make them leave your site.
Inadequacy of social proof
In case the robust UI design is concerned, the user-produced contents, testimonials, or client feedback won't be deliberated as the fundamental elements. An appropriate web page must comprise of all social proofs of your quality as these proofs are profoundly crucial for your website or app's branding and conversion. If there is no credibility, visitors won't visit your site, and they won't trust you without social proofs. Furnish authentic messages to your promising clients to take a sigh of satisfaction, and this can offer you more increased conversion rates than the CTA or product details can afford. We cannot deny the fact that genuine client reviews are believed more than the sales pitch.
The slow speed of web page loading
Another user-interface error is the slow speed of web page loading could impact page views, make clients dissatisfied, and as a result, ruin the conversion rate. Besides, when the loading time is increased, the users move on to the next one, leaving your website, somewhat of your competitor which clients never expects.
Indulging yourself into the UI design
Involving yourself in the UI design is one of the deadly errors you can ever make. A UI/UX designer should follow & maintain all rules set for sufficient user experience. You can be creative but ensure that you maintain and follow all the terms fixed for obtaining adequate UX. You should work skillfully with your team of sales and marketing to discover the most suitable ways of UI designing. Outline the most challenging UI aspects that provide excellent exposure.
Content congestion
Having loads of content on the pages can confuse users rather than keeping them focused on your site. Users don't prefer reading excessive content to get information. Instead, you must focus on telling more in more restricted content and having a copy which makes emotional effect, not repetition. You can create dynamic website development and retain impactful content on site pages as this will overcome UI design errors.
Final words
It's evident that UI comes with a lot of obstacles, but you can overcome them by applying the suggestions given above while designing the user interface of your app or website. And fixing the above-discussed issues will make your design perfect. While hiring a mobile app development company or a web app development company, ensure that they also follow the above suggestions. An efficient application would inevitably increase your site's conversion rate, and you will undergo an improvement in client satisfaction.