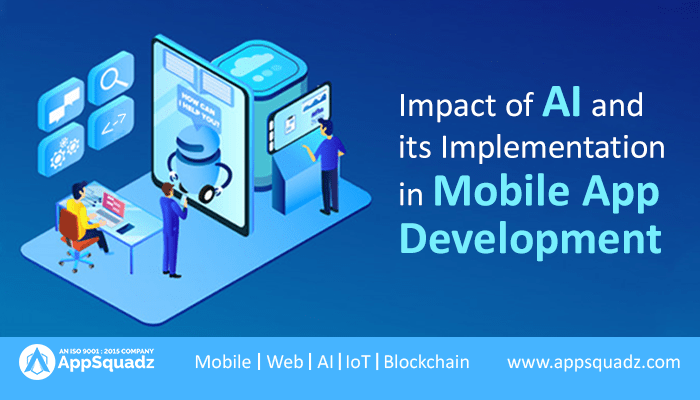 Impact of AI and its Implementation
In the epoch of cutting edge technologies, several devices and technological tools are available in the market. Smartphones namely, Google's Android and Apple's iPhone are the most widely used smartphones and are profoundly popular nowadays. With a combined mobile app development market share close to 99%, both Google and Apple work to bring more innovations and new features into their smartphones as billions of people all over the globe are utilizing them daily.
In the limelight comes the significance and role of Artificial Intelligence in mobile application development, which gives more fuel to Google & Apple to bring advanced changes to their respective platforms. AI is beneficial for developers and even for the general users. With implementing AI features into application development, then the smartphones can perform various advanced technology functions like face recognition, text recognition, voice recognition, image labelling, and barcode scanning etc. Being an entrepreneur or a business owner, you must understand how AI will cause an immersive user experience and how it simplifies the work for smartphone users?
Benefits of AI in mobile apps
AI plays a pivotal role in mobile app development, as it has several advantages. Also, Smartphones with AI features in it are playing a significant role in mobile phone experiences for the end-users. For instance, Apple's iPhones, Google's Pixel phones, Samsung's Galaxy phones, and Huawei's Mate range phones have specialized hardware designed specially to perform AI-based tasks efficiently. A couple of years back, this capability was possible only in 3% phones, and by 2020 it is supposed to rise to 35% of all smartphones.
AI features and capabilities needed in smartphones
All mobile application development companies aspire to present the best user experiences to their users. Accelerometer, Gyroscope, GPS, Barometer, Camera, and more things which are inbuilt within your phone closely observe the usage behavior. By implementing AI (Artificial Intelligence) and MI (Machine Learning) in smartphones leads to the learning of the users' behavior and producing fantastic results.
According to a recent report, annual global AI software revenue is projected to rise from $9.5 billion in 2018 to $118.6 billion by 2025. With introducing the advanced features, AI is at the center of the customers' demand for a swift and real-time response for their queries. AI has helped in taking mobile application development to the next level. The role of AI in mobile application development can't be underestimated as of now, and AI is bringing so many innovative mobile applications to us.
Let us now examine how innovation in AI is causing remarkable results in mobile applications and the Smartphone world.
Applying AI ideas in mobile apps
There are multiple ways by which a mobile application development company can implement AI in its mobile application development solutions. As per the responsibility, mobile app developers learn to incorporate AI within their app development project so that it becomes more innovative and productive.
AI in face recognition
Both Apple and Google have been using AI for years and working in this significant technology, and they have become successful now. Both the companies mentioned above state that their new system for recognizing faces is the best one that recognizes faces with high accuracy. Not only this face recognition technology can detect and recognize an individual's face, but it also serves the digital image/video into various frames.
Mobile app development companies employ AI for unlocking the phone and securing folders and applications comprising confidential and sensitive data through a phone's camera. AI algorithm also assists in several additional simplistic features like smile shutter, creating depth in an image, adjusting the camera's lenses in different light conditions, and more to deliver the best user experience.
AI in voice and image recognition
Undoubtedly, AI is changing the mobile app industry for better. With AI, apps are now integrated with image recognition and voice recognition features where users can search by text or by using images and voice. Siri on Apple iPhones is an example of AI which works like a Virtual Assistant using voice recognition. For Androids, Google voice assistant is an example of AI technology. This is possibly due to AI and ML technologies that these assistants are also more efficient than humans. AI Algorithm is powerful, and also works in noisy backgrounds with up to 98% of accuracy for voice recognition.
AI backed automatic intelligent digital assistant or chatbots
Now, people dislike writing long letters or making calls to access customer support services as most of the process is done online. Hence, customers do not expect opening hours, unlike the traditional one as customer service should be available round the clock. This is why numerous mobile app development companies started to adopt AI integration and built an intelligent digital assistant like Chatbot to provide customers with 24×7 support services to answer their queries. Chatbots need no recognition anymore as they have already become famous for their exceptional conversational experience. It is expected that the world business will be using Chatbots for grievance handling by 2020 as Chatbots can handle multiple queries at the same time and provide quality responses.
AI for video or audio recognition/ optimize the searching process
AI can also be used to recognize the videos or audios which the smartphone users watch or listen. Also, AI-based algorithms and techniques help in optimizing the search process for the users who are using it on either the Android or iOS platform. When it comes to entertainment purposes, AI is doing incredible work for mobile app users. When talking about Siri, it can do such a job if programmed to do so like for using the implemented AI technology. You can tell the singer of the music audio/video, the name of the movie/ album it belongs to, and or the actors playing roles if you are searching for an audio or video. Also, to search for something you can instruct Siri and you will get the desired results.
AI technology can analyze a large amount of users' data
AI requires a large amount of data to operate effectively and accurately. Its efficiency depends on its capacity to efficiently analyze data like the upcoming trends, past trends, market changes, the effectiveness of an app, behavioral patterns, financial ratios, comparisons, historical data, likes and dislikes data, and much more. Therefore, AI is essential for many business verticals which are operating over mobile apps.
AI helps in securing your mobile app
These days, there is a sudden jump number of cybercrimes and safeguarding highly sensitive data, and personal information is a big challenge. Therefore, mobile app development companies are looking forward to using AI for building highly secure mobile applications for keeping sensitive data and personal information secure and safe. AI can be adequately used with other technologies to provide a speedy and highly-secure authentication process to provide an extra bit of security to the users' data.
AI can help in mining big data
Big Data domain is notably accessible these days. Many apps are created to mine the big data; however, if AI is used to develop these apps, they become more efficient and produce astounding results and patterns. Also, AI helps in refining the method of acquiring precise information by analyzing different kinds of data.
Final thought
Artificial Intelligence has got a lot of potential in mobile application development. We have discussed the benefits of AI, how AI technology is helping us in enhancing the quality and the features of mobile apps, and its implementation in the mobile app. If you are too need an AI-based app and are influenced by AI and apps developed based on AI, then should explore this field more. Also, you should endeavor to find out a renowned mobile app development company which can effectively do it for you. Also, Contact it today to get your AI-based mobile app developed and attain your desired success.