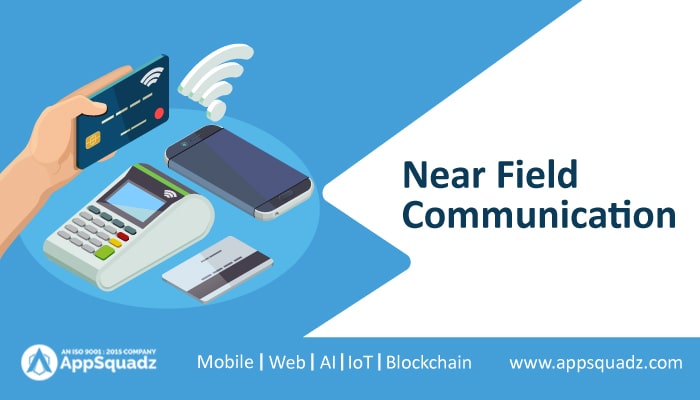 NFC in Mobile Apps Payments System
With technological advancements, the daily activities carried out by the users are undoubtedly getting easier. Here we will talk about the modern technology named Wireless Sensor Network system, which was only possible due to the tremendous growth of Near Field Communication. This system uses smartphones to carry out an extensive array of recreation & business activities on all the possible levels allows users to conduct payments and transactions over mobile phones. With this, the requirement for smartphones that imbibe NFC is augmenting.
What is NFC?
NFC, i.e. Near Field Communication, is a wireless communication technology that via RFID readers and beacons lets users transmit the data among various devices that are located far away from one another. Since it is low energy and low-cost communication technology, it enables end-users to carry out the transactions without any nuisance. NFC focuses on customized communication by facilitating secured complex data transmission within the users in a less intrusive way. Along with this, NFC empowers retailers to magnify the in-store experience & knowledge too so that they cope with the endless competition.
Ease of use and time are two aspects that shape up consumers' tastes & preferences. Buyers visit retail shops as they don't prefer waiting for their orders to arrive at their doorsteps or they favor online purchasing as it is pretty handy. Furthermore, the chief purpose is to make it amazingly easy for end-users to complete the buying process of products/merchandise.
NFC applies electromagnetic radiations to transfer data within the devices, i.e. beacons or RFID tags that, in turn, assist users in bringing out the transactions hassle-free. In order to intensify the payment experience, a few numbers of markets across Asia, Japan, and Europe have started using NFC. However, there is still a room to embrace this technology and people are supposed to implement it extensively.
Benefits of integrating NFC in mobile apps
Offers augmented shopping experience to customers:
Zap tap employs NFC technology efficiently by connecting users to WebPages that highlight product/service data.
Enhances customer service
By taking away the hassles of paying at stores and performing productive processes, it enhances customer service. A single NFC tap from smartphones can resolve difficulties within a few seconds.
Added security
In case, your smartphone is robbed and you have added security to your wallet, the two-step authentication method prevents your money from getting fraud.
Improved convenience
For faster payments, NFC expedites up the payment method for the customers.
Cuts down the operational cost
With NFC, the operational cost is mitigated as the alternate payment processing system preserves money on paper and human resource deployment.
Implementing NFC for payment system
It is anticipated that NFC payment systems will be seeing an exponential growth soon. NFC has brought in a significant change in the retail sector since the moment Google launched NFC-oriented wallet payment systems. An NFC-oriented wallet payment system facilitates the users to carry out payment or transactions at retail stores with just a few taps on smartphones. In 2012, the retail sector attached NFC devices within commodity tags and ensemble stores with mirrors that are digitally driven to heighten customers' experience. The innovation let them observe how each dress is crafted when they try it out facing the mirror. Multiple payment solutions can be generated that will affect the process of paying and make it easier at every NFC point with the assistance of NFC. Nowadays, numerous retail stores, petrol pump stations, and restaurants have adopted contactless payment system via smartphones.
NFC in mobile apps
As already said, the scope of mobile payment app has progressed at an exponential pace due to the massive growth of NFC infrastructure, and it won't see a downfall shortly. These payments provide end-users with a profoundly gratifying experience as they are based out of extremely intuitive UI. This type of payment system will grow as there is a presence of different innovative components and many business prototypes which ensures the same. To be capable of making contactless payments, the users are must install the concerned applications on their Android phones. Various apps, such as Boon facilitate end-users to make non-contact payments. Once you are done with the download, you have to register yourself, and after that, you can carry out transactions efficiently in a short-term period. It heavily depends upon prepaid MasterCard and also presents users with a transparent vision of all the transactions and payments done. Additionally, the user may also scan the NFC tag to retrieve vital information, and all this is made secure with PIN protection.
Utilizing NFC effectively
Loads of departmental store in the US practice NFC to facilitate users and being informed of the latest styles and shades they offer. Besides that, it also enabled them to examine if the products are in stock on online platforms or not.
Bon-Ton implemented NFC in more than 30 stores.
Bon-Ton got positive feedbacks from customers, with the implementation of NFC in a few stores and users enjoyed the process of using NFC and discovered it beneficial. One more feature of NFC grabbed people's attention to a large extent, and it was the ease of its usage.
Security concerns
Security has been the concern for the parties involved in the transaction irrespective of the mode of the payment. No matter what the mode of payment is, there are always security concerns, especially with electronic payment methods. So let us see what the serious concerns associated with NFC are.
Eavesdropping
Eavesdropping is a phenomenon which happens when someone intercepts and gets the data. However, this threat is least with NFC as the devices are to be placed closely to transmit signals, and these signals are hard to catch. The data is encrypted and decrypted with an approved device, in case of NFC based payments. NFC chips are not active always; they are only active when you want them to be active. It means when your phone is locked; the NFC devices don't transfer data.
Data manipulation
It arises if someone attempts to corrupt or manipulate the NFC transmission data communication, yet this risk can be mitigated adequately with the use of secure channels.
Device theft
Once your device is stolen, then that person can make payments through NFC, and no encryption can protect you. Though this can be taken care of by some simple steps and one of them is to set-up a pass code. Devices having features like fingerprinting scan or lock help in eliminating the risk of NFC misuse.
Security measures
All the security mentioned above concerns is strictly observed and are dealt with appropriate security measures. The security measures stated below are inherent and made to provide that added layer of security.
Proximity
In NFC Technology, the devices must be connected inside 4 cm to communicate. Because of this proximity, it becomes hardened or impossible for cybercriminals to execute their attacks.
HCE
HCE, also known as host card emulation emulates the physical card. It saves the secure account information on the cloud rather than storing it in the device. Android Pay operates on HCE to perform protected mobile payment transactions.
Secure element
NFC runs within a safe part which is in the form of a tamper-resistant chip consisting of sensitive data in it. In NFC payments, the protected components are saved in the device, and it interacts with NFC-enabled receiver to perform the transaction.
Final thought
NFC technology is assisting many sectors for secure payment or transactions. Also, it simplifies the process of conducting a contactless payment. With NFC, users can keep their card information secures on their phones and pay in just a few taps on the smart phone's screen or close to the NFC reader. It has not as yet adopted by many, but undoubtedly, it is going to achieve user acceptance at a more general level. If you are interested in developing an NFC based application, contact a reliable mobile application development company which can help you with the same.