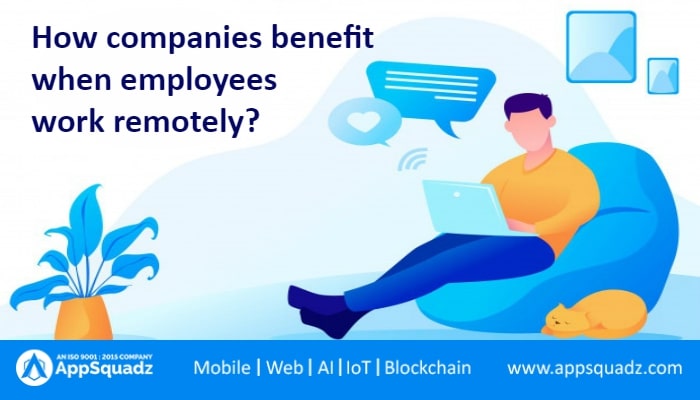 Benefit of Work Remotely
In today's highly competitive market, it is imperative to find the best solution in any category. Working smarter is actually means the manifold to benefit of working remotely. Whether you are saving your traveling cost or business is saving their clamoring up to the mark, there are lots of benefits to working from home for various companies.
There are many companies who often think that working remotely can help to increase their business growth and can streamline their productivity. We all are aware of this pandemic prevention of coronavirus update that has made shut down almost all the organizations and forced their employees to work from home.
Today, working remotely is one of the best and useful trends in the market which allows employees to work from their home at any time with all comfort zones. There are more employees, who actually want to change the way they work by sitting long hours in their office premises. It has predominantly become harder and harder to thus secure the talent to offer to entice with the best employees. As per the reports, it has been noticed that 43% of Americans work remotely for years and will continue the same in the near future.
How to isolate the benefits of working remotely?
While working remotely, the productivity of your business does not decrease because they are the same employees who were working earlier with you at the office premise. The only thing that matters the most is how passionately the employees are still working for you and your business. When on the limited basis employee's work for your organization, then the productivity actually increases by about 4.4% from their location.
This is because they have the smoothness towards your work and feels fresh and undisturbed. By allowing your workers to work remotely, will help you and your business to cut down the salaries less costly and effectively will increase their real incomes. Hence, it is a supplement that working remotely can help your business in better ways than working from office because it allows employees the freedom to work from anywhere at any time with no disturbance and no boundaries that make them fresh and relaxed.
Benefits of companies when employees working remotely
To learn more about how working remotely can help and benefit app Development Company and also can create a positive impact on your businesses as below:
Increased productivity
This is one of the most important and strongest benefits when it comes to working remotely for companies. To incorporate remote workers into your workplace, your business will have increased productivity to a greater extent towards your target audience. In a survey, it has been noted that around 45% of the employees who work from home are able to work smartly and less time. It has also been seen that about 44% of the people say that when they do work from home then they have less distraction and they accomplish their work accurately than they do in the workplace. Therefore, working from home can highly increase the productivity of your business and the employees working standards as well.
Work-Life balance
The work-life balance majorly describes the employee's ability and the standard that they meet to work in their professional as well as personal life. When employees work from home then they have the time frame to work in those 9hrs but they have flexible scheduling that allows employees to take breaks in different working hours and can manage themselves in better ways. As per the report, around 53% of employees value their work from home miniature and promote the work-life balance in the best possible way.
Improved employee retention
One of the biggest headaches of all businesses especially small businesses who always have a kind of fear of losing the employees and that ticks their mind every time. Small organizations cannot always beat them in the competition of salary or benefits, but yes they can in some other aspects. Homeworking might help your employees to be stable at your organizations no matter what condition it made them stay with you. This is another one of the major advantages that organizations can have from allowing the employees to work from home which results in their brand reputation management also.
Increased savings
By empowering the workers to get engage in working from home is a good option to save your business in terms of money. This way you can lead with a good amount of money to be wasted on many perpendicular activities. Lots of activities like parties, electricity, journals, and other overhead stuff you might be giving the rent off in your office. In this way, your electricity bills, your furniture, food, and many more items can help you save money for your business if you allow work from home to your employees.Reduced salary
Here we are not suggesting you that just pay your employees a cut of salary in return to more flexible workplace practices, but yes, about 36% of employees choose to work from home and that might reduce their salaries. It might happen that your employees might be working for the full day and then the amount of work is decreased from their end. This way you can reduce their salary so pay for what hours they are working for your business.
Conclusion
After having a clear understanding of how app Development Company can benefit if they allow their employees to work from home. Based on these statistical analyses, the remote working is one of the best options for your business that can help you and your business to stay updated, flexible, and fresh and relaxed in terms of work and other activities.