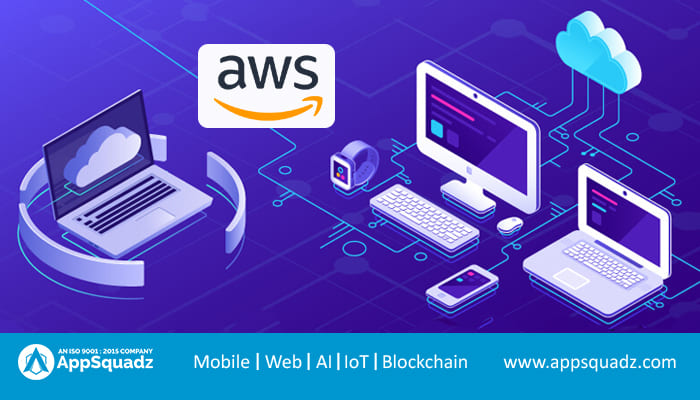 Aws Is Bringing Compute Services
With the growing needs for security, content sharing, low latency, and many others, AWS has made quite a name among the organizations, now whether they belong to any niche, somehow AWS comes into the frame. Take, live streaming with AWS elemental link, which not only aids in streaming your content on various OTT platforms but also secures it using different methods. 
So, as far as we know, AWS development has bought many advantages and changes to our security partners. 
AWS development is expanding its cloud computing, database, AWS Cloudfront, and storage services and bringing closer to its users, who are settled across the globe with the help of AWS Local Zones. However, five of these Local Zones are located in four cities Houston, Boston, Miami, and Los Angeles, with 12 more upcoming Local Zones.
Likewise, the AWS collaboration with AppSquadz Software helps their educational arm AppSquadz Education to provide the AWS media package services to Next IAS.
The Media Package given to the Next IAS included the services such as:
1. AWS CloudFront
2. AWS ec2 Server
3. S3 Storage
4. AWS Media Live
With the help of the AWS media package, Next IAS the institute for UPSC CSE IAS Preparation was able to provide its services to maximum students. Hence, with AppSquadz, Amazon was able to scale up their services in the educational sector as well.
Here, the various services like the CloudFront from AWS fasten up their website services. With the integration of the AWS ec2 server, the security and cloud computing becomes easier for the Next IAS. To store the content and deliver it to maximum students faster, the S3 storage was installed. Finally, to execute the delivery of content directly to students the AWS media live services came into use.
Edge computing helps obtain data in strategically placed servers near the "edges" of the cloud, i.e., it is closer to the end-user. This proximity can be highly advantageous for users of cloud applications that depend on low latency – lag time – to provide optimal performance.
Amazon Web Services (AWS) is familiar with the edges of the cloud. With global data centers, the core of one user's cloud is the edge of another's. But the AWS development most advanced edge-computing supports hyper-local data hosting and wireless tech to bring data closer to the consumer. Today's edge cases will soon become tomorrow's typical data throughput requirements due to consumers' demand for access to more data at ever-increasing speeds.
AWS's hyper-scale data centers are settled in areas with abundant land, bandwidth, and electrical power by necessity. However, this hinders establishing one of AWS development centers in Midtown Manhattan or Los Angeles.
What are Aws Local Zones?
AWS Local Zones brings AWS CloudFront closer to consumers by placing AWS storage, compute, database, and other services near extensive population centers.
The primary goal is to draw industries like IT available in AWS Region that are not served. In addition to this, local Zone's aid enterprises and users that need single-digit millisecond latencies.
An AWS Local Zone location prolongs the reach of an AWS Region, where companies can run latency-sensitive apps.
These applications can use AWS services like Amazon Elastic Compute Cloud or EC2, much more confined to the end-user.
Moreover, the services operating on the AWS Local Zone have a secure high-throughput connection among native workloads and those working in the AWS Region, providing the availability of all abilities over the entire networked application along with dynamic load balancing.
These features lessen the requirement for most clients' resources in co-location arrangements or localized data centers. Local Zones also make production within reach of more potential customers than ever.
The use cases of Local Zones fall into two categories.
The Local applications use cases are the ones that require access to cloud services in particular locations, either close to their offices or data centers. This provides customers to process and store data with low latency and within a specific geographic region to meet managerial requirements.
On the other hand, Distributed edge applications are customers who incorporate parts of their social media, gaming, and voice assistance apps in multiple, geographically different locations in order to deliver a low-latency experience to their end-users.
Approach of 5g
The approach of 5G wireless produces the possibility of even more data-based mobile apps. For example- Game streaming has comprehensive options of growing exponentially on the smartphone. However, it is massively dependent on low-latency connections, and low-latency mobile applications perform just one reason AWS improved AWS Wavelength.
Being close to the edges of the mobile network makes customers more relative to the access points. In order to make this achievable, you must be close to the mobile towers as possible. Thus, AWS positions computational capacity and data inside the cellular service access points, enabling low-latency-dependent cellular data to serve as near to the delivery point as possible. Moreover, computing ability provides data processing at the network edge, commissioning advanced capabilities in areas like smart cities, IoT, autonomous vehicles, and industrial automation.
In addition to this, AWS Outposts are another addition to AWS configurable and manage to compute storage racks developed with AWS-designed hardware. In addition to this, it grants consumers to add and store on-premises. It is designed for workloads that require to remain on-premises due to latency conditions.
The Wavelength
Last year AWS launched Wavelength, with the first data center to be installed inside a Version SAP in Chicago. AWS Wavelength is designed for ultra-low latency apps that are incorporated in 5G devices. In addition, Wavelength extends the AWS infrastructure and tools to 5G networks.
Conclusion
AWS going local for its users is a massive step towards more credibility and a wide array of services. AWS services aid its customers in more than one way. It will launch local zones in Chicago, Atlanta, Dallas, Kansas City, Denver, Las Vegas, Minneapolis, Philadelphia, New York, and others.