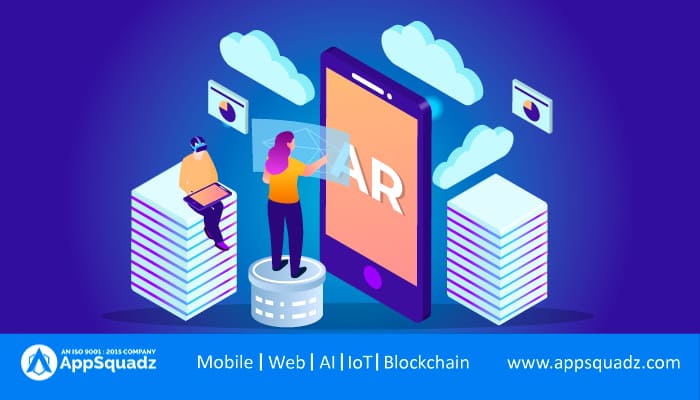 Augmented Reality Mobile Applications
Augmented reality is a young technology and has seen unprecedented growth in significantly less time. It enables users to experience the natural world in a matter of few inches.
How this works?
Augmented reality can offer computer-curated data in the form of graphics and videos. In addition, it enables a consumer to use AR mobile app on a tablet, mobile, or any other device that uses GPS.
Smartphones are the backbone of AR mobile app development companies.
Moreover, the technology through which AR mobile apps are developed can be classified into two: Face-reorganization and location-reorganization.
Face-reorganization AR app has a core for identifying face and sounds through a digital partner; location-reorganization uses the camera and other features of the phone.
The Future Of Augmented Reality
People are getting comfortable with Augmented reality with each passing day, and now they even have more open access to it than earlier. Pokémon Go, launched in 2016, was the first Augmented reality game that took the whole tech market in a swing. The game used location-reorganization technology, which enables you to capture Pokémon at distinct locations virtually.
Then came applications like Google Maps, Snapchat, SketchAR, IKEA Place, and so on, using face and location reorganization. For example, IKEA Place helps you to arrange your furniture virtually before buying it.
AR mobile applications identify product images and graphics and send the required information to your phone.
Similarly, the amalgamation of social media and AR has bestowed the platform in many ways. As a result, augmented mobile app development is making its pace slowly but steadily.
The travel industry and AR have surpassing potential; these applications proved to be real game-changers. For example, AR mobile apps like Google Translate can translate in real-time name boards and other elements. And this has significantly made traveling easy and has saved many people from public embarrassment.
To date, people have come along with augmented reality and have adjusted it in their day-to-day lives. However, the integration of AR with the mobile application is becoming seamless; the markets are flooded with AR-based glasses and gadgets that will produce a tremendous shift in the market.
ESTIMATES
According to a study, the Augmented reality mobile app industry will generate a revenue of $25 billion by 2025, leading to a bright future for this industry. As mentioned earlier, there is no single industry that hasn't tasted this tremendous technology.
The gaming industry has always shared a large part in the AR industry. It is believed to bring a revenue of $11.6 billion in the upcoming years, followed by healthcare, live events, and engineering that brings $13.9 billion as estimated. Implementation of these AR solutions solely depends upon the ongoing cycle of the product evolution in terms of delivery and integration with the current ecosystem.
Moreover, the future of Augmented reality to be seen upsurging in the following industries.
E-commerce companies are integrating augmented reality with brand applications. As a result, the app will enable people to experience seamless clothing of hats, jewellery, footwear, and makeup with the help of a camera fitted in a smartphone.
Applications like Google Earth and Google Maps have changed the ability of devices we hold today. With the help of AR tech, they can inform users about nearby locations and restaurants. For example, Today, Google Maps can direct the fewer traffic routes to the best ways to be taken on your journey.
The developers are still attempting to find bestowed ways to integrate AR in a training situation. However, applications like 3DBear, Catchy Words AR, CoSpaces Edu are among the best applications in the education industry; they allow teachers and students to learn via AR.
Moreover, the military and healthcare industries are developing robust AR simulations, and AR in the education industry will introduce future experiences like having a seamless glaze of story characters.
Using augmented reality mobile apps became another thing when video streaming company Bilibili advertised a scannable QR in the air via drones in Shanghai. The process of advertising in digital marketing is unfolding each day; AR tech is integrating more with social media than ever.
Marketing with AR will be seen as packaging via gaming apps, interactions with other products, etc.
OBSTACLES MOBILE APP MAY FACE
In a 2017 blog post of Forbes Agency council explained, "Augmented Reality gives you a more interactive platform to communicate a story guiding people to game-like features, deeper content, and bringing the consumers into the experience,"
However, with this great technology comes hurdles, too; some of the possible issues that AR mobile apps face are as follows:
The current augmented reality gadgets are bulky pieces of hardware that might be too expensive for the pockets. Moreover, AR headsets need to connect to a computer, which makes the entire experience inconvenient. However, one can use mobile AR apps, but usually, mobile AR applications face significant issues in displaying actual visuals. For example, cameras in our mobile phones are built for 2D capture and are incapable of rendering 3D images.
Developing new content for AR mobile app is essential as the content created for AR devices comes with games and filters used on social media platforms like Snapchat and Instagram. Also, AR developers have not developed enough high-functioning use cases that consumers can use daily.
Users have used some of the most popular augmented reality mobile apps to try clothes, glasses, and accessories. First, however, consumers need education about the benefits of augmented reality and how to use these apps for their service. There is a lack of awareness among people about the AR mobile apps that leads to privacy and security while using AR-based applications. Hence, consumers' concerns need addressing for better deployment of the augmented reality.
There are no regulations that may help businesses and customers to understand how AR applications can be helpful for them. For example, a cybercriminal can hijack your crucial accounts by drilling data output and manipulating AR content. In such cases, customers may ask about accountability, mitigation strategies for guarding the data, and avoiding such types of situations in the future. Thus, developing regulations for consumer privacy and security is among the significant challenges of augmented reality.
An augmented reality-based mobile application can be distracting and physically risky. For example, many people got injured and lost their lives while playing PokemonGO. However, further research claims to enable the deployment of technology on a large scale. Once this takes place, the use of AR applications will be seen in departments like healthcare, education, finance, etc.
Conclusion
AR mobile app development has seen significant growth in the past years, from having attractive filters in Snapchat to games like PokemonGO. However, there is a lot to be developed; in other sectors, AR has changed how we look up to the world.