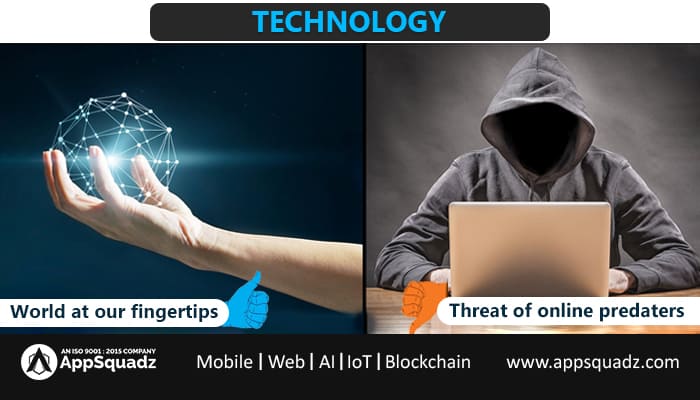 Technology in our life
From the existence of life, human beings are dynamically using their brainpower to make their life easier. This is what gave rise to technology and enhanced it from the roots of human existence to the very end. From the invention of basic tools to the robots that work for us, all are outcomes of this regular effort toward a simpler and comfortable lifestyle. Whether we accept it or not but the existence of technology in our lives is irreplaceable and unmatchable.
Although technology has gifted us electricity, modern machinery, internet, also we can see the nuclear weapon lead to world war, lots of distractions, cyber threats, etc. so deciding that whether we are emerging toward boon or bane is very difficult. Let's check out the major pros and cons, we got from technology in our life. To develop better technology in entire human welfare, check out the major terms that represent both faces of technological inclusion in our lives:
The Pros of Technology
More access to the information:
The Internet has increased the reach of everyone to everything. It has offered us a vast range of informational resources. When you experience surfing the internet, you get to know different ideas, perspectives, and cultures as well. Realtime updates of new stories and affairs, connecting with people, knowing about their lifestyles like what they are up to this include profession, creativity, hobbies, pictures, etc. collaboration through new platforms, chats, and feeds are available on internet to know much more.
We should be thankful for the incredible gift of technology that is Internet of Things (IoT) development, you can access a set of services on it. Connecting with people worldwide has made us explore the world from one corner itself. Maximal data can be transferred through the internet from one device to another easily in very less time.
It helps you save time:
Technology saves your time, must think about the older time when people had to write a letter to send a message, the letter used to reach to the receiver in a minimum duration of 2-3 days. And it used to take the same time in reply. You can analyze the total time that is about 1 week used to be consumed in the entire process of a message and its reply. Now various messaging apps are available where people chat and share numerous messages sometimes in a minute even. This represents a huge difference in the ratio of time consumed and saved by technological ideas.
If you wanted to travel somewhere before, it used to take a lot of time in searching for a way that is quite unsafe and time taking also. Now numerous navigators like google maps are there for you to show the entire route and get a better evaluation of the best-suited way for you to reach easily. Upgraded features of Google maps also let you know the traffic on different routes now.
Communication turned easy, fast and efficient:
Over a long time, artificial intelligence has improved our way of communication and information transmission every decade. At the time of the industrial revolution, we developed great resources for better communication because of excessive requirement. As the need give rise to the invention. We invented the telegraph, which gave rise to the landline telephone, then we developed cell phones and now we are living in the smartphone era. The invention of fiber optics enhanced the data transmission process well.
Technology decreased the cost of many things:
One of the major advantages of technology that has benefited lower class people most is the decrease in the cost of things and resources. Manufacturers all over the world can produce different things in a high amount and in less time through the help of technology. This has raised the competition and competition led to a decrease in the cost of things. Now people can access everything easily as compared to before. Now with the assistance of technological ideas and smart machinery more and more businesses are heading to the market with versatility. This pool of idea has suppressed the cost of articles and services in the market.
The Cons of Technology
It created a dependency:
No one can deny that they cannot live without electricity, smartphone, automobiles, the internet, as well. Less than 5% of people will hardly agree to live without these things worldwide. Most of us have lost our mind power to a level due to technological assistance. People do not remember phone number due to mobile, all the documents and details are handled by your smartphone this is the reason you have nothing on your mind related to such perspective. Calculators prevented mental calculations; these all things represent that we are dependent on technology somewhere.
Data storage brought security concerns:
People use banking and UPI apps for easy transfer of funds, but this also raises the security risk because you have all the credit and debit details of your bank on the mobile app. A hacker can clear your account in seconds if it gets the access credentials. Firstly, the software is designed and then a security check, flaw penetration, testing, bug fixing, source code security, watermarking, etc. processes are performed further on it. Our almost information from details, photos, videos, audios, docs, all are on the server in a risk.
It is being addictive:
Technology gives you comfort, it often introduces new topics and slowly you become addicted to these things, technology is so amazing the user starts loving it. The major example of this is a smartphone, People are addicted to them, even we spend an average of 3hr45min on screen and it becomes different when you change the field like, an IT person spends more than 12 hours in front of the screen.
There have been several things that turned user flinched when they asked to leave like video games, smartphones, WiFi, and more. Moreover, fake news or twisted truths spread so fast with technical assistance and people trust it due to a deep trust in tech assisted things.
Summing up
We discussed both advantages and disadvantages of technology and its integration into our life. We cannot deny that technology is very good to us but cannot ignore its negative impacts also. For this, we have to solve this problem we need to consider everything carefully ad use it in a limit as well. Perhaps the comfort of life lies with technology now.