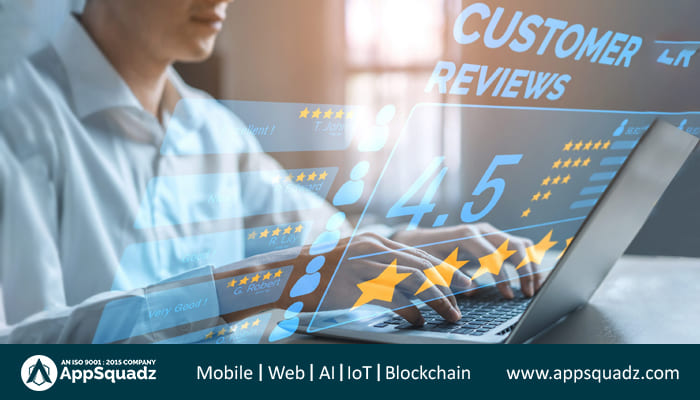 Customer Reviews are effective
Live referrals and suggestions are the best methods of advertising and the most successful pathway for a business to reach their customers most of the times. Sharing reviews and saying something about the services and products are some of the most common habits of social people using the internet actively. This is the habit of all customers after they receive the product or service, they speak up themselves if it is good or bad additionally some of them share on the internet or any other platform and some not.
This is with every business whether it is a shopkeeper or a big IT company. You can face it mostly in case of mobile applications. These customer reviews work everywhere whether it is a five-star hotel or a street vendor. Whether it is about a cobbler or a jeweler shop. Customer reviews are trusted 12 times more as compared to the description given by the description given by the business owner or popularity.
Every business owner takes reviews very seriously, you might have observed service providers and even delivery agents ask for the review after completion of the service. Customer Reviews play a 10% role in google search engine result page ranking that is quite interesting. Users trust online posted reviews whether they are buying a property or a smartphone. People have on their mind that a personal experience is better than any illustration. A bad review might affect business very badly, a good review is like potential and more if it is original. The review is very effective in dropping or raising the ratings that prove vitality to the sales enhancement. According to the studies, a business gets a positive review on every star that is about a 5-9% increase in revenues.
Reviews are contributing to business predictions like the way nothing is right now. Transparency is the greatest strength of any business showcasing the strength. Many application optimization techniques are used to improve the user experience that enhances the rating on platforms like PlayStore and AppStore. Now we will get to know how businesses are affected by customer reviews.
People trust online reviews
More than 72% of customers accepted that they consider reviews while opting for any service or product. Most of the businesses are performing this customization to get ratings. Better online visibility comes from higher ratings and brings more customers. The review takes around 207 million website visit aloe every month. People use reviews to decide whether they have to buy the product or not, as the internet is an ocean of opportunities.
Negative reviews appear more than positive reveiws
This is very obvious and confusing as well that negative reviews work more effectively than positive. In frustration, people give a negative review quickly. Even users think that it is important to share the bad experience as compared to the bad. A single negative review is just like loss of at least 30 customers. The worst part is a negative google review is considered about a 70% potential decrease. But still, negative reviews help raise product awareness therefore it is helpful in many cases.
The positive review helps a lot
This is common human nature that hearing or reading something from someone about some product or service make us trust on their thoughts easily. 90% of customers make up their mind for a business just by reading even less than 10 reviews. Customers are commended to spend 31% more on the business with positive reviews. We can see the hotel businesses people are likely to choose the hotel with good ratings, the same thing is seen in food. These reviews boost the competition between businesses they follow up on what others are doing. Numerous mobile app development companies optimize your app to get positive reviews as per user suggestions. You might have seen that popular apps reply from the developer section.
You can Turn the negative review into positive
As this is very obvious that reviews affect a business image deeply, this is the reason you have to concentrate on the business proposition. The interoperability of the reviewer with your business is very important. The negative reviewers can be original or maybe your opponents, this is the reason they do not have any right to handle your business. A review is just an experience and thought, this is not the entire customer base. If people are replying with a bad review you can talk to them make an apology and change it into a positive review this is what successful app developers are doing. This shows how you value your customers and make sure a positive effect of a negative review on your image.
Most of the time, the businesses with an application put major efforts into maintaining a good brand image on the PlayStore or AppStore. They keep checking the reviews on the app and reply immediately as soon as possible. Because reviews are very effective for the number of downloads of an application. You have seen after downloading and pp and running it for 5 minutes, the system asks for a review this is because reviews are a major factor in the popularity of an application.
Want is an app?
Application is the software installed on the smartphone from PlayStore or AppStore, this works like native to the device but users keep proper choice while choosing an application. Getting eyes on the app is very important. AppSquadz Software is a leading mobile app development company that has catered to more than 650 clients across 30 countries that creates good trust in our service for app development solutions with improved user experience.
Conclusion
The Internet has improved the customer reach to every service, this has affected many businesses. Reviews have made it easy to win trust for businesses but also, they have made it difficult to prove themselves in between the competition. The positive and negative values given by customers are relevant and malicious as well. This is very mandatory for the business to get reviews and positive reviews as far as possible. For this, they need to keep modifying the website and pages.