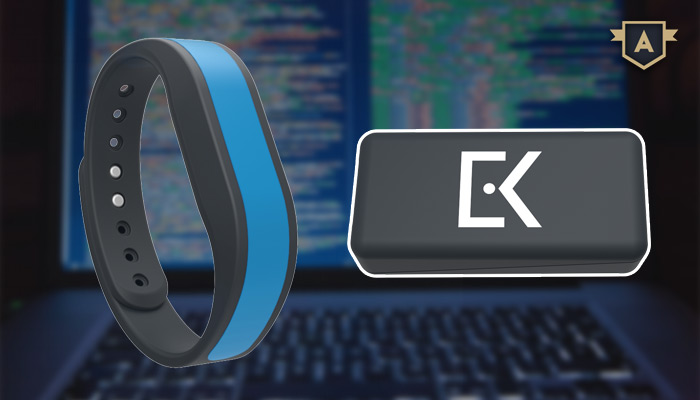 If you are worried about your bank, social media, or any other accounts getting hacked, then you must be. In last couple of years most of the people have reported issues related to identity theft. With so much increase in the number of attempted hacks every day, it will not be wrong to say that you could be the next victim of identity theft. If you're really looking for a solution that is sure-shot and defend your accounts from getting hacked, or your identity getting stolen, or you are fed up of remembering password, then you have come to the right place. The one stop solution for all your password worries is named as Everykey.
Everykey is a small bluetooth device which offers virtually unbreakable password security for all your online accounts and Bluetooth enabled devices. It is said that this technology is also used for the military use to secure their top secret information.
What Does Everykey Do?
This potent tiny device works like your personal digital master key. It is surely going to be the future of access control!
Everykey works by creating very complex, impossible-to-remember passwords for password protected website and Bluetooth enabled devices.
The device features a military grade AES 128-bit encryption to protect those complex passwords – making identity thieves and hackers virtually immobilized.
The device automatically logs you into websites and devices when you're nearby. As you walk away, the device logs you out and locks them automatically.
With this device by your side, you will never ever have to worry about, creating, or remembering those complex passwords again.
What Else Can Everykey Do?
Although, there are many other products offering such features but most of them are either partly successful or very expensive, whereas Everykey is compatible with both password protected websites and Bluetooth accessed devices. Moreover, the device easily works with multiple devices such as websites and phone, simultaneously.
In case you Lose this Device

In case your Everykey gets misplaced, stolen or is lost, you can easily lock it down right from your phone using their application or you can even call Everykey to block it for you.
Cost of this Device

According to reports, this impeccable little device is available for $128 with free shipping. If you are looking to but two Everykeys you will need to pay $115 and in case of four Everykeys you will need to pay $109. You can buy the device from the the official site of Everykey https://everykey.com/.
For more technology related news and updates, visit https://www.appsquadz.com/blog