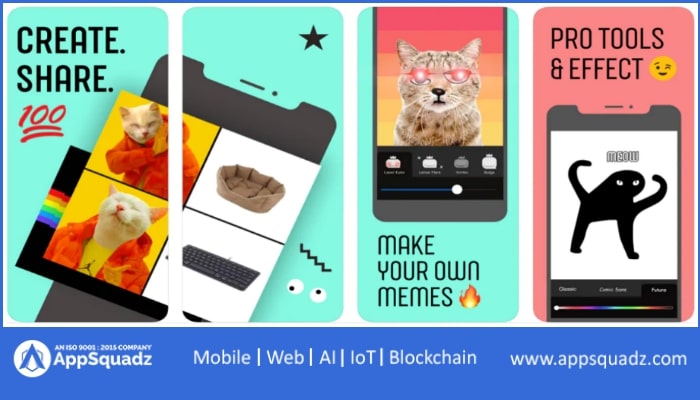 Facebook Whale
A week ago, Facebook unobtrusively released a new meme-making application named Whale for iOS, especially iPhone users. The app is presently available on the app store, and for now, the users in Canada only can download it. Its listing declares that you can make use of it for editing your photos or pictures of a library of stock photos. Along with this, you have an option to share your made creations with your friends on social media app platforms such as Instagram and Facebook Messenger.
The app's listing validates that it is created by Facebook's New Product Experimentation (NPE) association, which was set up in July this year. The NPE group aimed at creating different experimental apps for the social media giants available today. Facebook stated it was employing various brand names to establish the belief that the apps could adapt quickly, or shut down if it didn't gain traction (if the organization discovers that they are not helpful for individuals). By releasing two different apps Bump and Aux, NPE is credited. A Facebook representative revealed that the apps are proposed to enable the organization to find new features and services that individual's desire.
The application isn't too unique, provides plenty of image-editing applications on the App Store with similar feature capabilities. Yet, it holds the advantage of being free to practice without in-app purchases or subscriptions.
As TikTok rises, Facebook too experiments
Facebook's experimentation with innovative apps begins amid the meteoric mounting of TikTok, the video-centered social media platform, which is very popular among the youth these days. As of today, TikTok has become a prominent source of memes that spread through other social media services in the past two and a half years after its launch outside China. The ByteDance-owned application is presently holding 500 million+ users and is heading to make the figures around 1.5 billion users. Still, there were signs that its progress has started to slow down.
TikTok's ascent has not been without criticism, and Facebook's owner Mark Zuckerberg has raised worries over the application's censorship of criticism of the Chinese government. Now, Whale has also entered the extensive list of experimental applications that are launched or purchased by Facebook over the years. These apps include Moments, Notify, Slingshot, Tbh, Moves, Lifestage, Poke, and Hello. Given Facebook's track record, we'd prescribe not getting attracted to its most recent experiment.
The app was launched on November 15, 2019, according to App Annie although it has not ranked in any App Store plus could not create any bang for now. Previously before the launch, it was noted that the availability of the apps relies on every app. Let us look forward to what is the future of this new launch. Will it succeed, or it will be shut down in no time.