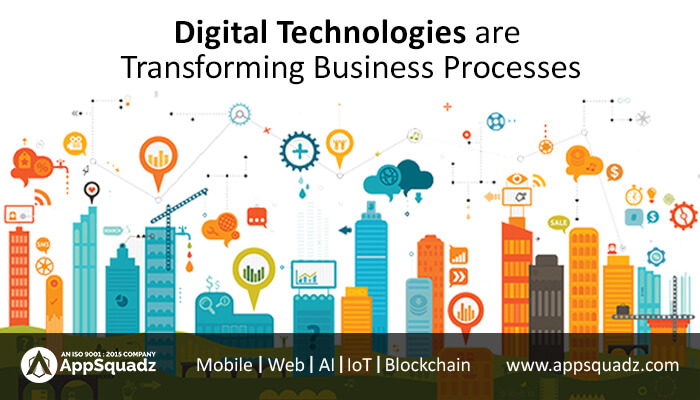 Digital Technologies Transforming Business Processes
Digital technologies are causing great transformations in business processes to gain the maximum benefit of the opportunities laid down by the techniques and their effect across the world in an organized manner. Public and private sectors are developing technologically at a fast pace.
The adoption and acceptance of the latest developments in technologies have shown many businesses a path of success. The techniques have helped the companies become people-centric, and deliver products and services efficaciously in the areas that are most affected by the digitization.
Businesses that have shifted to integrate these tools like cloud, big data, social platform, and mobile technologies have by far experienced progress and growth in their revenue generation instead of those who are yet to incorporate these features. The purpose of a mobile app development company is not just to create a copy of an existing form, but to develop a better version of the technology.
Mobile apps encourage businesses
Mobile applications create new opportunities for the business companies to re-introduce their services and products, their process and store at the professional and social front. Smartphones equipped with business apps help in leveraging growth in revenue generation.
Applications connect employees and work
The presence of business apps allows the user to have access to corporate tasks anywhere and at any time, thus, increasing the output of the employee. The employees find it easy to stay connected to each other and stay updated with what is happening in the business on the whole.
So, how digital competencies have revolutionized the business arena?
Enhanced user experience
A customer has a notion if a retailer offers mobile technology in the store it will provide better client services. With the help of mobile apps, it is easy for the consumers and the retailers to stay connected and informed about the pros and cons of the services. The customers no longer have to wait to get their complaints answered. Better personalized query handling again results of having information at hand for the customers.
Enhanced operational efficacy
Using mobile technology in the manufacturing industry has provided users with business apps. Here, the users can stay more aware and informed about things like inventory, quality, and production of goods, etc., to make wise decisions and perform activities like revert to their emails on their smartphones and many other things that interest them.
Better customer loyalty
The presence of brand apps on mobile phones has made the client stay engaged with the app and stay loyal to the brand. The customers can inquire about their queries and suitable receive quick replies from the business store keeps the customer entertained and satisfied with the services. Also, real-time access to the information allows more customers to stay connected, thus stay loyal to the brand. Companies and brands who are still pondering to integrate a business app must not regret later on seeing other brands leverage a lot of revenue with their business app.
Enhanced ways to generate revenues
The mobile platform has opened many channels to earn business for many brands that are using mobile technology for their business to improve, increasing customer loyalty and brand retention. Small cycles of sales and minimum costs in customer acquisition have led to cost savings and more revenue generation along with enhancing the output, using resources efficaciously and least operational prices.
Conclusion
The presence of digital technology has significantly renovated business processes. Whether one has to re-invent an existing product or service or launch new services into the market, digital applications help businesses to indulge in profit-making ways and improve their productivity and keep the expenditure in check. Contact our mobile app development company today to inquire about your business app. Our skilled and experienced team of developers knows it well what is required for your app to succeed in the market.