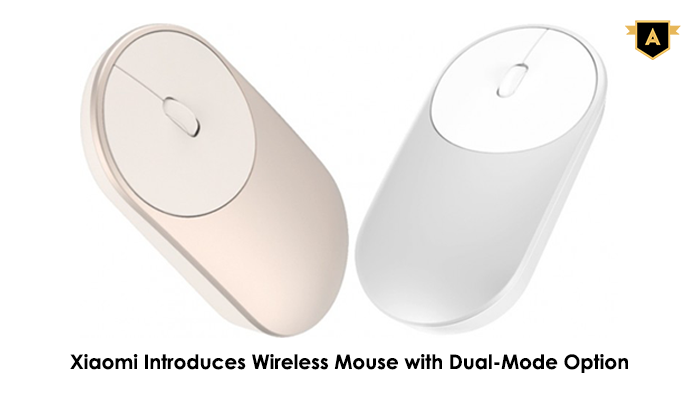 Inspired by Apple's Magic Mouse 2 design, Xiaomi has now introduced a lightweight Mi wireless Mouse. For now it has been introduced in China only but soon it will be made available in other market as well. The unique thing about this device is that it features an added functionality named as 'dual-mode'. The "dual-mode" allows a user to use the mouse on two devices at the same time. This Portable Mouse might be inspired by Apple but it is considerably cheaper than the one offered by Apple. It is priced at CNY 99 which is around Rs. 1,000 INR. The sale of this device will be starting from November 11 in China.
The portable mouse connects to other devices via Bluetooth (version 4.0) and wireless adapter having radio frequency of 2.4GHz. The device weighs just 77.5 grams (with batteries). It can be easily connected with the Mi tablets, TV, laptops, desktops, mobile phones, and other devices. The Mi Mouse offers wireless coverage of up to 10 mtrs, and requires AAA batteries to power it.
As said earlier, the USP of this mouse is that it supports two devices at one time. You can connect one with the Bluetooth and the other one via wireless adapter. The dual-mode option not only enables the Mi Mouse to connect to two devices, but it also makes the switching between the two an effortless task. Moreover, a dedicated button at the bottom of the mouse is present for switching function. A user just needs to press the button to shift the mouse from one screen to another. In addition, the device features a high-speed laser pointing which offers accuracy of up to 95% and 1200dpi.
The Wireless mouse comes with an anodised aluminium covering, measuring about 10.2×57.2×23.6mm. Xiaomi claims that the device is totally compatible with Windows 7 and above devices. LEDs, Function keys, positioning groove are all are fixed at the bottom of the mouse.
Furthermore, Xiaomi has also introduced an anti-pollution mask in China. This anti-pollution mask is powered by a rechargeable air filter, and is priced at CNY 89 which is around Rs. 900 INR. However, it is yet to be known as when these devices will be launched in Indian market.