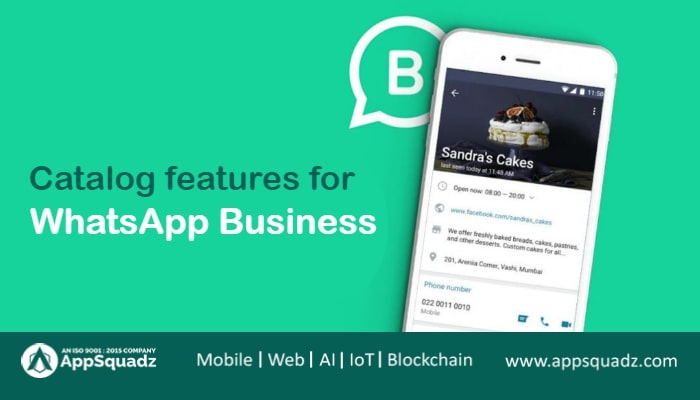 WhatsApp Business app
Whatsapp was owned by Facebook in recent years and released WhatsApp business app for easy navigation on business purpose. Now the app is introducing a new feature expanding its capabilities dedicated to the business owners. Whatsapp is helping out businesses to reach their customers with the help of smartphones and another device like a tablet. Inspiring e-commerce app development company, integrating into their apps. The new catalog feature in WhatsApp business app allows a showcase to the service providers. This feature offers a section to the businesses where they can upload details of products and services. Customers can reach directly to the businesses and browse photos, prices, and descriptions help to make their purchase decision.
How it works
Items you add in the catalog after creating it, you can send items from the catalog as a direct message in WhatsApp chats. For instance, if someone like your relative, friend, or customer asks for a particular item as a recommendation by a particular purpose. A business owner can select a particular item, tap on it, and send it to the customer wants to see it, the catalog will have already every info about the product.
Catalog in your WhatsApp business is designed based on emerging standards of markets. This is trending a lot that people are heading to the markets on applications instead of the open wider web. New users are willing to come online for services and business too, they are avoiding the PC and revolution has headed to smartphones straight to handy activities.
How catalog feature benefits your business
The catalog serves a wireframe of your business, your catalog is a reflection of the services or product you are providing. There is no need to design a webpage or additional material and the customers related to your stay always connected as a permanent customer. It becomes easy for the customer to reach a recommendation or particular item from the catalog by watching out a list of data.
The Facebook trademark and Market share
Whatsapp has 5 billion users on the globe and 5 million downloads on the WhatsApp business. That is already a very large portion of the market. Enhanced features and integrated trends in the WhatsApp business app make it very synchronized with iOS and Android. Businesses residing in countries like Germany, Brazil, India, Indonesia, the USA, the UK, Mexico, and Brazil. The catalog feature has joined other features like the business requirements like on mind businesses, quick replies for messages, automated messages, chat labels, and business profiles.
Conclusion
The app gives complete data and description to the clients easily on an end to end encryption. Secured chats and processes are very successful for instance, connections to the website and other important things. You will feel free to just tap save and distribute the listing. You can include similar things to your index, or catalog.