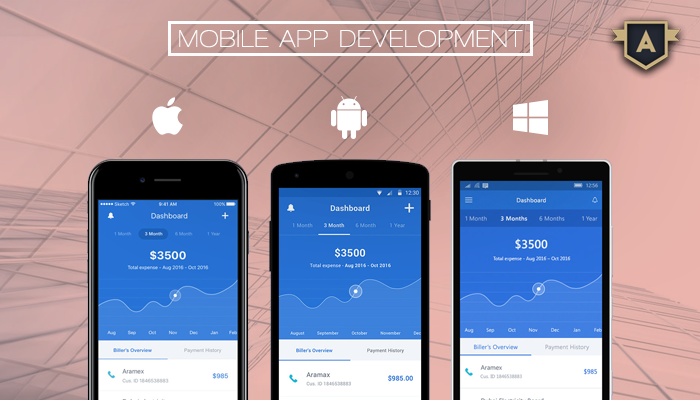 Mobile App Development Company USA
Smartphone users have rapidly grown over the last few years across the globe. And the numbers are comparatively high in the USA. An article published in the Entrepreneur showed that more than 60 percent of Americans own Smartphones, and, the global tablet ownership will reach 905 million by 2017. In another study, every American gets to their phone after every two hours. The trend is growing in popularity at the fast pace and that is why businesses including both large entities and growing ones are adopting mobile apps. We are reputed mobile app development company USA, offering user-friendly mobile apps to clients.
Should You Outsource or Get it Developed in-House?
There is no set rule that tells which is the best way to go with. Whether outsourcing or developing in-house depends on the nuances of a business and the specific objectives of a project.
Having a team of professionals to develop a mobile app provides a greater control and effective director over a project. Increased collaboration surely results from a team working in proximity. But in-house app development is more expensive than outsourcing. There are many mobile app development companies in the USA widely renowned for setting up the benchmark for quality through rendering cutting-edge mobile app development solutions at the most affordable cost. If you are planning to cut on cost or a startup with a limited budget, then outsourcing to a reputed mobile app development company USA is by far the best way to go with.
Which Device Should You Develop Your App for?
According to recent studies, more than 60 percent of Americans own Smartphones and global tablet ownership will reach 905 million by 2017. With such a multitude of options, device fragmentation becomes inevitable for a mobile project. Assessing the current traffics coming to your company website will be very helpful in deciding on device preference.
If your website is accessed by a majority of shoppers through an android device, you should build your mobile app on android. But the iPad and iPhone users are likely to spend more than the people who use android. Thus while Android representing a substantial market share, Apple users pack a statistically larger transactional punch. And you should keep this in mind before you set in on your mobile app development project.
What Do You Want Your App to Do for Your Business?
A mobile can be developed for online shopping or for filing expense reports. It can be a kitchen sink for customers, allowing them to interact in every way with a brand as a website does.
This also implies to when it comes to developing internal business apps. So you should keep in mind the objectives of your business or say the core functionality of your business. What your business deals in and what needs you want to meet through the app are key elements in developing a mobile app.
You also should consider the capability of the existing infrastructure and the design part that play a vital role in design a mobile app that better meets your need. Whether you are looking to outsource to one of the reputed mobile app development companies in the USA or develop in-house, asking these questions will be very helpful for you.