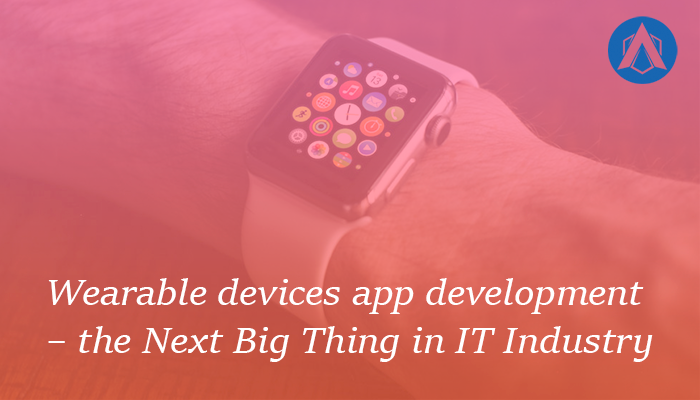 Wearable Devices App Development
IT industry has entered a new phase of life, with a number of breakthroughs happening all the time. Wearable technology is such a breakthrough that has added a new dimension to the wall of mobile app development. Wearable devices are equipped with world-class features such as sensors, GPU, and much more. Also, in terms of design and usability wearable devices are pretty different from other hand-held mobile devices. They feel light on hands, look sleek and slender and are capable of doing a lot of functions that make a great sense in our life. It is a kid on the block yet a hot trend to build applications for wearable devices.
A Brief Look into the Features a Wearable Device  
To talk about features, the device comprises world-class features that make it highly efficient and user-friendly.  The ambient mode is something that makes the device more energy efficient. You can converse power by enabling the mode for your wear app. When the mode is enabled, the devices will automatically transition from interactive to ambient mode. And this happens automatically as the user is not doing any activity or covers the screen with their palm. This kind of app is called always-on apps.
Wearable apps are relatively small in size and also its functionality is less than handled apps. They have only those apps that really make great sense for the users. The best thing about the wearable device is that you can connect the device with your handled device and see and monitor the activities such as sending messages, seeing notifications and the likes on your handled devices without needing to use your handled device.
Wearable devices app development is getting into popularity among business class and mobile app development companies. Users cannot download apps directly on the device but they can bundle the wearable app inside the handled device app. As you install the app on your handheld device, the system of the wearable device automatically installs the app. But for mobile application development purpose, the user can directly install the app on their wearable device.
Things to Consider During Wearable Devices Apps Development
Unlike handheld device app, building an app for wearable devices is quite different. As the design and performance of the device are quite different, the app should be created in a way that best suits the device. Building a wearable device app should be the done with keeping that in mind. Here are two crucial factors that play a vital role in wearable devices app development.
Interactive: The app should provide the interactive user experience. Use full color with appealing graphics and design the UI that is responsive to the input.
Visually Appealing: Try to create a screen with grayscale graphics and try to not use any input cues in this mode. This is most interactive display mode compatible with the latest version of android.
With wearable devices becoming a hot trend among tech enthusiast, wearable devices app development is a good idea for businesses looking to get an edge over their competitors and grow their business at a faster pace.
In the recent years, the market of smart technology has witnessed the launch of different types of wearable devices. And further, it is expected that in the coming years, wearable devices are going to make a great impact on our life. This means the demand for wearable devices is going to rack up tremendously in the time to come.
More Advanced Fitness Technology
Recently, the brands namely Fitbit, Nike, and Withings have come out with advanced wearable devices such fitness wristband very popular among fitness enthusiasts. They are all set to continue launching new products in the future and more other competitors will also foray into this market of wearable devices.
Wearable devices development is a simple process that takes relative less cost. But the quality should not be compromised at all. Wearable fitness devices are today more intelligent and social, emerging as a tool that makes you sound smarter and more capable. Such devices have a great impact on the fitness goal of an individual and the effort you make to achieve your fitness goal. They are equipped with advanced features such as sensor technology that will help you effectively gain an ultimate fitness level.
Smart Glasses
In the queue of wearable devices, smart glasses enjoy a good demand in the market. With Google glasses having opened up the road, there are more competitors coming with similar products. A few names include Avegant's virtual retinal glasses and Vuzix M100 smart glasses. Those devices comprise of the latest software and robust hardware.  Another name making wearable glasses is Oculus Rift that is poised to come with improved and sophisticated wearable devices. With wearable devices development gets simplified, the market is expected to be stormed with more variety in wearable device segment.
Smart Watch
This is perhaps the most preferred choice in wearable devices. All leading brands such as Pebble, Samsung Galaxy Gear, Qualcomm Toq and the second-generation of Sony Smartwatch are doing rounds. They have the large share in the market of wearable devices. However, there is pretty room for the improvement and make them more effective and user-friendly.
In the coming year, leading names in IT such as Apple, Google and Microsoft are planning to come out with more products. Samsung and Sony are all set to come out with the improved versions. At the next CES, more products from leading brands are going to be launched. And wearable device development provides a good opportunity for businesses who want to target a large number of people increasingly depending on these wearable devices for their daily life activities.
Put simply, the future of wearable devices is bright and so is the wearable devices app development that can help you gain addition edge over your competitors in the market.