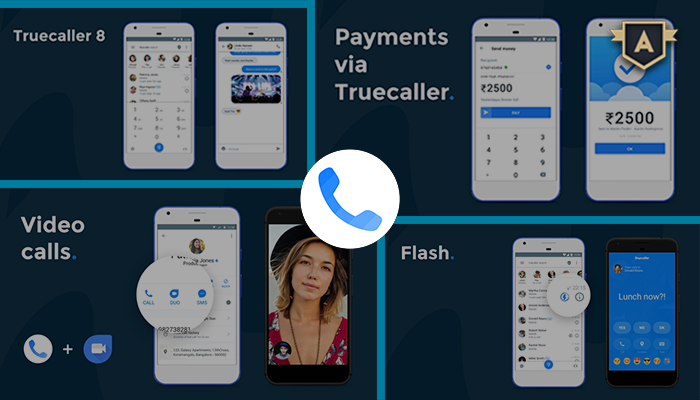 One of the most popular mobile applications – Truecaller which is a nuisance for the spammers everywhere, has now got some major updates in its functionality. The major feature in Truecaller 8 (Android) is a new SMS filtering functionality. Earlier True-messenger used to do this filtration has now been incorporated into the Truecaller interface only.
After updating the Truecaller, a user will also be able to identify unknown messages and block those annoying spam from marketers in a few swipes. Truecaller points out that a user can be able to block messages by name and number series as well. Apart from this, other major add-ons in the app comprises a flash messaging feature which lets a user respond to messages with quick responses. Truecaller has named this Flash Messaging.
Another which will be seen in the Truecaller 8 Duo integration. Google Duo is a video calling app which is meant to make video calling simple like a voice call. The application soon is going to feature a Duo button just beside contact information. This will easily allow a user to make Duo-enabled video call from within Truecaller only. Just like the calls and message, this feature will also filter out video call spams. Although, this update isn't available, but is going to be integrated soon into Truecaller.
In addition to this, Truecaller is joining hands with Airtel to provide improved caller ID functionality to feature phones in India. As Truecaller doesn't support feature phones directly, but partnership means that Airtel will be allowed to query a Truecaller database to provide caller ID to feature phone users directly. More than this, it is the introduction of Truecaller Pay which is making the big headlines. Considering the modern time, it may seem a bit late to the party, but Truecaller seems to be embracing the Digital India and cash less initiative in India as it is going to launch its own version of a digital wallet.
The Truecaller Pay will be in partnership with ICICI Bank. This app will also feature an integration of UPI support to allow transactions via Virtual Payment. The transactions will be managed by ICICI Bank, meaning that your financial data will not be handled by Truecaller and only by the bank.
Source: http://bit.ly/2mUBvbZ