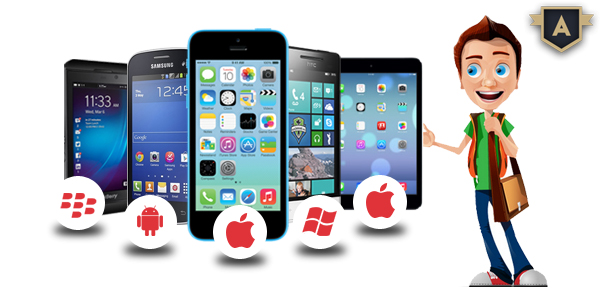 Top-Notch Mobile App Development Services
Mobile App Development Services
Whether planning to develop a mobile application for Smartphones, Tablets or both, AppSquadz has your business covered, no matter which platform or device you are looking to build it on. As a leading software development company in the USA, AppSquadz has vast experience in crafting high performance, feature-loaded native mobile applications for all the top mobile platforms including Android, iOS, BlackBerry OS and Windows Mobile. Moreover, as specialists at HTML5 development, AppSquadz also provide mobile app development services for cross-platform apps which will be compatible on any platform or device. Organizations and companies opting AppSquadz for their custom mobile app development requirements can be assured of their final product, no matter which technology it's built on. It will be secure, adaptable and viable in whatever environment it's hosted.
Using a swift development methodology to render our mobile app development projects, AppSquadz's proficient developers can tailor the right app which will meet your business' goals. We provide a proven, highly flexible model which begins with a complete evaluation of your business and IT necessities to ensure that the right mobile solution is delivered both cost-effectively and quickly to meet your deadlines and objectives. Whether you are looking to hire a developer to expand your current team to assist with a certain aspect of your project like code development, business analysis, project management, custom UX/UI design, and/ quality assurance, OR looking for a complete mobile app development solution to be delivered, we can meet your expectations.
Every day more and more Smartphone app development Mobile technology and devices are being used widely and businesses are taking benefits of such platforms to reach their customers and enhance their business operations. Mobile technology has made it possible to keep connected for longer and in many cases, even all the time.
Mobile App Development Services in the USA
AppSquadz designs develop and deliver mobile applications across all the major devices and platforms, including Android, iOS, Windows, and BlackBerry. Our software development services include:
Analysis of business' needs and requirements.
Testing user experience (UX)
Developing wire-framing and custom design architecture.
Cross-platform mobile development and wide integration know-how.
Project management and a professional development process.
Delivery on time and within budget with total transparency.
Thorough quality assurance (QA) testing
Assistance with getting your app in the Play Store, App World and/or Marketplace.
When you hire services from AppSquadz, you and your company can be assured of getting the very best of mobile app development services in the USA, in terms of skill, experience, project delivery, cost-effectiveness, innovation and creativity and much more.