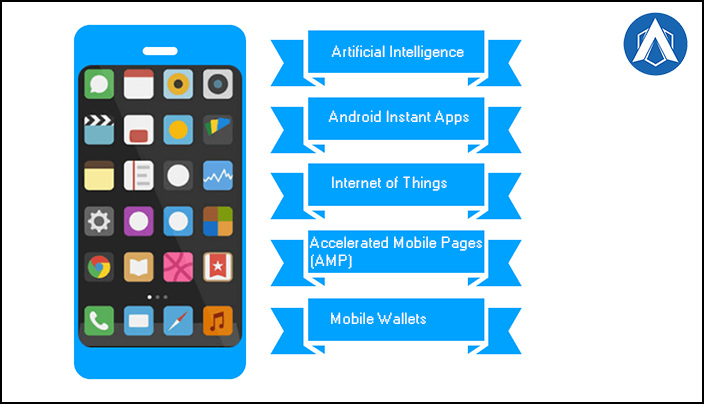 Undoubtedly, the mobile app industry is one of the fastest growing industries of this century. One can not deny the fact that the mobile app development industry is one of the biggest influencers in the world economy, right now. By the passage of time, each and every enterprise is coming up with bold and unique ideas to provide their user a never-like-before experience. And as a result of that, they are following some specific trends, which are allowing them to get progressed more and more. Here, we are going to discuss those trends, which they are following. So, if mobile app development fascinates you, look no further:
Artificial Intelligence
From the last few years, Artificial Intelligence is the center of attention because it is one of the major breakthroughs in this field of technology. To make the apps smarter and to save some extra money, Artificial Intelligence is one of the best possible options, which an app development enterprise can follow. In addition to that, artificial intelligence has permitted the exponential growth of productivity of an organization with investing a much lesser amount of money.
Android Instant Apps
To make things suitable for both the users and developers, Google launched the instant apps in the year 2016. These are the inbuilt apps, which works like websites and with the help of their functionality they are capable of attracting more people. These instant apps are available in Google Play Store, but you don't need to download or install them. You can access them instantly. And as a result of this, all the barriers between these apps and the users have been removed.
Internet of Things
In the course of time, the Internet of Things has emerged as a very big industry. Today, all the mobile app development enterprises are going gaga over this thing because this is a one-of-its-kind technology, which lets you control non-IT things with the help of a remote or an app. Nowadays, it has been observed that the Internet of Things is becoming a significant part of a user's life. So, to cope up with those, android app development enterprises are leaning towards 'Internet of Things' friendly apps. Also, according to a study, the Internet of Things investment will reach $120 billion by the year 2020.
Accelerated Mobile Pages (AMP)
In collaboration with Twitter, this is one of the latest projects by Google. The motto of this project is to accelerate the speed of mobile pages with a stripped-down version of HTML. It will allow developers to create heavy web pages and websites with high performances, fast loading speed and lower bounce rates for all mobile devices. With a good AMP score, you can acquire a better conversion rate, maximum user retention and also the enhancement of the user experience. Also, with the increased AMP of your website, you will get a better visibility on search engines.
Mobile Wallets
With the development of E-Commerce and online banking, a flabbergasted growth has been observed in online payment options for the users. Blockchain technology is developing day by day and as a result of that people are leaning towards mobile payments. So, you have to give importance to powering up your app which has more secured money transaction options. In addition to that, users prefer mobile wallet because the encrypted security of these wallets ensures the fact that money of the users is safe.
Sitting in the 21st century, with an increased number of apps, users are expecting more and more benefits. So, to keep pace with those expectations, go through the above-written article and make your app more acceptable amongst the users.
If you are looking to develop or design a web application, contact us for any support and best mobile app development company and web app developers.