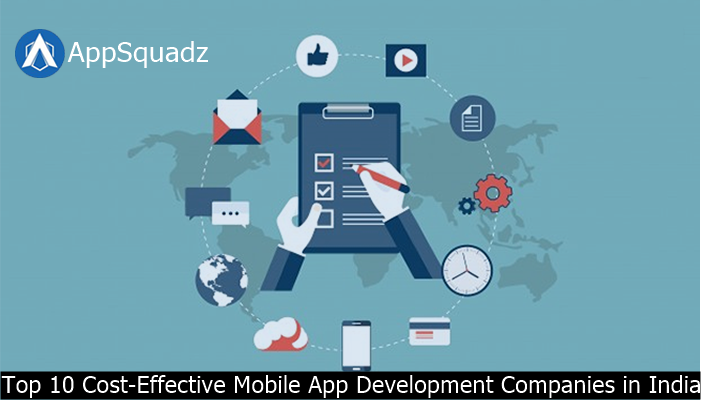 In the last few years, the mobile app development market is booming at a very rapid pace. Whether it is taxi booking, ordering of Favorited food or paying the household bills, people are highly opting the mobile apps for executing each and every task of daily life. Mobile apps have really made our life very easy & hassle-free; in just a few clicks you can do anything. Here we will tell you about the top 10 cost-effective mobile app development company in India.
A lot of companies and services are trying to bring their own apps to popular smartphone platforms like iOS, Android, Blackberry, Windows, etc. Not every organization or service has skilled mobile app designers and developers. So, many of these go into contract with mobile app development companies to build and maintain apps for them.
1. AppSquadz Software
AppSquadz is a squad of application developers, designers and marketers developed in 2014. Committed towards the boosting enterprises, businesses and online investors in order to create a long lasting impression through the true power of Applications and Technology, as 10+ years of experience. We have successfully embarked our impression across the globe. We have successfully accomplished more than 300+ by successfully reaching all the milestone and application projects.
AppSquadz Software is a topmost mobile application development company in India provides a cost effective Mobile App in every field. See Reviews by GoodFirms – https://www.goodfirms.co/reviews/view/102/142
2. QBurst
A globally recognized company located in Trivandrum, QBurst specializes in offering custom mobile and web development services. QBurst has been delivering customized, cost-effective and exclusive solutions for start-up as well as medium companies for a decade. The company consists of 1000+ full-time talented professionals comprising of designers, UX engineers, analysts, QA specialists etc.
3.Oxagile
Oxagile is a leading app development company established in 2005. Along with the mobile and web app development company has also achieved success in real time communication solution, Saas architecture, system integration, business process management etc.
4. Hidden Brains InfoTech
Hidden Brains InfoTech provides end-to-end IT services in Web, Mobile, Cloud, CMS and Ecommerce to clients worldwide. Right from ideation, UX/UI design, development through final deployment, Hidden Brains is your partner in the entire development lifecycle.
Hidden Brains specializes in designing and developing award-winning mobile apps and websites that are fast, fluid, and easy to use
5. Prismetric Technologies
Prismetric is an ISO 9001:2008 certified software development services provider based in India. Since its establishment in 2008, Prismetric is powered by the vision of 'Customized technology solutions that delight clients'. Prismetric is a venture of two technocrats having their individual core expertise in mobile solutions, web solutions, CRM solutions and Business Intelligence solutions. Their synergy worked exceptionally well and within a short span of time, the company became a leading provider of full-range technical solutions.
6. TechAhead
TechAhead is a mobile consulting, design and development company with a global reach. Through apps, we have created success stories for fortune 1000 companies and startups alike. We bring app ideas to life nurturing through its each stage of development from concept to the final user experience. We have created mention-worthy apps on all platforms and technologies. Clutch, Sourcelysis, Best web design agencies, Red Herring and many more like them recommend highly of us. We are proud of our work and feel humbled by all the appreciation we have received – it inspires us to architect more success stories for our clients.
7. ChromeInfo Technologies
We are a software solutions and services company structured to optimize the most appropriate blend of onsite and offsite services with our core development center in India and our main Client Services Office in San Jose, California.We work as a technology partner for enterprises, SMBs and entrepreneurs. Over the last 5 years, we have successfully deployed over 500 projects related to mobile and web development. We offer quick, cost-effective custom solutions that customers love with great communication and flexibility.
Through years of successful operations and long client partnerships, we have mastered the processes, methodologies, approaches, and product mindset to overcome the challenges of operating in a geographically distributed technology team. We are able to deliver a quality product and provide technical support to our clients across the globe in a transparent and flexible fashion.
8. Hyperlink InfoSystem
An ISO 9001:2008 certified organization, is a renowned IT Software Solutions provider based in Ahmedabad, India. Established in 2011, Hyperlink InfoSystem, with it's dedicated and skilled team of professionals has able to create dynamic and cost effective solutions for it's clients that are based all over the USA, UK, Japan, Canada and other parts of the World. We believe in delivering services without compromising on time or quality.
Hyperlink Infosystem is believed to be one of the popular providers of IT services. The professional company is closely structured in such a way to offer more acquirable results and solutions for use in a variety of businesses, encountering problems in information and technology sector.
9. Riktam Technologies
Riktam technologies is a Hyderabad based award winning and leading smartphone app development company with more than 8 years of experience in multiple platforms such as Android, iPhone, iPad and Web. Riktam is highly famous for providing the super quality design apps for mobile and web.
10. Sourcebits
Mobile First is the new world order. In the glut of ho-hum mobile apps, Sourcebits packs a punch. Our portfolio(link is external) of 850+ apps since 2006 says it all.
Innovative mobile business strategy. Beautiful design. Agile app development. Stand-out launch marketing. Product lifecycle management. That's the mobile metaverse we're creating.From mobile ideation through app creation and into market domination – Sourcebits has you covered.
Our 200+ full-time employees include award-winning designers; talented engineers for all platforms; experts in marketing & mobile business strategy.Sourcebits offers a consultative, 360-degree approach. Our workshops refine ideas, solve business problems and align teams. We're focused on your app's lifetime success.
We've delivered 30+ chart-topping apps for global brands and innovative startups.