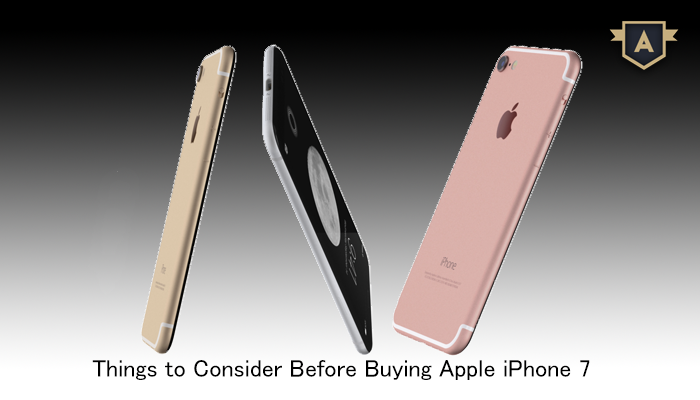 The latest Apple iPhone 7 and 7 plus seem to be even more powerful and promising than the last year's iPhone 6s. Even the result of Geek-bench revealed that the new iPhones are way more dominant than the just unveiled Google Pixel Smartphones.
However, before you get an iPhone 7 or iPhone 7 Plus, you may want to go through the below mentioned pointer, so that you can have a more clear idea as whether to go for it or not.
Storage Choices
In contrast to earlier iPhone models, Apple has finally excluded the 16GB variant with the iPhone 7 and 7 plus. Now, the base model starts with 32GB, which is great news for those looking for an updated base iPhone 7. But a little disappointing news (for some) is that it is priced Rs 60,000. Also, the basic model will not be available in Jet Black variant as it is only available with 128GB and 256GB variant. Plus, the much-adorable 64GB variant is no more in the picture. So to buy more storage iPhone than 32GB, one will have to pay Rs 70,000 for the 128GB version.
Jet Black
Though Jet Black iPhone may look slick, but it will show a lot of scratch marks on its fine, shiny metal finish. If you are looking to buy Jet Black only, remember to buy a cleaning cloth to keep it scratch-less. As even the friction from garments or jeans can give scratch marks on the back of this beautiful Jet Black.
Charging and the missing 3.5mm Headphone Jack
Well, if you recently bought or have an expensive wired headphone which you love listening on, you should know the new iPhone 7 has no headphone jack to it. Don't get disappointed as Apple is offering a lightning to 3.5mm adaptor in the casing. So, either use it to connect your wired headset or buy a good pair of quality Bluetooth headphones. And remember, you can't charge and use your lightning headphones simultaneously.
AirPods
AirPods is what you get as an answer to Jackless iPhone. They may look stylish and appealing in the images, but to grab a pair of it, you will have to shell out Rs 15,000 more.
Dual-Camera
Yes you read that right. Apple's dual-camera introduction on the iPhone 7 Plus present you great quality pictures with its fresh portrait mode. But, you one will need to wait till the software update arrive for the same as the update is in iOS 10 beta phase.
Waterproof
For the first time Apple has introduced its iPhone with IP67-rating for dust and water resistance. Although, it is not suggested to take it to swimming for underwater clicks, but surely you can use it in the shower or when it's raining. But, it is better not to try your luck so much.
So, now you know as what to expect and not to expect from the Apple's iPhone 7 and 7 Plus. For more mobile technology related news and updates, visit https://www.appsquadz.com/blog