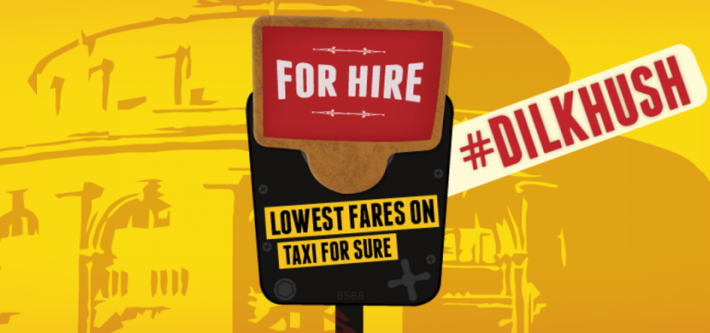 TaxiForsure is a company based in Bangalore, India. TaxiForSure is the fastest way to book a taxi in India. It is a good travel experience to book a CAB in a simplest way. They Promise a comfortable and good experience in travel. It was started in June 2011 by two graduates from NIT Suratkal and IIM Ahmedabad, Aprameya Radhakrishna and Raghunandan. The company first started services in Bangalore in 2011 and expanded to Chennai and Delhi in 2013. Than company launched their mobile Application for ios and android platforms which was developed by AppSquadz, and allowed the booking of cabs through an app. Now, Ola acquired TaxiForSure for $200 million on March 2015.
Funding
TaxiForSure.com received initial funding from Accel Partners India in 2012.
In 2014 company received series B funding of USD 10 million by Bessemer venture partners.
Business Need
 Our Client wanted to get an app that work on both platforms i.e iOS and Android. They wanted a user-friendly app which is easy to use and we all know competition in the app business today is so high, our testing team test our design so that users love to use simple, professional app. Constant update and improvements keep users satisfied and number of users are increasing day by day. So AppSquadz provide a online app which is user friendly. As customers are increasingly shifting from traditional taxis to radio taxis.
Challenge
Today cab industry being witness a robust growth over the last few years. The Growth inclination of customers towards radio taxis can be its booking convenience through mobile applications via 'AppSquadz', its educated and skilled Drivers, operators, Multiple payment options, 24*7 customer support, GPS for security purpose, Electronic fare meters etc. A good business opportunity in India, a large number of investors are expressing interest in this business domain. Customer need on time availability cabs at the time when you needed, order a cab online easily, and user friendly apps as built by 'AppSquadz' so TaxiForSure grabbed all the opportunities. The mobile app is an simplest way to book an TaxiForSure cab.
Following challenges with this project are as follows-
Need ultimate satisfaction.
Cab run on time.
User friendly App and support to users.
Complexity comes when number of users increases to book a cab at same time.
Strategy
India seems to be going through a 'Taxi' Revolution. Every another day new start up offering efficient cab service to the citizens. As we all know new technologies are coming in next few years, as pollution is also increasing day by day. So a new cabs with batteries enabled will be run in near future. Solar battery cars, Lithium cabs will be run in near future to support for a Clean Green India. One of the important strategies is to become a stronger champion in the market. Cabs are already so many in numbers but lack of quality of drivers who can be loyal to particular one company. Some of them strategies are-
Book cab will save your time and Money.
Book now and pay later.
Pick up and Drop Reservation is available in one booking.
TaxiForSure has a wide Range of Taxi in Delhi to choose From Indica to Sedan, AC and Non AC cabs.
The Drivers of our cabs are professionally trained and well behaved.
Services in Delhi are spread across NCR with 1000+ radio cabs.
Lowest Fares in Delhi – A taxi at just Rs.7/km.
Success Story
As there were number of competitors in the market but all were popular for late availability and late arrivals so TaxiForSure decided to work with various taxi operators and ensure the customers get an easily, accessible, safe, reliable taxi ride for sure and on time.
Since the company works with multiple Local Cab operators in a city. So this allow customer to have better service and with no idle waiting time.
TaxiForSure Believed in digitalizing the whole process of hiring cabs. As AppSquadz provide a App for TaxiForSure which help the users to book a cab easily.
#Tweetataxi campaign was more popular you just tweet a taxi and just booked it. It is a easy, quick, fun, and beautiful use of the new age media.
Relationship with AppSquadz
AppSquadz was begin the Era of mobility. TaxiForSure was one of the Premium Client, the future of the world will be high-tech. AppSquadz has been at the forefront of mobile app development. As the World class apps from our team to the client will help to strong our relationship. It presents a great opportunity for us to build innovative and intelligent applications that can solve real world Challenges. As we are not only provided apps on lower costs, we also build new innovative development Strategies. As Commitment to Quality are in our DNA as also TaxiForSure we ahead with a good understanding and maintain our dignity in the market. As TaxiForSure achieve Big Goals in Less Time.
The Solution and Result Completed by AppSquadz for TaxiForSure
Our Complete Team at AppSquadz for started working over it from mid-June 2014 and the app was ready for sale over iTunes and Google play store just after 20 days. Our team continously working hours every single day and we worked even on weekends to complete them on timeline. We communicated with all team of client on regular basis to make sure each and every person will be satisfied. Ultimately the app was successfully uploaded over iTunes and Google Play Store. Modules which will be Designed by Appsquadz are as follows-
Passenger Module-
Splash screen
Login/ Register
Register via social sites
Automated locating
Cab categories
One tap taxi booking
Track trip using GPS
Waiting time stopwatch
Auto calculation of fare
Check approx fare between different locations
Check the details of cab & driver
Call driver
Trip history
Recurrent booking
Check previous trip invoices at one place
Cancel or reschedule the trip
Email integration
Social sharing feature
Settings
Offers & coupons
Feedback & reviews
Recommendation feature
Review past bookings
Review cab journeys
Rate the driver
Cash/Card payment
Payment methods(Credit card,Debit Card)
Driver Module-
Login/Register
Accept/ Decline trip requests
View active trips
Call passenger
View routes using GPS
Process payment using app
Trip history
Get ratings
Sub Admin-
View dashboard with statistics.
Add company/ Branch Details.
Add social media, details.
Manage fare details, cancellation charges & night fare.
Monitor Dispatchers, Drivers, Taxi Payment.
List wise transaction details.
Easy access with search options.
Super Admin –
Real time updation of details in master Admin panel.
Perform complete CRM activities.
Provide login credentials to solution users.
Customize user visibility to details & transactions.
Manage site settings, sms template, social networking site, setting, payment gateways,commission settings.
Account report & total earnings.