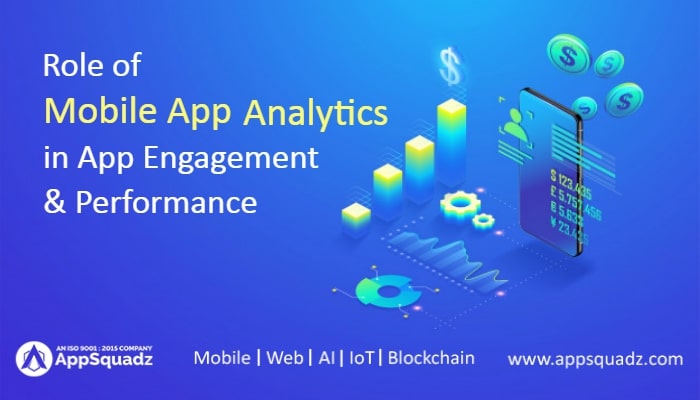 Mobile App Analytics
Nothing is more challenging for businesses than to engage the users and retain them, despite many app downloads, and how to boost the app performance today. In the struggle to resolve user engagement & retention and app performance issues, mobile app analytics is regarded as the authentic rescue system. Though app analytics tools are robust and offer insightful details about the app-user association, at times, they turn out to be an obstacle for mobile app developers and stakeholders for several reasons. Since app analytics is data-driven, the data-driven strategies and arrangements always come up with more pragmatic and more potent results. Tracking app downloads and rankings in the app stores have a substantial role in measuring the real performance of the mobile application.
Mobile app development is not only confined to conceptualization and development of your mobile app as a whole but also to improve it further with all the necessary data to guide you. Now, this is where the need for mobile app analytics is significantly highlighted as it can give you a crisp of beneficial information concerning who is utilizing your app and their behavior towards your app. Several applications are dropping out the download which they continuously gain. Ever thought why this happened? The answer is due to the lack of monitoring and analysis, and analytics enables you to see a crisp and clear image of your mobile app performance to reach your goals.
Any idea about why you need to use mobile app analytics? And how it would assist you in measuring your mobile app performance and increasing your app downloads? Mobile analytics is critical for the perpetual advancement of the app itself, along with assembling valuable business intelligence. A multifaceted mobile analytics plan will help an enterprise quantify their mobile app strategy applying the best practices. Also, the data-driven techniques and selections always result in a pragmatic and more high-grade performance of your mobile app.
Moving on further, let us know the role of Mobile app analytics in boosting your app engagement & performance.
For creating a robust and effective strategy concerning mobile app marketing
If you desire to set a measurable goal, then you obligate to know which technique harvest the most significant results to your mobile app. If for any reason, you don't know your app has an adequate ROI for your overall campaign through the data; at that point, you cannot create a powerful marketing campaign.
To know your app functions with respect to User Experience
Mobile app analytics can give you an insight in regard to UI of your app right from searching to download to engagement. Also, mobile app analytics assists you in viewing the multiple screens and paths that a user takes while navigating your application. By investigating which functions or screens users visited or used the most and which they don't, you can improve your app using these insights.
Know who all your users are
On average, there are thirty-six apps available on the Smartphone of the users, but they use only 26% of the apps they have downloaded. You must know who all are actively on your app once you determine your acquisition or retention strategy. For creating a marketing plan, you must be aware of the devices used by the users; it can be Android or iOS. You can effortlessly scrutinize the problems and acquire a better insight within your target audience after knowing all the necessary information.
How can you use mobile app analytics to boost your app downloads
Already mentioned earlier that on an average a user has 36 apps on the mobile phone and to your surprise, this number has declined from last year. This happened because today, users download apps more consciously. Analytics disclose that 100 Mb is a psychological threshold for users to download an app and another critical point current app usage ratio. With utilizing App analytics, many metrics can be sorted and prioritized following your KPIs. To keep your mobile application and audience live, perform an A/B test. Through analytics, you may obtain substantial results from that test, and the corresponding logic is valid for all your ASO practices.
Save your time and resources by concentrating on the right audience
After identifying who all are using your app and which features they admire the most, you need not pay your attention and allocate your time and resources. Ideal mobile app analytics tool lets you observe user's behavior for several functions of the app on a specific day with some distinct parameters.
Use User-friendly features to archive more downloads
You must stay updated on how users are using your app and for how much time they use the app in a single session. With the use of App analytics, you can monitor the engagement and the length of the session to analyze it. Moreover, you can get a more helpful insight if your app is user-friendly. This aids in providing a compelling user experience by enhancing the features if in case the features are not user-friendly as getting users to download the application is inevitable.
Know deviation in app downloads and app usage
With App Analytics, you can differentiate between app downloads and app usage. If a one-time perk only tempts a user, they are likely not to use it again or uninstall the application. Also, you can track the churn rate metric and separate those from the lifetime value of users. As per data you obtain, you can track it through analytics and take action, and act accordingly.
Building and upgrading the marketing technique
Mobile app analytics is an ingenious tool that helps you in making the right choices and defines an effective strategy. You can divide your marketing channels and observe them in investigating which campaign will work in the right way, which can help you to monitor and track your mobile app ROI effectively. You need a reliable, competent, precise analytics to enhance your app marketing strategy and app downloads in the meantime with an adequate audience.
Wrapping Up
Don't let go of your chance of success! Use the data in every single step you acquired by using Mobile app analytics, an intelligent tool that can help you to make the right decisions and define a powerful strategy. With Mobile app analytics tools, you can fasten your operational and behavioral data of an app which are in turn known as they are the drivers of improvement. With a plethora of options available to analyze key metrics, the mobile app development team can collaborate with the business owners to know the goals of the app and embed the tool accordingly.