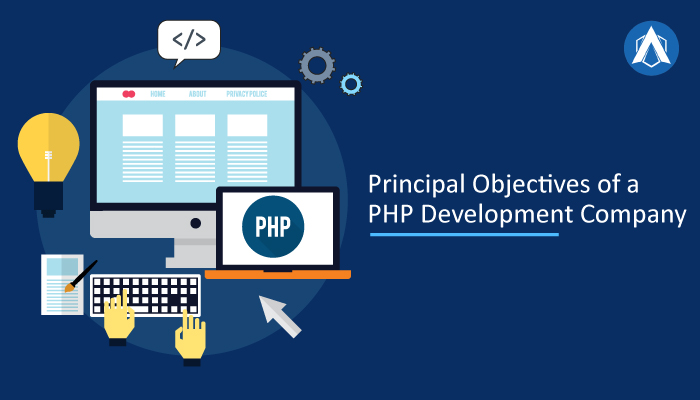 principal objectives php development company
PHP (Hypertext Preprocessor) is a widely used server-side programming language which interacts with multiple database languages including MySQL, Oracle, Sybase, etc. Besides, it is claimed to remain the most widely used programming language for web application development in the forthcoming years. PHP is powering up to 70% of websites, and by using it, PHP development company construct robust and functional websites that deliver results.
PHP is empowering millions of websites over the digital panorama due to its user-friendliness features it is one of the most preferred and widely accepted languages used for the web app, web design, web development, and programming. PHP can be easily embedded directly into an HTML page furthermore, it doesn't depend on the user's computer or browser speed, it operates completely on the server side.
Importance of PHP in app development
PHP programming language is an outstanding option for accelerated prototyping and development of both static and dynamic websites and applications that can successfully run on web and mobile. PHP as a web development choice is always secure, steadfast and swift. Startups, advertising, and media agencies, as well as small software organizations, are the industries where PHP programming is widely used. PHP also provides support languages including MySQL, Oracle, and Sybase. PHP provides compatibility to servers like Apache and IIS. PHP can be run on many platforms including Windows, Linux. And indeed, PHP provides its support for database management system and other open source databases. PHP also has compatibility with open source software integration including Joomla, Drupal, OS Commerce, and Typo3 CMS.
PHP Development tools
PHP is designed in such a way that it simplifies the process of mobile app development. It is one of the most reliable, secure, and maintainable web development languages which facilitate programmers to enhance the performance of web applications without increasing the memory consumption. PHP development company moreover accelerates their custom websites and application development procedures by powering full-stack developers and employing PHP frameworks such as CodeIgniter, Laravel, CakePHP, Yii, Zend, and many more.
Generally opted PHP tools include:
Aptana Studio
Eclipse
Sublime text
Zend Studio
PHP designer
NetBeans
PhpED
PHPStorm
Code lobster
PHP Development Company
The PHP development company is an extremely powerful company which is proficient enough to produce high-quality websites which caters unique requirements of all businesses irrespective of size. These companies are well-versed with able PHP developers who are working on development projects and possess major expertise in technical aspects which are required for building the best-in-class PHP application or website development solutions.
PHP Development Company provides PHP web development services and multiple other associated services to its clients across various verticals of IT. The main purpose of existence of PHP app development company includes:
PHP Web Development: PHP developers and designers design software in such a manner that generates a dynamic background for websites. They are the one who enables you to access the digital world by transforming ideas into virtual existence.
Custom PHP Development: Developers leverage organizations by presenting them with tailor-made solutions. Custom development services synchronize with business needs to provide cutting-edge web solutions which are adjusted with modernized tech solutions.
CMS Development: CMS is a software development program for an application which is used to create and manage digital content. CMS allows firms to manage and organize the content of the website with the ease of effective and automated content management.
Ecommerce PHP Solutions: E-commerce solutions allow enterprises to sell their products and services online. PHP development companies design user-friendly websites for firms and work on such management tools that provide digitized results that help in maintaining projects that deliver results.
PHP Cloud Solutions: PHP cloud solutions enlighten the performance of mobile applications and websites that provide scalable and attainable digital results. PHP development companies work on multiple backend solutions such as PaaS, SaaS, and IaaS to encourage the performance of applications.
API Integration: API is basically a set of tools and protocols that are used to build software applications. All operating systems including Windows and iOS use API and enable their programmers to write apps which are consistent with the specific operating environment.
Conclusion: Designing a secure PHP website can be a challenging task as most of the PHP codes are drafted by developers of a PHP development company with security and experience. We have already discussed the benefits associated with PHP, and so it has become mandatory for all the organizations to adopt PHP development.