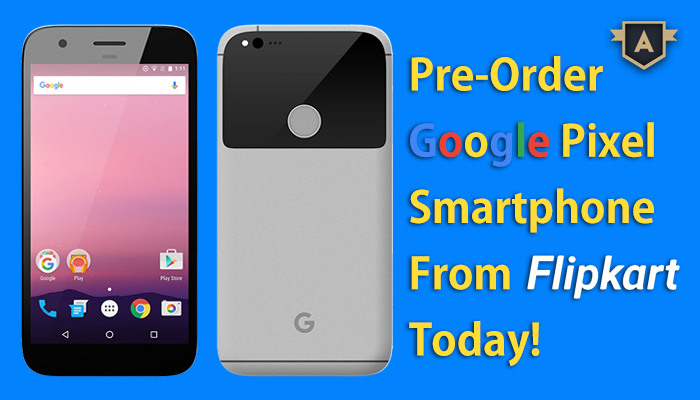 From today, Flipkart has started taking pre-orders for the latest Smartphones made by Google – Pixel and Pixel XL. Both these phones were showcased at a special event held in San Francisco. In India, the starting price for the Google Pixel if from Rs. 57,000 and Flipkart are assuring that these Smartphones will be delivered by October 25 only.
However, if you are looking to pre-order one for yourself, remember that only three variants of the Google Pixel and Google Pixel XL Smartphones are available for pre-order on Flipkart. Out of expected eight variants that were supposed to go on sale in India, only three are available for pre-order. In addition to this, only the "Quiet Black" variant is being offered on pre-order. Google launched Pixel and Pixel XL Smartphones in two storage mode, and three colours, out of which "Really Blue" variant will not be launched in India (as per reports). This means 2 phones, 2 storage capacities, and only 2 colours, meaning a total of eight variants, but only 3 are available for pre-orders right now.
The Google Pixel and Pixel XL Smartphones feature an aluminium body and also sport polished glass combination at the rear. Both phones are driven by Qualcomm Snapdragon 821 processor, with 2 cores clocked at 1.6GHz, and other 2 cores clocked at 2.15GHz. The Pixel and Pixel XL slots in 4GB of LPDDR4 RAM and feature Pixel Imprint fingerprint sensor. The Smartphones comes with a 12.3-megapixel rear camera having a Sony IMX378 sensor, PDAF, a large f/2.0 aperture and 1.55-micron pixels.
Plus, both models has an 8-megapixel camera on the front having a Sony IMX179 sensor, a f/2.4 aperture, and 1.4-micron pixels. While the Google Pixel comes with a 5-inch full-HD AMOLED display, the Google Pixel XL features a 5.5-inch Quad HD AMOLED display. Corning Gorilla Glass 4 protection is used in both models. Both the devices are available with almost same innards except the size of the screen and battery power.
Moreover, another similarity in both models is that they have access to unlimited storage for full-resolution videos and photos with Google Photos. These Android 7.1 Nougat-based Pixel Smartphones will sport a USB Type-C port and will come with 3.5mm audio jack. The Smartphones are IP53 rated as well for dust and water resistance.
So, if you are interested in "Quite Black" Color Variant Google Pixel, you can pre-order it right away from Flipkart. For other colour variants you will need to wait a bit more.
For more mobile technology and startup related news and updates, visit https://www.appsquadz.com/blog