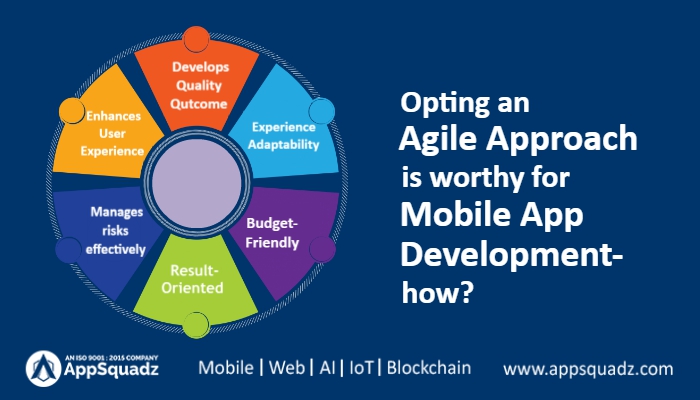 Agile Approach is Worthy for Mobile App Development
As we know, for sure, with the augmentation in the use of smartphones, the mobile app development market is growing rapidly. It's completely a challenging task to develop an app with a long life span as well as an app which can be a big hit in the market in this harsh competition. Users experience and expectations from a mobile app become the key concerns for a successful mobile app. Hence, it's mandatory for app development companies to adopt the agile approach plus uniformly changing market trends to have positive outcomes.
Now moving further, let's talk about agility?
Well, Agile isn't a tool or mechanism but it's a development methodology. An agile methodology is a requisite approach that benefits the mobile app development company to create mobile apps. This process is helpful in streamlining the critical development process and makes it quicker & adaptable, empowering you to make modifications as needed. It's the comprehensive process of segregating into distinct development cycles. This method requires breaking the complete task into several sub tasks and therefore, all subtasks become a separate module.
How can you set a breakthrough adopting an Agile Approach?
Following an agile approach, one can learn how to create a more valuable and useful product. This is one of the primary benefits of adopting agile process. Agile application development helps to organize designs and planning methods, development and testing practices during the app development lifecycle. Elaborated below are the reasons to go for agile for the purpose of mobile app development.
Develops quality outcome
It's a traditional & very popular approach to examine the mobile app prior to the final launch so that there is no room for bugs & issues. However, following an agile approach, testing is integrated completely during all phase of app development to guarantee a quality-rich app.
Experience adaptability
Adaptability is accredited as the most advantageous reason to go for an agile mobile development process. This is because there are chances for specific modifications as there's always a space for mistakes which certainly will increase your website traffic.
Provide solutions within the budget
It provides quality solutions at affordable rates plus it saves money and most importantly, it assists startups to invest funds prudently. This way it will lead startups & enterprises to attain more ROI spending less.
Result-oriented
Users love to use an app which is catchy and handy. Agile Methodology helps you in obtaining Result-oriented outcomes, thus helps in the boost in customer engagement heading towards the profit achievements and results.
Manages all risks effectively
Users don't like apps that don't function properly or have many bugs and this leads to a total failure of the app. This is why an app can be built using an agile methodology which detects the existing bugs and the developers can make the changes accordingly to manage the risks timely
Enhances user experience
Opting agile process developers enhance design responsiveness, sustainability in app usage meeting with customer expectations and better user experience, enabling an increment in the quality and performance of the app.
Ending Note:
There's always a room to select a better approach for a robust mobile app development solution. Selecting the agile methodology for developing mobile apps becomes an effective approach for mobile app development companies for sure, as it delivers several advantages over the conventional method of app development. It allows you to make decisions faster making the process more spontaneous by developing a seamless app in a short period of time.