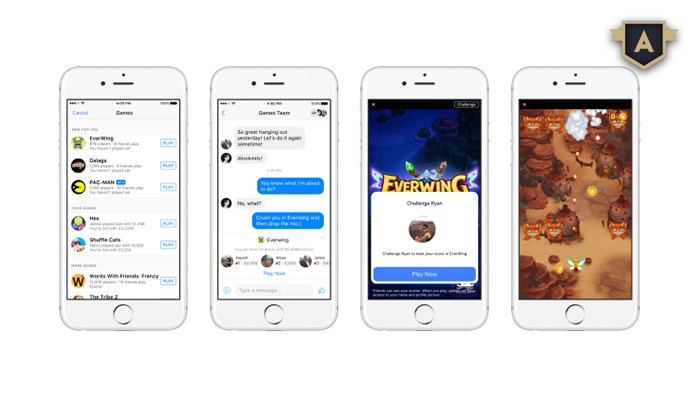 Instant Game in Facebook Messenger
If you are bored with texting feature of Facebook Messenger and looking for something new exciting feature, well your wait is over then. With the Facebook Messengers' new Instant Games, you can now challenge friends for high scores for games such as Space Invaders, Pac-Man, and Words with Friends Frenzy. These games are available right from your message threads. They are quick to load as they are built on the HTML5 mobile web standard, which makes the quick to load as compared to clunky native apps.
Now, Facebook Messenger has become more fun and interesting. With the facility to play games directly in your messaging conversations, if you are looking for a reason to unite with your friends who live on the other corner of the world, you can play a round of Words with Friends: Frenzy; or you can try to beat the score of your roommate at Space Invaders; and moreover, you can challenge your brother to Pac-Man, EverWing, TRACK & FIELD 100M, Galaga, and many other exciting Instant Games. This fun gaming experience will be first launched in 30 countries, and is available for latest Android and iOS operating systems.
In the latest version of the Messenger app, simply open a conversation with your friend or even friends, and touch the game controller icon located just below where you type text. Then, just select a game to start playing it right away. After finishing a round, your friends in the conversation will see your score and will be able to challenge you back. You can even search games within the Messenger search field, or also on News Feed where one can play solo or challenge friends back in the Messenger. Games on Messenger are the first to be launched on Facebook's new Instant Games cross-platform gaming experience.
Fun, social, and ready for action, games on Messenger include score-based leaderboards, in-context chat, and group thread conversations to beat, boast and praise.
There are one billion people who use Messenger every month. They connect, chitchat and share in many different ways. They do this by sending Emojis, Stickers when words aren't sufficient, tapping on Instant Video to share pics with friends and family after an awesome day, or making an instant voice call to tease and talk. Now they can join and challenge each other over their favorite games. This seems to be the beginning for games on Facebook Messenger — wait for new titles to be included, and for different ways to play. Game is on!
Source: https://techcrunch.com/2016/11/29/messenger-instant-games/