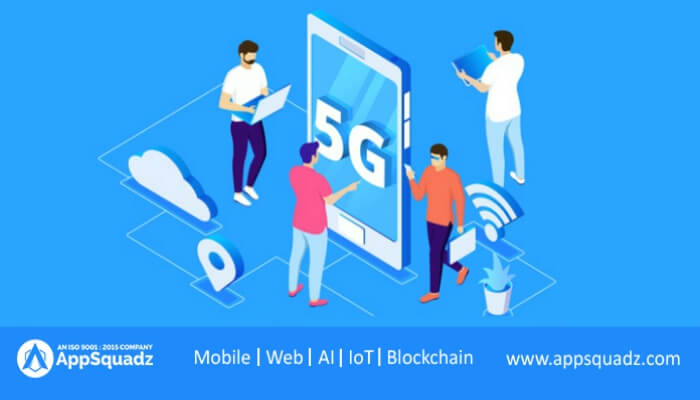 Era of 5G Technology
The Network and its perks
A drastic change in the use of mobile and other portable devices was perceived with the developments and headways in the signal and telecom industry. These changes were observed from 2012-2015 as the 4G wholeheartedly took over the 3G network in the country, giving a boost to IT services the development part majorly. It also expected even more with the introduction of 5G technology.
We never imagined that the transfer of humongous volumes of data would be possible with lightning-fast speed. This gave application developers the boost that was much needed to learn new and faster technologies for mobile app development.
We can now do things through the internet and apps that people never thought of like:
Book On-demand services like Call a cab/bike at any location
Get yourself served with delicious food
Cleaning, relaxing and other leisure services at home
Book online event tickets
Video call to our family and friends
Get your office work done at home
Daily need product like groceries
Clothing, sports & fitness and other accessories
All the above can be done with just a touch of a screen or a click of a button.
The Network Phase Development
To be able to get thoroughly let's understand the network phases, for this we need to comprehend the history of network evolution, starting from the elder in the network family, i.e. 1G and then move further.
The Analog network is also known as 1G
This is a first-generation cellular network with a data transfer speed of only 1.9Kbps, this network uses simple analog protocol and supports only basic voice service
The General Packet Radio Services or GPRS is also known as 2G
Irrespective of the age everyone has heard about this and was used for a quite long time, it was introduced in 1991 and gave its users the experience of text-messages and an internet connection with a speed of 10Kbps (upload and download) with this network evolution people, have access to the internet in their mobile phones.
The UMTS (Universal Mobile Telecommunications System) or 3G
Still in existence and a BSNL user can tell you best about it, this lad came into existence in 1998 offering transmission speeds of 200Kbps – 14.7Mbps much more than its forefathers and thus dominated the market and gave way for a large number of development processes to emerge. The users were allowed to send audio/video/image files, and video call was a feature that was most liked.
The LTE or Long Term Evolution commonly referred to as 4G
With its release in the year 2008, it opened all the horizons that an app, web or any other development company wished for that included services like real-time data transfer, live streaming services, online lag-free gaming, video meetings, and conference calls. Widely used it is the market leader with speeds up to 100Mbps.
The 5G or 5G Technology
This technological beast will capture the entire market in no time with its roll-out in 2019 it promised to give its user the speed experience they never imagined along with additional feature listed below:
High Precision for all services and devices (consuming less battery and better IoT services)
Exceptionally great connection (less to no call drops)
Number of devices can connect for a particular range (enhanced connection density)
Additional features such as E-Health, Smart Cities, Cloud VR/AR services
Summing up this Versatile Technology
With the bizarre fast speed and reliability feature of the 5G technology, it is sure that the technology will create heaps of opportunities for Application development at all platforms whether it's iOS, web and
android app development. This will render the best services for streaming, connectivity, Artificial intelligence & machine learning and much more. Let's get served with the best in class.
1030 Total Views
1 Views Today