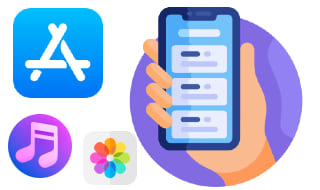 Mobile App Development Environment
Mobile Application Development
As the Smartphones' uses is growing day by day, there is an increasing demand for Mobile app development to match the pace of modern trend. Smartphones have made our lives easier with the use of different applications used for email, web browsing, games, music, wireless information services, social media, Internet faxing, etc. As a budding and money-spinning field, Mobile application development has attained a lot of significance these days as more and more companies are diving into Mobile app development to skim the advantage of the ever increasing demand. The major platforms for mobile app development include Android app development, iOS app development, and Windows mobile development.
The inception of iPhone and its ability to support third party apps is mainly responsible for building such a vast market of opportunities for mobile application development. With the latest up-gradation to iPhone 7 and Android Nougat, the capabilities of Smartphones have gone to the next level. Now users can use Mobile apps easily to perform different complex functions faster than ever.
IT companies are researching to look scope for the opportunities to develop engaging and exciting mobile apps. Some of the top mobile software solutions comprise mobile application development, mobile game development, and mobile web development. Mobile gaming apps is the most popular genre. Majority of the downloads are from this category only, Social networking being the second on the list. The demand for such applications is projected to increase each year as more and more people are going for Smartphones due to their low cost. Moreover, the Business app downloads have also shown tremendously growth, generating more revenue for app stores.
This modern trend has opened windows for many opportunities in outsourcing services such as mobile application development. There is a huge competition in introducing more innovative and robust mobile apps, giving users a wide range of apps to choose from. As a result, the Mobile app developers market has become very hot.
Every major platforms such as Android and iOS has its own programming language and development tools. Specialization is the only way for Mobile app developers and User Interface designers to thrive and become successful in this competitive trend. They need to keep themselves updated in order to match the modern technological development pace.