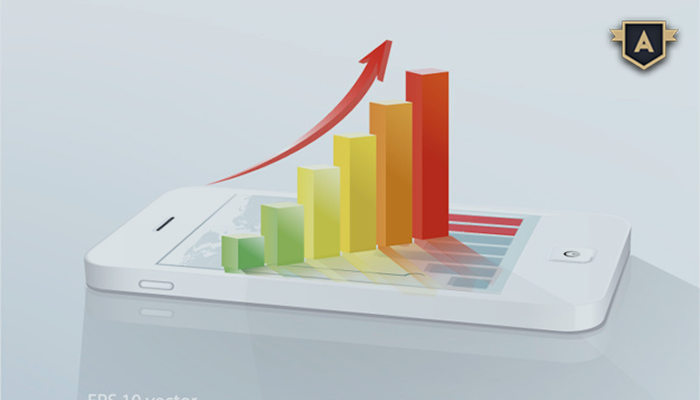 Mobile App Market to Grow 270% to $189 Billion by 2020
It is projected that the mobile app market will grow 270% i.e. from $70 billion in 2015 to whooping $189 billion by the year 2020. It has been noted that time spent in apps usage has increased 114 percent from the last three years i.e. 2014 to 2016. By the year 2020, it has been calculated that games will have a share of 55% of app store revenues. Also, other categories such as shopping and transportation will witness growth as well.
At present, application publishers are seen from every industry. They are not confined to just game studios, entertainment and media companies, but they also include banks, finance, airlines, retailers, ride-sharing services, and numerous government agencies. In order capitalize completely on the exceptional growth of app economy; publishers need to think in advance for the future market opportunities when considering a variety of business scenarios, such as product launches, performance objectives, global expansion, and management of portfolio.
Moreover, by the year 2020, app store revenue and in-app advertising will exceed their combined total of year 2015. Both of the categories are expected to experience tremendous growth, yet in-app advertising is surpassing Application stores, and the shares of former's revenue are projected to grow from 58C% to 62%. Tremendous increase of time spent in applications and the doubling of the worldwide installed base of Smartphones and tablets are the two key factors behind this growth.
As said, game publishers will undoubtedly continue to dominate the majority of revenue, advertising will drive apps publishers (excluding the game ones), as their share of revenue expands from 34% i.e. $24 billion in 2015 to 45& which is $85 billion in the year 2020.
It is clearly visible that by the end of the year 2015, Asia Pacific had shown a huge growth compared to America in terms of revenue generation, with majority of this growth contributed by China. By 2020, it has been forecasted that Asia is expected to contribute more than $85 billion to publishers. However, the maturity of the U.S. market in advertising provides high ad rates and more brand dollars. This, along with a high percentage of app store revenue, means that the U.S. market is going to be the sole leading market for publishers. Well everything will be unfolded as the time passes. To know more about technology related news and updates, visit https://www.appsquadz.com/blog