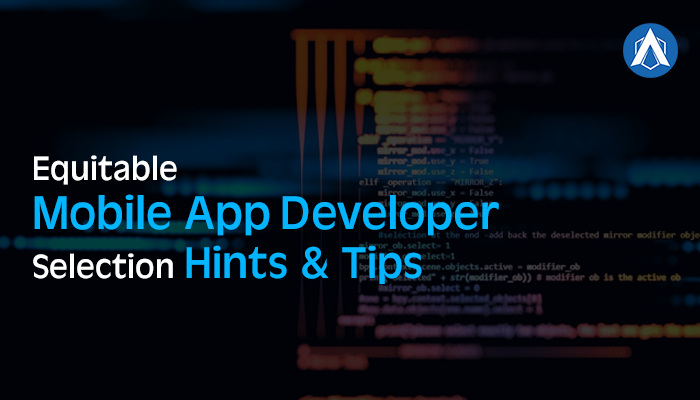 Mobile app developer
Hiring mobile app developer is a hard task if the developer is unknown and you know qualifications and skills only through the CV of the developers. An assumption about talented app developers is that they are hard to hire, as they usually have immense expectations- it may be the package expectation or job profile expectation or environment and colleagues with their work.
Consequently, it is essential to clearly elucidate the roles and responsibilities from the very beginning to developers, so that you get the most suitable and beneficial developers for your projects.
Initially the question arises 'how you can hire the most appropriate developers?'
Here are some hints and tips to be followed while hiring and dealing with developers.
Financial Blueprint (Budget)
To hire professionals, you should clarify their doubts from the very beginning, so that no chaos arises in the future about the demand and what expectations you expect from the final project.
All developers want to get hired from a company which can assure them financially. The budget should be discussed thoroughly and in detail. A true and fair estimation should be quoted for the proposals accordingly.
Hints:
Unnecessary negotiation should be avoided.
Don't settle for the lowest prices, low prices will impact in maintaining the quality of the app because of the unavailability of resources.
LOW COST = POOR QUALITY EXECUTION
Handing Over (Delivery)
On-time delivery should be given prime importance. You might get the quality work according to your will but, if it's not within the reasonable time framed it's of no use and futile. As a result of this, you might lose the chance to succeed in the market and philanthropy.
So, make sure you achieve your targets in the given tenure for your survival in the market. Developers should openly discuss the estimated delivery date and the expectations on this matter, so that the level of risk is diminished.
Hints:
Set deadlines and work accordingly.
Uninterrupted coordination should be there.
Background
This is the most relevant and critical criterion among all the criteria of the selection process. In this process, the actual expertise and skills of the mobile app developers are scrutinized.
That is the only reason to immense stress in this process of selecting finest developers. We strongly recommend you to hire app developers who can honestly do what they profess.
Check their resumes, references, reviews if any.
Analyze the work they are actually performing and what work you want them to do in terms of the size & complexity of the projects.
The results of hitherto launched apps should be also taken into consideration that was their contribution and performance in those apps.
Discussion with the clients about their views who reviewed their projects.
Based on what you found, take a survey and note the expected quality and creativity, you have from that app developer.
If possibilities are there, take their random but small tests before appointing them to the app development company.
Some reviews might not be real so be aware and ask for the proofs such as salary slip, experience letter etc. to avoid fake developers.
Hints:
Choose that developer who suits the requirement of your project.
Select developers who can maintain the company will and act professionally.
Understanding
This is a major selection criterion which actually covers many aspects:
There should be a proper communication & clear understanding of requirements between developers and selectors, overall approach of the projects.
Language proficiency of the developers should be checked.
Transparency must be there between the developers and the selectors.
Communication skills of developers should be given immense importance to avoid delays in completion of the project.
Compatibility and responsiveness is to be taken into consideration.
Proper support and consultancy
Hints:
Mobile App developer must be asked as many questions you can so that no confusion persists in the terms of completion of project & cost of the project.
Have a proper flow/ medium of communication.
Clear understanding should be there and developer's perception should also be asked for efficient development of the best apps.
We must give attention to some of the points highlighted below for a better selection criterion. The grounds which should be taken care and what should be avoided:
Tips- things that should be considered-
You should be clear about your demands and expectations from the very beginning to avoid unnecessary issues.
Selection criteria should be moulded according to the requirement of the clients.
Discussion of strategies and plans which they adopt and decide accordingly.
Your requirement may vary with the complexity of the projects, so keep that in mind while selecting your app developer or app development company.
Work strategy and time requirement should be clearly asked.
Tips- Things that should be Avoided
Avoid irrelevant delay structures.
Don't assume anything from your own mind.
Don't think that everything is going well if developer has no query.
Conclusion: 
To select mobile app developers in an efficient way, some of the above given key factors must be taken as a matter of concern. These factors must be regarded prime while selecting the mobile app developer to have ideal and optimal developers.