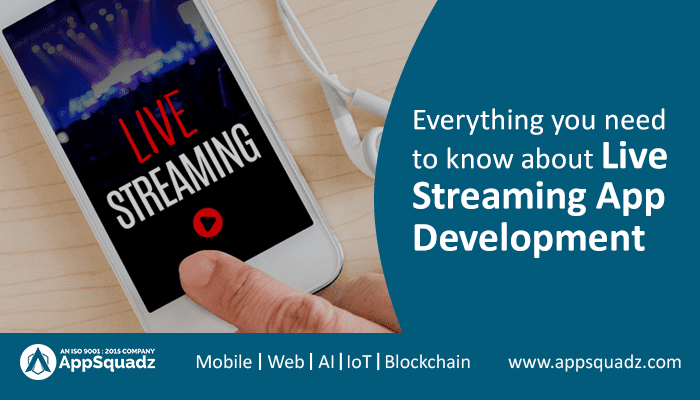 Live Streaming App Development
With each passing day, technology is expanding more electric and faster, and people are just accustomed to it entirely. In the past few years, video streaming apps have popularized because of the growing penetration of smartphones. The limitless border of live streaming has now enabled people to attend events, conferences and concerts and all by staying at home. With live-streaming apps, there will be an ability to perform video broadcasts and share globally in real-time to open up new experiences for the other users. As far as the live streaming market is concerned, by 2021, it is projected to plunge to $70 billion.
Not only in the entertainment industry but this technology became popular in business also.
Several corporations and start-ups have now started to build a live streaming app for goods and services promotion, training, team building, and much more. As far as the live streaming market is concerned, by 2021, it is projected to plunge to $70 billion. Research disclosed that about 82% of viewers prefer watching live videos over social media posts and 80% like it over reading a blog. In short, it can be understood that live streaming might help businesses to expand their reach, establish brand loyalty and capture more user attention.
What is live streaming?
Live streaming is a live broadcast of all the actions happening on a particular computer which many users can watch together in the real-time. Streaming not only stands for video games also to show the activity in real-time. Social media apps like Facebook, Instagram, and Periscope, launched live streams to show their actions in real-time to their potential users.
This article is somewhat a guide where you can study all about the live streaming app development. So, let us now start with our discussion.
Depending on their functions, live streaming apps can be categorized into two main categories. These are as following-
Apps for Video Streaming
These apps are about the video playbacks where videos are uploaded to the server where they are stored for an unlimited time. Users can view the videos anytime, anywhere, and the number of times they want. Alternatively, it doesn't mean when is the video uploaded.
Apps for live video broadcasting
These apps are specially designed for online broadcasts. These videos are not uploaded to the server; instead, the videos are broadcasted directly to the subscribers. The videos are stored on a server, converting them into video streaming apps.
What all is to be examined before live stream video app development:
Being a mobile app developer, the following elements are to be considered before commencing the project.
Accessibility to many audiences
Due to the increased number of subscribers to live video streaming apps, you need to develop the app with a highly accessible back-end to cater to a more significant amount of audience.
Should support all video file formats
Your application must support all types of file formats so that the user can operate his video seamlessly without encountering any hassles.
Securing the uploaded videos
Pirated or plagiarized videos often lead to the infringement of copyrights, so mobile app developers must ensure to furnish adequate security to apps for preventing such situations.
Tools and technologies
Before you proceed to work on the project, you have to accumulate all the essential tools in the right position to have a smooth development process.
Selection of a Viable Platform
You need to think on the platform for which you are going to develop the app. An app is most built on native or a hybrid platform.
Why do you need a live streaming app?
It is beneficial for a business as specific challenges of business be resolved by streaming mobile apps. Let us consider them-
Grab more attention from potential customers
Live streaming helps you in capturing more attention from the users as it is perceived by users differently. People today are interested in real-time streaming, so live streaming attracts users easily and helps you hold more potential customers.
Brand loyalty improvement
You can display more about your brand to new customers with a live streaming application. In real-time, your product looks much brighter and captivating, giving a chance to increase the loyalty of your brand.
Richer content
Live streaming gives users a richer content that they feel more engaging and interactive. Users won't get motivated to avail your product or services even after reading a detail description on social media, but live streaming can do that for you.
Real-time engagement
Streaming is a better option to interact with your customers. You may reach more potential customers and reply to all their queries which have a positive impact and bring you more lead generation.
An ad-free way of interaction
Users don't like watching unwanted ads and get annoyed due to these ads on videos. However, live streaming will give users a pleasant ad-free experience that can turn your visitors into new users.
Conclusion:
The topic is not over yet. Live streaming has got so much to discuss and has eliminated numerous obstacles. Here we have discussed everything you need to know about live streaming app development. It is essential to get updated with what's new to learn in this field. Several obstacles might arise while developing and marketing your app, but a competent mobile application development company can inspire you with more ideas.