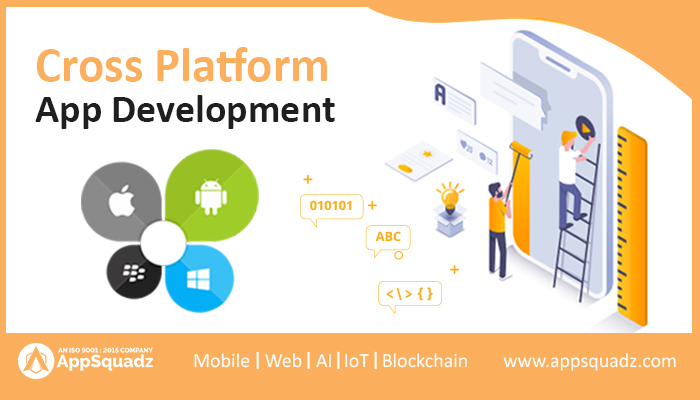 Know About Cross-Platform App Development
As of today, the world mobile app market has undergone several notable innovations. With the myriad of the app being updated and developed periodically, the global mobile application market has traversed all the expected limits and is supposed to behold the new heights. Mobility has now risen as an integral part of the digital world as well as leading the global economy towards further growth by mobile application development along with web app development. The scenario today is that mobile app engagement is causing a dramatic change in millions of businesses in a way that has made "Mobile first" as a default approach.
Mobile apps are an excellent medium for enhancing brand awareness & recognition and marketing specialists have admired this move. The future of mobile phones has come under the vague periphery, with the increasing integration of Artificial Intelligence. Nowadays, nearly about 99% of mobile users either use Android or iOS as their mobile app platform. Potential users of both the platforms are scattered unevenly, making it tough to classify the prospective users and their preferences. For small entrepreneurs or SMEs, developing a mobile application for both these platforms is a time-consuming and financially crippling task.
Cross-platform application development has solved this problem for the vendors, and it is anticipated to catch a massive share of the customer's market. Traditionally, native apps have ruled the market with a significant advantage, but now cross-platform app development has taken a hold over native mobile apps. With the advent of cross-platform application development, web and mobile app development have stepped a bit ahead. Earlier small entrepreneurs and startups find native app development comes out heavy in their pocket, but cross-platform app development is pocket-friendly.
What is a Cross-platform application?
Cross-platform applications are flexible that advances the source code's usability and facilitates the cross-platform app developers to employ it on different platforms. Cross-platform app development caters all mobile operating platforms without making the user notice and that too by saving time, cost, and efforts.
Benefits of Cross-platform application
The underlying vision of every organization is to connect with broader customers to acquire a large target audience and revenue generation. Cross-platform app development offers many advantages; this is why mobile application development company worldwide prefer this technology.
Some of its advantages are as follows:
From the prospect of developers
Development speed
Cross-platform apps require less time than that of native web or mobile apps, in turn, increasing the development speed of the cross-platform apps and reducing the expenditures incurred.
Reusability of codes
Mobile app development companies globally are lured with the versatile features of cross-platform development. The code once written is reusable in another web and mobile development tasks also, saving the company from deploying a different development team for a specific app.
Easy use of plug-in
In order to develop various features, Plug-ins are superb. Handy tools, namely PhoneGap, Appcelerator, and much more ease out the access to plug-ins.
Cloud integration
When integrated with the Cloud, the versatility of cross-platform apps improves.
From the prospects of business owners
Uniform view for clients
The apps look similar no matter what the mobile platform is used. A single time investment demonstrates a more critical power and magnifies visibility as the app can be installed and operate on any platform.
Shorter Development time
The time and efforts spent in creating, coding, and examining web and mobile development projects are directly proportional to the cost of the development. With cross-platform apps, businesses will save cost by reducing the required. If the right technical stack and plan are flexible, the businessman can use 80% of codebase. By shortening the development time with cross-platform apps, you can save cost, which in turn, leverages the marketing purposes and other core business conducts.
Cost-effectiveness
A standard native app having basic features ranges around $100,00 and has a variety of complexities through the development process. However, cross-platform apps are cost-effective and do not have many complications with its development process.
Exposure to a large number of users
As the app can be operated and installed anywhere, cross-platform apps increase the reach to consumers. Its additional benefit is uniformity that makes it extra comfortable to know and handle on any device.
Low maintenance cost
The ever-changing standards and requirement of the businesses force administrators to push updates 48 times in a year, which demands a higher price and nullifies the app revenue for small businesses.
The drawbacks of Cross-platform app development
Though it comes with a wide range of benefits, it has some disadvantages as well. These are:
From a business point of view
No updates
As only native apps are entitled to get the update information, there are any timely updates from the Apple Store and Google Play Store. No updates are amongst the significant drawbacks of cross-platform app development. It has been a hot topic within the developers concerning the future of cross mobile app development when comparing to native web and mobile app development.
Performance issues
The computing ability of mobile phones is minute and inappropriate for handling complex HTML5/CSS user interface components and also increases the response time with lots of load time over GPU/CPU resources.
Time-consuming compilation
The time for code compilation is quite slow. It demands time and must be done individually for all platform, unlike the native code compilation. Furthermore, the rendering time is also much time-consuming.
From the developers' point of view
Challenging UX requirements
Matching the UX necessity of both the platform is not a simple task for the app developers. It is understandable that any app's success heavily depends on its UI design. Poor UI design accounts for 20% of app store rejections, so it demands developers to be very careful during the development process.
Last Lines
Despite highlighting handy tools, cross-application development also incorporates a few frameworks that utilize particular languages and tools, so you have to learn the tools & languages from scratch. Cross-platform apps come with advantages and drawbacks both and choosing between native app development and cross-platform development depends on your business requirements, budget, and goals. If you are a small entrepreneur or startup, cross-platform is the best alternative for you as it can provide you an extra edge. If money is not a matter, a native app is the best option in this case. And yes, cross-platform is prone to be given red light if you don't contact a mobile app development company to assist you in the same.