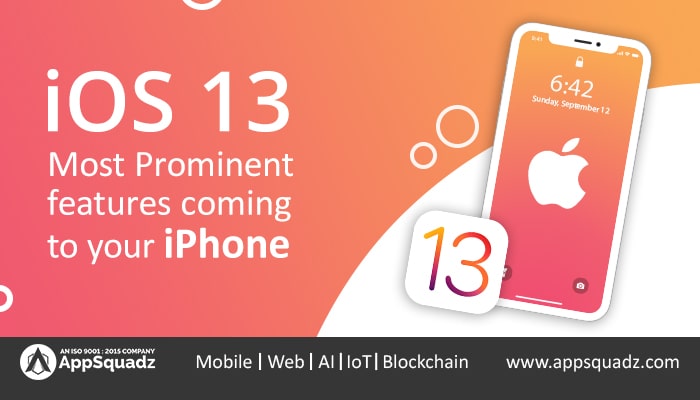 iOS 13: Most Prominent Features Coming to Your iPone
Apple recently launched iOS 13, which will make the iPhone faster, smarter, and more secure. However, the iPhone users have been using the beta software since it was available in June at WWDC. This beta version was accessible to induce a transparent image of how the new OS updates will operate. The latest version is damn pretty and has now come up with many improvements. Earlier this month, Apple introduced iPhone 11, iPhone 11 Pro, and iPhone 11 Pro Max, which are Apple's new top-of-the-line smartphones. Sounds dramatic, but with iOS 13, Apple once again takes on Google's Android 10 in a constant battle of being the most dominant, private, and adaptable OS. iOS 13 is packed with dozens of killer features, and here we will be discussing all the significant features of iOS 13.
Power-packed features of iOS 13, Apple's next-generation iOS operating system
Dark mode
The new system-wide Dark Mode is the noticeable and heavily marketed feature of iOS 13. Buttons and other elements that typically appeared white or bright in the previous versions will be now black or dark. Some people love dark modes found on different OS like MacOS and Android. People think the dark mode is easier on the eyes and also claim that it saves battery life. After installing iOS 13 on your iPhones, you can toggle the dark mode on or off from Settings > Display & Brightness > Appearance > Dark.
Sign in with Apple
Most people are familiar with universal logins and all thanks to Facebook and Google for allowing log-in to third party and websites without creating separate accounts on those sites. Instead of logging in to those sites, sign in with Facebook or Google. Like Facebook and Google login options, Apple's universal login allows creating accounts for and log in to apps and websites quickly. The difference is Apple gives minimum information about you to those apps and sites, and also, Apple won't track any of your activities on the apps or websites.
Apple maps is an actual google maps competitor now
Apple Maps have been subpar to Google's for years but with the new launch that no longer holds true for the most part. Apple has nailed it this time by introducing its own Street View-like feature called "Look Around," and it's stunning that surpasses the Google Maps.
Siri finds a new voice
Siri doesn't have the most exceptional track record of being a standout feature in iOS, but in iOS 13, Apple has made major strides. Google's Assistant and Amazon's Alexa perform better, but the impressive improvement in Apple's Siri is its new voice. With this new launch, Siri's voice will be 100% computer-generated, unlike the previous versions where Apple was using prerecorded audio clips.
Reminders are much more powerful
In iOS 13, the built-in app gets a comprehensive revamp with an all-new interface. The most solid feature of the new reminders app is a quick toolbar that makes it simple to add dates, time, locations, flags, and attachments to your reminders. The Reminders app has now emerged as a powerful to-do and productivity tool with the new launch.
Face Id gets a speed boost
Face ID feature is Apple's biometric security system included in iPhone X, iPhone XR, iPhone XS series, iPhone 11, and iPhone 11 Pro series. This feature allows you to unlock your phone, verify purchase and sign into the apps & sites by showing your face, making iPhone feel like magic. It is safe and secure, and in iOS 13, this feature has got even better than before, and this technology will unlock the iPhone 30% faster. Face ID's speed boost is software-based, so any iPhone with Face ID will unlock faster if you install iOS 13.
AirPods sharing is great for couples
Apple's hottest accessory ever made is its AirPods wireless earbuds iOS 13 has come up with expanded capabilities. In the iOS 13 version, two users can connect AirPods with a single iPhone. It will be a terrific feature that is going to be undoubtedly popular with couples. Until iOS 13.1 is released on September 30, the AirPods sharing feature of iOS 13 is not officially available.
Conclusion:
This time Apple gave a big surprise by allowing the biggest new additions to this new iOS version. Most of the iPhone app development company will look forward to see what additions they can do for the iPhone users, which outstand their app on new iOS 13. It would be worth watching the battle between the two major OS competing this time. Both have been compelling OS and hold a large number of audiences. It's always a typical question to answer which one among the two is best. Stay tuned to get more updates if you are curious to know more.