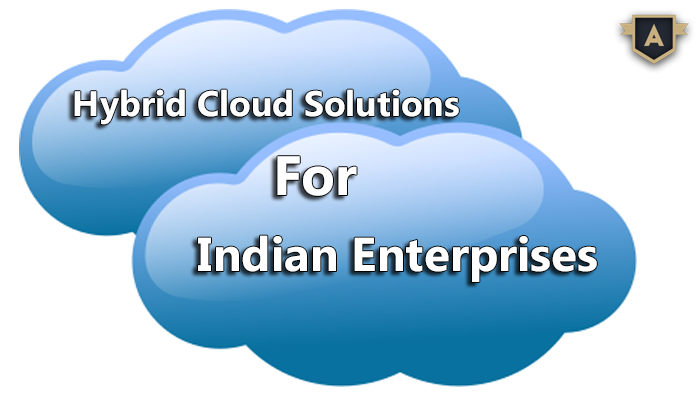 As companies all over the world are going for a secure and swift Cloud experience, Hybrid Cloud solutions seem to be the most preferred choice because of its improved productivity, efficiency, and cyber safety. How can then be Indian enterprises be left behind?
A Hybrid Cloud is an integrated Cloud service leveraging both public and private Clouds to execute distinctive functions within the same institute. Enterprises all across the globe are shifting to Hybrid Cloud faster than the expectations. This fast shifting is occurring to support digital transformation, power business model innovation, and growth.
It has been estimated that the global Hybrid Cloud market will grow to about $91.74 billion by 2021 as compared to current $33.28 billion. This tremendous growth is estimated because Hybrid Cloud solutions are capable of providing you best of both the worlds. It offers you the great flexibility of a private server along with the benefits of public Cloud.
Some of the reasons behind adopting Hybrid Cloud solutions are minimized cost of ownership, innovation encouragement, improvising operational efficiencies and allowing them to more readily meet the expectations of the customer.
Like other countries, hybrid integration is the next stage in cloud adoption in India. Hybrid Cloud helps enhance the operations' of an organization by means of superior agility and pace, more useful reallocation of internal resources and improved relation between IT departments and business. Companies who undertook Hybrid Cloud initiatives discovered that they now can easily expand into new industries, can generate new revenue sources and can create, support new business models.
If clients continue to harvest the benefits of amalgamating their on-prem infrastructure with the Cloud, It can be presumed that this will increase their investments in new workloads on public Clouds.
The type of technology and talent that India have and end-point security demand becoming a top priority, one can say that Indian enterprises are getting safer than earlier by moving towards more secure systems.
With the correct set of compliance standards, firewalls, gateways deployed, and secure connectivity, Cloud is an absolute secure extension to the on-prem deployment.
However, it is very important to choose cloud vendors with security and compliance expertise and focus. Cloud data centers placed in the country will enhance data security. It is necessary that the public cloud vendors abide by security compliance standards and be comprehensively audited by third-party security organizations of an in-house.
Safety of Hybrid Cloud Solutions India
Thoroughly built Hybrid Cloud architectures are as secure and safe as any other choices available to CIOs (Chief information officers). The important element to keep in mind is to interlace in the security strategy at the beginning and make sure that it is holistic in its build, spanning all layers as well as data.
At present, data security is dominant in India. It will be interesting to see the future of Hybrid cloud solutions for Indian enterprises in coming years.
Source: http://www.techgig.com/tech-news/editors-pick/Why-Hybrid-Cloud-solutions-are-best-suited-for-Indian-enterprises-69289
For more mobile technology related news and updates, visit: https://www.appsquadz.com/