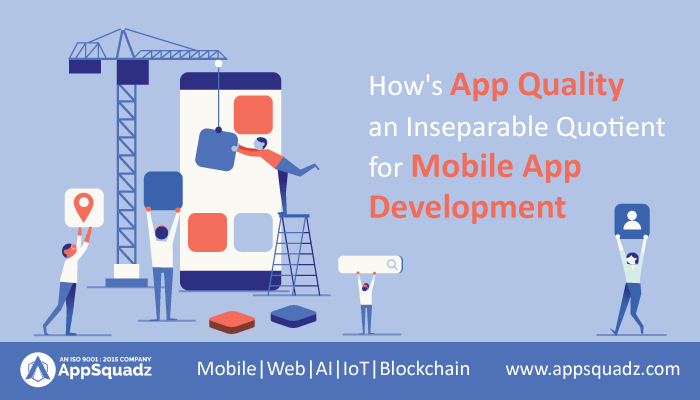 Around 5 Millions of apps are available in the market, and it's a big figure in the mobile app development world. Many apps of food delivery, booking cabs, bank transaction, e-wallet, social networking, as well as for shopping are available on play store, but all of them don't gain the same importance or same appreciation or number of users. The straightforward reason for that is the quality of an app because the popularity of any app is judged by its quality. And the irony is that people don't even use the apps having low app quality, so to make an irreplaceable place in the world of apps it's mandatory to develop the high-quality & feature-rich apps.
Why craze of apps took an instantaneous rise
Users love using apps for their various day-to-day activities as these apps allow them to perform several tasks sitting back at home with just a few taps. From paying electricity bills, to order food all can be done within seconds, but when it comes to quality users don't wish to compromise/settle. Quality of the app is to be given prime attention while developing an app else user will keep switching to another app, just to find the most suitable solution. For mobile app developers, it's a crux point to focus on the new and cutting edge technologies to deliver a quality-rich app that is apt to fulfill all the user requirements.
One thing that we can't deny is the constant evolution of technology. This clearly signifies that apps also need maintenance and regular updates which can be another factor that defines the quality of an app. Not only the expertise of developers, strategies, tools, frameworks, and technologies used are the factors responsible for app quality but also some other factors that have a direct impact on the quality of an app. Here we've mentioned some of them:
Effective planning of the app
Planning before you initiate is extremely crucial in achieving the outcomes you desire to attain as you remain more cautious during the development of an app. Sometimes there are last-minute additions to an app which can agitate the design of the app. So planning should be done in such a way that it doesn't hinder the development process at all. Healthy planning is beneficial to have an assessment of the required resources that'll be necessitated for further accomplishment of the project.
Elegant app design
The design of the app must be simple though elegant, and with best UI/UX designs you can evacuate any complexity that users usually confront and provide better usability. The key to having a good app design is maintaining a balance of simplicity and elegance. The simple design influences the customer manageability of the application & easily enhances user interactivity. Henceforth, we can say that the design of an app also impacts the quality of the app.
App features
For a high-quality app, having top-notch features is a vital factor. The number of features and the type of features determines the quality of the app. It might be expensive for you to have various features loaded on your app, but users prefer to visit apps that offer multiple features. If the features of the app are low, then it seems that the app is of poor quality and users may leave your app. So, it's again a relevant factor that determines the quality of an app.
Agile development process
Process one opts for developing mobile app matters a lot. Many mobile app development companies follow a different agile development process for their projects. An app with high-end functionalities does find numerous users for it, and people attract towards those apps because of its stunning expressive design. Following an Agile methodology will undoubtedly help you deliver outcomes that suit the taste of the users, which conclusively helps you to increase your customer engagement and improve the quality of your Mobile app.
Security of the app
Security is also a viewpoint when it comes to the privacy of the customers. Confidentiality of an app establishes the belief among your users towards your app. The data theft and hacking is a concern for users if they don't find an app with great security features they won't appreciate your app. Consequently, it is imperative to safeguard users' information to retain your users and to make your customer stay safe so that they don't disappear from your app.
App testing
As far as Testing is concerned, it's the final phase of Mobile app development as well as determines the app quality and strictly suggested for the quality of the application. An app with zero-error or a bug-free app delights the users as it conclusively enhances the performance of the app. Addressing bugs and solving them is done in this phase, likewise enable you to enhance the nature of the application to render satisfactory end results.
Conclusion:
Success & Failure of an app completely depends on its quality. Not just coding but the quality of the Mobile app development solution is impacted by several components. To enhance the quality of the app above-stated aspects are to be examined so that more users visit your application.