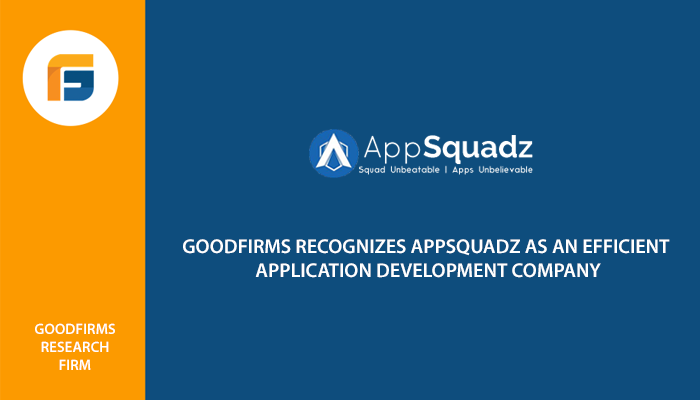 As a full-fledged research and review platform, Goodfirms helps buyers of professional services to opt for the best application design and development services. It also helps iPad app development company to multiply their market share, visibility, and credibility and brand reputation.
Therefore, Goodfirms makes persistent efforts to identify and recognize those firms that deliver not just a product but an experience, firms which take every project with much enthusiasm and give their hundred percent to bring out the best, which base every decision around their clients and reap relationships.
One such performer company is AppSquadz Technologies Pvt Ltd. The company is start-up firm based out of India with more than 10 years of experience in app development. As a full suite company, they offer custom mobile app development, design, consultation, testing, project management and other ancillary services for android, iOS and Web platforms.
Goodfirms was extremely quick to realize would could it be that they do any other way to meet or surpass their customers desires and along these lines associated with five customers, as alluded by AppSquadz to figure out what is so one of a kind about their method for doing things from their customers' perspective. While examining AppSquadz execution with their customers amid the survey sessions, it was found that their customers were more than content with their work. They were commended by their customers for their polished skill and methodology of doing work.
Their clients quoted them as a company highly dedicated to delivering projects on or before scheduled delivery timeframe. They also mentioned that AppSquadz puts a great amount of enthusiasm and creativity during the entire course of development and responds to all sorts of issues and queries quickly.
The clients reviewed pertained to startups, medium and large enterprises that utilized AppSquadz support and resources to develop mobile and web-based applications related to varied categories including financial services, lifestyle, business services, healthcare, and enterprise & productivity. Apart from these, AppSquadz has done many projects in other categories like travel, social & chatting, education and music & entertainment as well. As a full suite app development company, they develop and design apps for iPhone, Android, Blackberry, Windows, and HTML5.
Capitalizing on Reliability, Proficiency, Quality and Creativity, Appsquadz rightly met their clients expectations. To come up with their overall rating and scores, Goodfirms thoroughly assessed their responsiveness, resourcefulness, market and media presence, industry experience, technical expertise, designing expertise and client satisfaction rate. Their overall ratings as per our evaluation criteria have been satisfactory.
Their professionalism, capabilities and dedication towards delivery what is committed has what made GoodFirms spot them as an efficient app development firm in GoodFirms Research.
https://www.goodfirms.co/companies/view/142/appsquadz-technologies-private-limited
About AppSquadz Technologies Pvt Ltd:
AppSquadz is a Squad of Application Designers, Developers and Marketers committed boosting enterprises, businesses and online investors in order to create a long lasting impression through the true power of Applications and Technology. 10 Years industry experience of mobile ecosystem crushed together with 2+ years of squad comprising of 70+ Hard core trained and filtered dedicated sales executives, IT Business Analyst, App Developers, Web developers, Designer and Tester creates Squad. AppSquadz have successfully embarked our impression across globe.
200+ Apps created, 100+ highly skilled Programmers
AppSquadz gives a full suite of custom portable advancement administrations, alongside a consultative methodology for a most ideal result. Our administrations incorporate outline and advancement on an assortment of stages – iOS, Android and Web, and additionally auxiliary administrations, for example, testing and venture administration.
At AppSquadz, we give altered iOS, Android, Web and iPhone App Development Company advancement administrations. With a wide exhibit of aptitude on an assortment of stages and gadgets, we can work with the ideal answer for your requirements.
We Recognize what you Need and We give:
Ease and solace of correspondence
Flexibility in dealing with your advancement group
New thoughts era with respect to change of your Product
A Reliable accomplice.
Here are some Reviews from our Clients-