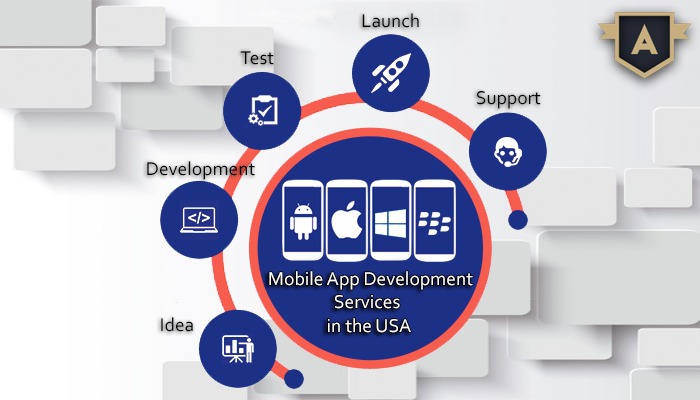 AppSquadz is a top web and mobile application development services provider company in the USA. We have wide experience in building functional, large-scale, appealing mobile applications in the US. Our agile process helps to discover the characteristics of end-users by learning about their behavior, needs and wants.
For the last couple of years, AppSquadz has successfully carried out more than 350 mobile application development projects that are affluent in both variety and accomplishment. We have marked our brilliance in finance having developed ICICI– a banking mobile app embraced by millions globally. Our dedication and the committed squad have given us a place among top mobile app development companies in the USA.
Exceptional Mobile Application Development Services in the US
Exceptional mobile apps are a lot more than just lines of code. In order to render superb performance, we have pooled one of the best mobile app development squad among the existing companies, and all our experts are always on their toes to render the complete range of mobile services:
UI/UX design
Business analysis
Mobile application development (native and cross-platform)
Mobile technologies consulting (feasibility analysis, system architecture, design and code implementation/review, and more)
Delivery to market (publishing on the App Store, Google Play store or Windows App Store)
Mobile testing (Unit testing and UI Automation)
AppSquadz for Flexible Mobile App Development Services in the US
You just need to choose as which level of association and external support is apt for your mobile project and we will surely be there to meet your needs.
Flexible-Price Model: Your project will be finished at an exact time and that too with negotiable price.
Time & Materials Development: You have all the control to make changes and direct us at the time of mobile app development
Highly-Qualified Experts Squad for All Operating System
For any mobile platform, AppSquadz boasts a Squad of highly qualified experts offering mobile apps with flawless performance.
AppSquadz is known for offering native mobile apps development services for iOS, Android, Windows and Blackberry Phone. In addition, we are constantly expanding the number of our showcase projects in cross-platform mobile development and provide you Xamarin and Cordova mobile application development services in the USA.
Varied Portfolio across Business
Having extensive experience in Banking, Finance, Entertainment, Healthcare, Marketing and other verticals, we know the accurate approach to every division of the market and are willing to execute highly-detailed projects and non-figurative ones as well.
Hire the services of AppSquadz today for the best mobile app development services in the USA. Contact us at [email protected].