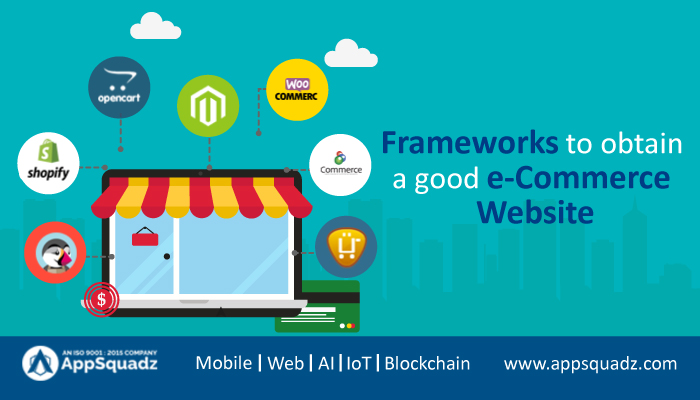 Frameworks to obtain a good e-Commerce Website
Establishing a business online is a grueling task that too when the online platform is the sole medium of earning the business. These days many business owners have shifted to an online software application to manage their sales, products, operations, and e-commerce website. Updating or listing the products for sale is not the only job needed to be done; various other factors need to be considered thoroughly. E-commerce development offers many features that are required to run a business that has a significant impact on the stability and profitability of the business.
Here we will find out which e-commerce framework suits the website the best:
Magento
Magento is an open source platform for e-commerce. This platform has made marketing, managing discounts, membership plans, and payments easier than before. Let's see what its benefits are. Magento is a free platform, but the paid versions have an abundance of features and options. Depending upon the location, it provides the facility to develop multilingual websites. With Magento, one can send automated notifications to the customer.
WooCommerce
WooCommerce is one of the popular free WordPress plugins that need installing WordPress first followed by the installation of wooCommerce with no additional charges. It also provides various other features to manage from a variety of themes that apply to WooCommerce especially, discount coupons, inventory, web pages, and smoothly connecting to different payment gateways.
Shopify
Shopify is a popular framework that was formed in the year 2004 by a Canadian company. Its popularity accounts to the features that it provides like secure mobile shopping and social commerce. Also, it is easy to integrate Shopify with social Facebook account. Besides all the features, we cannot ignore an important point that all of these features are paid. One has to invest in some money when switching over to Shopify and also when adding new extensions with their upgrades. The coding language, Liquid also needs additional investment to customize it. Big names and brands who expeditiously want to launch their e-shop can go for Shopify smoothly.
OsCommerce
OsCommerce has a large community of developers and users along with a huge forum to provide solutions to all queries and problems. This framework has so far developed 300,000 online stores throughout the world, making it an indispensable option for e-commerce Platform. Without a need to spend a penny, it offers online support with its best features to use.
The active forum is a great help in itself, it has all the related active questions, and users find all the solution there with the facility to add their queries too. Like WordPress, this framework has many plugins and add-ons to offer, out of which few are even paid. They are easily integrated into the system by downloading them to the e-store.
OpenCart
OpenCart is an easy to use, lightweight open source e-commerce platform. Again it has a large community out there to provide all kinds of technical support when stuck. With the ease to customize these websites, it doesn't need a technically sound personal to handle the platform. Even the cost of processing the site is also less.
Being easy to develop and design, there is no need for expert developers to create the open cart e-store. It also provides a list of added functionalities with additional extensions to make all the processes simple and easy to use.
Ubercart
Ubercart is a popular Drupal developer friendly platform which has payments modules and all shipping options packed into the open source platform. Developers from any background can use it to provide support to the e-commerce website. It allows products to be created easily categorized in classes along with multiple images. It will enable easy stock tracking along with notifications. With the single page checkout, it automatically creates an account for the customer and the administrator.
PrestaShop
PrestaShop has earned popularity because of its ease of use and beautiful, user-friendly interface it provides for various languages and currencies. With bare technical knowledge, one can have their hands on this framework and begin to develop an e-store. It is an excellent option for small start-up businesses. It has the best collection of themes based on different categories, compatibility, style, functionality, and themes developed by developers to ensure every website looks unique.
Conclusion
The e-commerce website development company has a list of e-commerce frameworks available, but it depends on the way the business owner wants to present his business to the audience and built its rapport. There are many factors to decide from how one wants the products to show up on the website, how the items must be displayed, how seamless would be the user experience at the site, and finally what would be the budget and so on. Using any of the above E-commerce development frameworks our company offers all kinds of web designs and development services. We exactly know what is going on in the online world so that we happily offer to our clients with satisfying solutions. Contact our team of expert developers who can provide you with the best services to help you with your business.