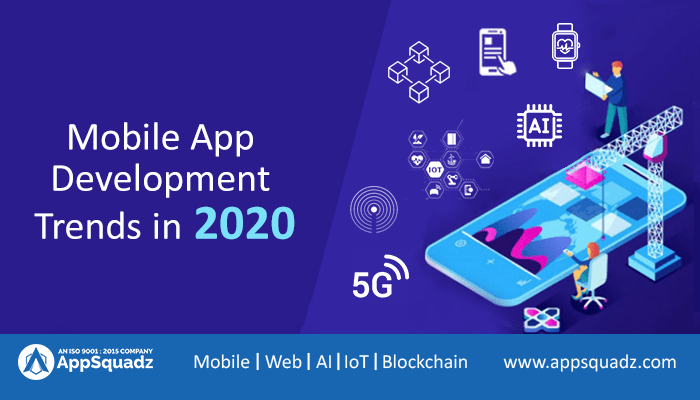 Mobile App Development Trends in 2020
Technology has continued to grow at a rapid pace and disrupted our lives by presenting us with smart solutions that fulfill our demands. Things that were science fiction till yesterday are today's reality. From the advent of the personal computer, smartphones to the ascent of technologies like AI, Wearables, Beacon, and IoT technology has been exponentially progressing. As of now, when talking about the fastest-growing areas of technology, mobile technology is one of the fast-growing areas. Organizations are harnessing the power of technology, especially the mobile application industry is revamping their reality.
To accomplish enormous growth and sustainability, each organization needs to integrate the most recent mobile app development trends. The global app development industry is supposed to ascend to 6.3 trillion USD by 2021, and by 2023 the apps are expected to generate a revenue of 935.2 Billion USD. Mobile apps are enhancing the UX by making it speedy, simple, and effortless.
Recent Mobile App Development Trends 2020
New trends are emerging as people are shifting towards mobiles. Across the years, the mobile app industry will witness further improvements. In 2020, these are some of the trends that can be seen in action.
AI presenting the apps smarter
Artificial Intelligence is undoubtedly the most suitable technology, making apps smarter. Smart assistants like Siri and Alexa are already in the market to accomplish particular tasks on voice commands. There is plenty of scopes where Artificial Intelligence can be adopted as a robust tool and can be integrated with mobile apps them considerably smarter.
Android instant apps
The user experience of the apps has been better after the launch of instant apps by Google in 2016. Instant apps act like websites and present an assortment of features to hold people with diverse functionalities. Instant apps are smaller in size, possess functionalities of a website, offer excellent user experience, and don't utilize device memory.
IoT adoption in healthcare
Mobile apps integrated with the Internet of Things (IoT) are meant to monitor patient's health and provide them with health-related suggestions and tracking their fitness. Real-time health monitoring is the need of the hour right now, and it can be executed by a mobile app that integrates IoT, which not only saves time but also improves security.
The dominance of wearables
Wearables like smartwatches, fitness bands, health trackers or smart rings have changed the way Wearables are used in today's world. These devices can be integrated with smartphones and will become more independent. By 2020, we will witness the increase in the usage of fitness trackers and a lessened dependence of wearable devices on smartphones.
Use of blockchain in mobile apps
Data breach security issues happen daily because of which the personal data is on the verge of exploitation. For this security purpose, Blockchain-based apps can turn out to be a savior. Blockchain is a distributed ledger and applies a cryptographic layer to present data security. In 2020, the Blockchain apps will be dominating the mobile app industry for sure.
Accelerated mobile pages (AMP)
Website building and its maintenance is not a simple task. However, practicing a stripped-down version of HTML, i.e. AMP that accelerates the pace of mobile pages, can be performed smoothly. AMP lets mobile app developers build bulky websites & pages with high-speed loading and lower bounce rates to realize tremendous performance on mobile devices.
Prominence edge computing
Data handling activities, for example, computation of data & its storage can be put nearer to the spot where it is demanded, which saves time plus bandwidth. The influence of such activities permits unlimited data to be processed and more reliable storage with stabler data analytics.
Impact of 5G Wireless Services
Speed is the chief concern that comes in our heads after reading 5. By the end of 2020, we may see 5G services in action, and it will go to great extents to transform the app development industry. Alongside the high speed, the 5G will introduce various additional features like data security, 3D gaming, augmented reality, to name a few. With such elevated requirements and services, mobile app developers should design the applications in a manner that meets the ideal prerequisites.
The evolution of beacon technology
For transmitting signals, Beacon makes use of Bluetooth technology which is one of the most vital mobile app development technologies used in museums, hotels, hospitals, and so on. They are remote, simple to utilize and pretty efficient in location tracking and proximity marketing. They have a considerable extent of applications when converged with IoT, for example, mobile payments beacons, automated machine learning algorithms, and beacon treasure hunting.
Conclusion
In 2020, the mobile app development industry will continue to progress with all the above-discussed mobile app development trends. New technologies bring in new possibilities, but its quick adoption is uncertain. By understanding these trends, its adoption can be made more accessible. Since you are aware of the trends now, you won't confront any difficulty coexisting with them. But if you still face any trouble getting along with them, you can connect with a mobile app development company.