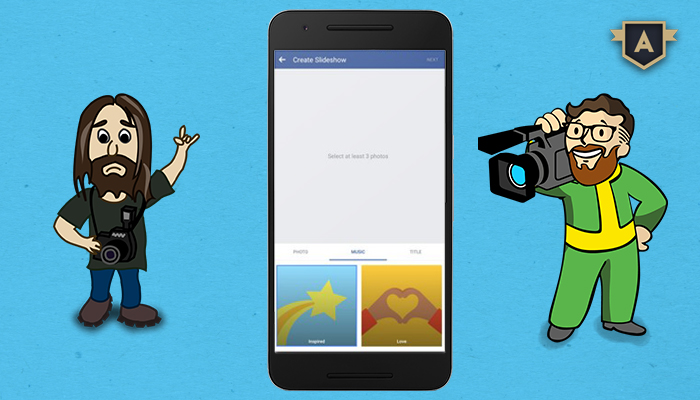 Facebook's Slideshow Movie-Maker
Facebook launched a new photo-sharing sharing tool called Slideshow earlier this summer. The function of this tool is to transform your photos/videos into short movies which also comprise background music. Before making its way into the main social network, the feature was originated in Facebook's private photo-sharing app Moments. But, now the Facebook's Slideshow Movie-Maker is coming to Android.
The idea behind this offer provides Facebook users an easier way to make more enticing and engaging posts as a substitution to simply posting a video or an album of photos.
The Slideshow movie-maker had been introduced at a time when a lot of tech companies like Apple and Google are figuring out new ways to let users do more with their photos and videos. Last year, Apple announced mini-movie maker named Memories in iOS 10, and Google Photos is another example which includes several photo tools, comprising its own movie maker.
On its launch, Facebook's version would prompt users who were posting their status to create a Slideshow in case they had clicked more than 5 photos or videos in last twenty-four hours. A "Try It" tab also appeared alongside friends' slideshows you were seeing.
However, now a user will see the option appear when he/she clicks on the Status bar ("What's on your mind?") next to the others, such as Photo/Video, Check In, Go Live and Feeling/Activity.
The Android launch of Slideshow is nowhere The option appears just above the "Tag Friends" option. However, not everyone is seeing this feature yet. Facebook added that the feature is just started to test it on Android, and only a small percentage of users are seeing it.
For now, the movie maker works the same on Android as on iOS. A user is prompted to select photos and videos from his/her own gallery and then asked to set title and pick your music before posting to Facebook. The date is not yet confirmed regarding the full launch of the feature.
Source: https://techcrunch.com/2017/01/26/facebook-brings-its-slideshow-movie-maker-to-android