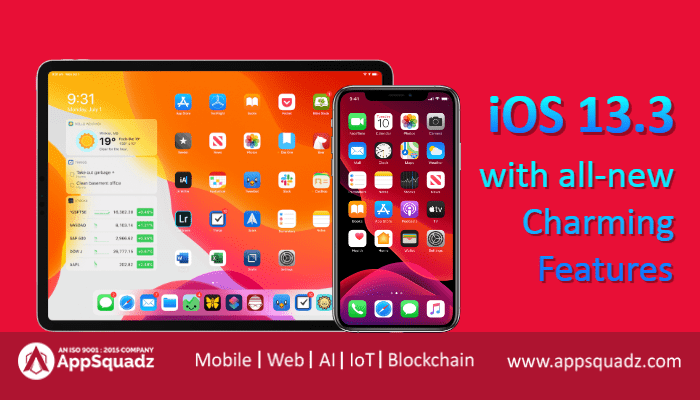 iOS 13.3 and iPad OS 13.3
Apple has launched the third significant update to the iOS and iPad OS 13 operating systems, i.e., iOS 13.3 and iPad OS 13.3, just a month after Apple released iOS 13.2, which brought in different emojis. This time, Apple has brought not only numerous fixes but also new features to assist the users in a better way. So, let us find it out what random improvements and fixes has Apple got in its big list of fixes and improvements.
What is unique in iOS 13.3 and iPad OS 13.3 from the previous versions
Communication limits in screen time
iOS 13.3 consists of new features that were promised initially for ‌iOS 13‌ but continued to delay, which involves Communication limits for Screen Time. The new feature allows the parents to control with whom their kids can communicate in Apple apps like FaceTime, Phone, and Messages. Additionally, parents can handle contacts that appear on their kids' phones, although emergency contacts are always enabled.
Physical security key support
In the current iOS 13.3 and ‌iPad OS‌ 13.3 update, Apple has added native support for NFC, USB, and Lightning FIDO2-compliant security keys like the YubiKey in Safari. The YubiKey 5Ci supports physical authentication by plugging the YubiKey into the Lightning, or USB-C port of iOS gadgets, be it iPhone or iPad, which is a significant security improvement.
Hide animoji and memoji stickers
You will find an option to stop the display of Animoji and Memoji stickers in the Emoji Keyboard under Keyboards in Settings (in General).
Apple news improvements
There is an innovative layout for ‌Apple News‌ and stories from The Wall Street Journal and different journals. Likewise, you can hit like or dislike on the stories by a tap now. Finally, the Stories from Apple News are available in Canadian, English, and French languages now.
Store edited video as a new clip
When you are editing a video, you can immediately save the revised version of the video as a new clip instead of saving it over the original one.
Additional bug fixes and changes
Here is a small list of further improvements that have been noted in the changelog by Apple:
Have a look into it-
It can now fix the issues in Mail that might prevent you from downloading new messages.
It will address the issue that blocked removing messages in Gmail accounts.
It will fix the issue whenever the cursor doesn't move after long pressing on the space bar.
It manages the issue that causes screenshots to look blurry via Messages.
It resolves the issue related to cropping or making use of Markup on screenshots that could not save.
It deals with the issue of Voice Memos when it can't be shared with another audio app.
It fixes the issue where the missed call badge on the Phone app could not clear.
It resolves the issue related to the Cellular Data setting when it is incorrectly shown off.
Fixes issues that restricted turning off Dark Mode at the time when Smart Invert is enabled.
It resolves a problem where wireless chargers charge extra slowly than expected.
It manages the issues that cause wrong letters to display in messages and duplication of sent messages in Exchange accounts.
How to get iOS 13.3 and iPad OS 13.3 on your iOS devices?
To download the new version on your iPhone and iPad, Go to Settings from there select General, then click on Software Update.
Settings > General > Software Update